Lorde's 'Melodrama' Finally Gets A Release Date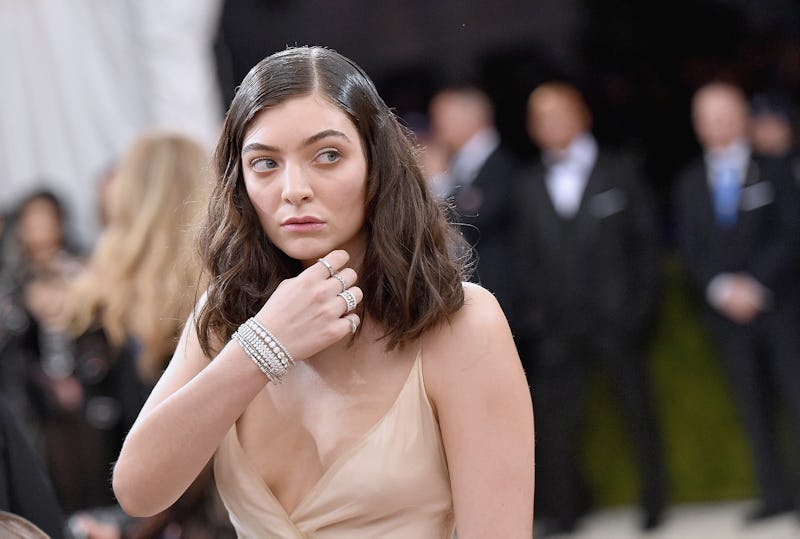 Mike Coppola/Getty Images Entertainment/Getty Images
Ever since Lorde danced her way all over Los Angeles in the "Green Light" music video — or, OK, way before that — we've been dying to know when her sophomore effort would finally be released. After all, it's been a little less than four years since she released the addictive Pure Heroine. Well, the wait is over: on Thursday, Lorde took to Twitter to announce that the Melodrama release date is June 16, and that's not all she gave us.
"I wanted you to have a new song from Melodrama, a new chapter of the story - this is Liability" she tweeted, and she doesn't mean she's taking responsibility for delaying this album forever; Lorde's new song is called "Liability," and it is beautiful. Much like "Green Light," it's heavily piano driven, and born out of wounds of rejection. Unlike "Green Light," which has Lorde calling out a "damn liar" and channeling her hurt into a burst of kinetic energy, she's somber, reflective, and able to reflect on being "a little too much" for the men in her life. She's trying to find comfort within herself in the wake of her disappointments, after facing the punishments of being too complicated with her fame. The Rihanna-inspired track definitely helps showcase Lorde's step into womanhood... or something like it.
What we've grown to expect by this point in the game is that Melodrama will be a sort of coming-of-age album that will mark Lorde's transition of being a precocious teen thrust into stardom to a pop sensation feigning adulthood in the limelight. Once she made that fateful transition into her twenties last November, the New Zealand songstress posted on Facebook about her year, that cross into this threshold:
"My heart broke. I moved out of home and into the city and I made new friends and started to realize that no-one is just good or bad, that everyone is both. I started to discover in a profound, scary, blood-aching way who I was when I was alone, what I did when I did things only for myself. I was reckless and graceless and terrifying and tender. I threw sprawling parties and sat in restaurants until the early hours, learning what it's like to be an adult, even talking like one sometimes, until I caught myself. All I wanted to do was dance. I whispered into ears and let my eyes blaze on high and for the first time I felt this intimate, empire-sized inner power."
It certainly sets a tone for what to expect, and that's definitely the melodies we're hearing so far from these two musically very different but thematically somewhat similar tracks. Suffice to say, we're excited to fully meet this psuedo grown-up Lorde and see what new art she births into the world. To get ready for that June 16 deadline, you can pre-order Melodrama here.