Let Lorde's "Perfect Places" Be Your Escapist Anthem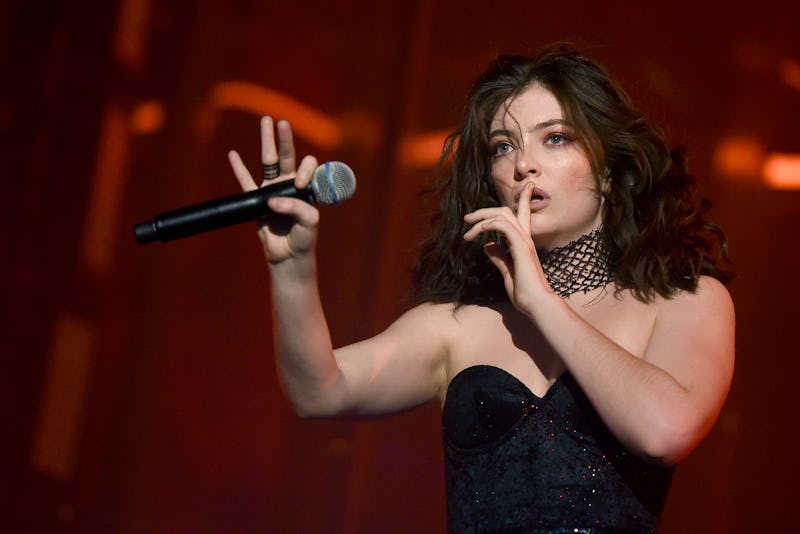 Kevin Winter/Getty Images Entertainment/Getty Images
Let Lorde take you to a far off land, one where you'll reminisce about your youth and be reminded once again that teens are wise beyond their years. The 19-year-old singer's new track "Perfect Places," off her upcoming album Melodrama, is all about escaping. But to where? She's not really sure yet. The lyrics to Lorde's "Perfect Places" make it clear that place may not be the utopia others want you to believe it is.
She sings,
All of the things we're taking
Cause we are young and we're ashamed
Sends us to perfect places
All of our heroes fading
Now I can't stand to be alone
Let's go to perfect places
Throughout the song, Lorde talks about "all the things we're taking" in much more depth. She says she'll have another drink to "get lost," but admits it causes her to "spill my guts beneath the outdoor light" at the end of a long night of partying.
Still, what she makes clear is all of these distractions can't necessarily distract you from everything, like the loss of those you love, the heroes you look up to. One of Lorde's heroes was David Bowie, who passed away last year. In an interview with Billboard earlier this month, Lorde talked about Bowie's influence on Melodrama. "I feel like the whole time spent writing this record I've had him in my thoughts," she said. "I've had him in my heart."
Specifically, she's wondered what Bowie, who it was reported after his death had said Lorde was the future of music, would have to say about her sophomore album. "It's hard not to make something and think, 'What would David think of this? If I could play it to him, what would he say?" she admitted.
There's a pressure to reach a certain goal, to be a certain way, which Lorde sings about on this track, lamenting, "I hate the headlines and the weather / I'm 19 and I'm on fire / But when we're dancing I'm alright." But in the singer's case, it's not just adults pressuring her to grow up and be something, but the music industry who wants her and other female pop stars to fit a mold.
It's perhaps why she sings, "If they keep tellin' you where to go / I'll blow my brains out to the radio, oh." It's not to be taken literally, but figuratively. She's not interested in being who anyone else wants her to be, and her music continues to show that.
In the song's outro, Lorde warns it's not easy to escape,
All the nights spent off our faces
Trying to find these perfect places
What the f*ck are perfect places anyway?
But for three minutes and 41 seconds, "Perfect Places" gives you an escapist anthem for when you just have to get away. It may not be forever, but it's long enough to let you know Lorde is right there with you.