Why The U.S. Needs Meals On Wheels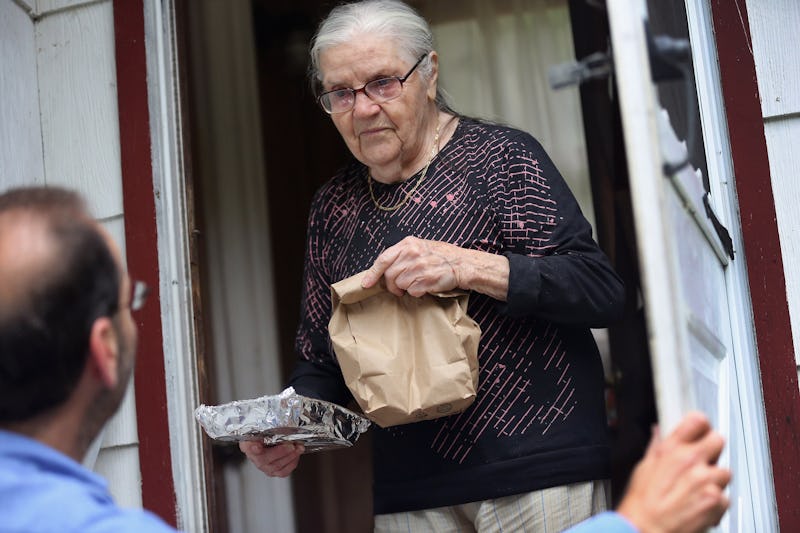 John Moore/Getty Images News/Getty Images
President Donald Trump's budget blueprint includes a number of alarming program cuts. But one getting a particular amount of attention is the proposed elimination of the $3 billion Community Development Block Grant, which funds various community safety net programs, including meal delivery programs commonly known as Meals on Wheels. But unless you take into account just how much of a problem hunger is in this country, it's hard to understand just how devastating cutting Meals on Wheels funding could be, should the budget pass.
The U.S. has often been hailed as one of the most powerful and wealthy nations in the world. But there are still people experiencing poverty within our borders. When it comes to hunger specifically, one out of six Americans are food insecure, meaning they don't have enough reliable funds to buy regularly buy enough food. And when it comes to housebound seniors, to whom meal delivery services mostly cater, there are added obstacles to proper nutrition, like reduced mobility and decreased income opportunities.
According to the National Council on Aging in 2014, 15.8 percent of Americans aged 60 and older were food insecure. That's over 10 million people. Meals on Wheels serves 2.4 million seniors every year.
Not only that, but seniors in the U.S. faced increased isolation. A recent study found that 22 percent of people 65 and older don't have loved ones nearby who can have their backs. And the lack of a support system plus the adverse health affects of hunger and isolation can be devastating and fatal.
Nonprofit organizations and community programs like Meals on Wheels are part of a sparse but much-needed safety net for some of the country's oldest and most vulnerable residents. If it's eliminated without an aggressive solution to nationwide poverty and hunger to replace it, the results could be tragic.
If this cut passes, America's hunger problem will likely get worse. That, plus Trump's proposed budget cuts to WIC — the Special Supplemental Nutrition Program for Women, Infants and Children — and hundreds of thousands of people will be left more food insecure than they were before.
Meals on Wheels and WIC are just two of many kinds of organizations and initiatives at work to end hunger in the U.S. And if these budget cuts pass, they won't go away, but they'll be hobbled. Considering how pervasive hunger is throughout the country even what look like minor cuts percentage wise could have unintended consequences for all of us.