Louis Theroux's Returning To Westboro Baptist Church For A New Documentary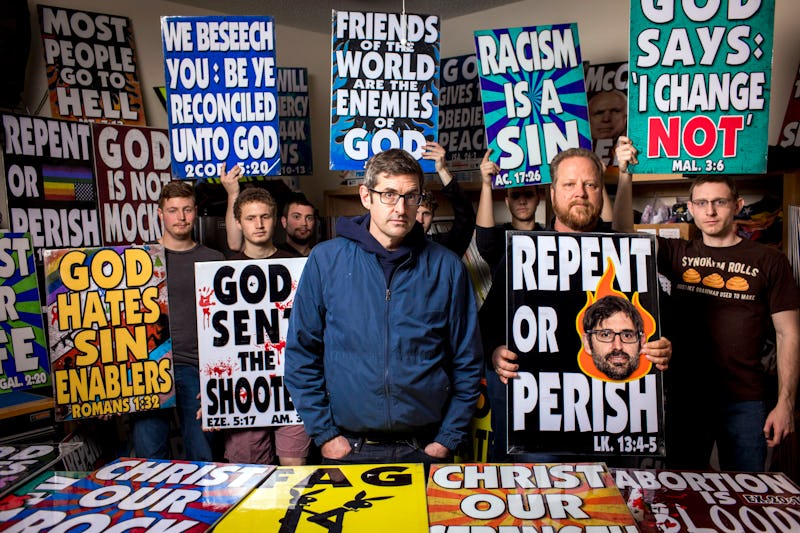 BBC
Broadcaster Louis Theroux has earned himself quite the loyal fanbase after his many years of insightful documentary filmmaking. Theroux's most notable work has touched upon subjects including mental health, politics, and religion — and one of his most notorious documentaries came after a visit to America's infamous Westboro Baptist Church. The church is known worldwide, and in the filmmaker's newest doc, Louis Theroux: Surviving America's Most Hated Family, the BAFTA Award winner will return to Kansas for a third time to catch up with one of the most controversial religious groups in the U.S.
As reported by Digital Spy, Louis will this time explore how the Westboro Baptist Church community has been affected by the death of their most influential figure, and the church's founder, Pastor Phelps (Gramps). According to the BBC, Surviving America's Most Hated Family takes place 13 years after Theroux first encountered the U.S. hate group, and documents the award-winning journalist as he returns to a Christian community who are renowned for picketing high-profile events such as military funeral with provocative placards.
Part of the show's official synopsis reads: "Immersing himself in the strange and unpleasant world of Westboro, Louis explores what happens when a hate-group largely populated by one family loses its patriarch. And, as he discovers, Pastor Phelps' doctrine of divine hate has cast a shadow not only on the church's true believers, but also on those who have managed to escape Westboro's vice-like grip."
Theroux has previously revealed details surrounding the upcoming BBC show, and described the documentary as being a story of both "indoctrination" and "deradicalisation." According to Digital Spy, he said:
"With our unique access to the inner workings of the Wesboro Baptist Church over the last 13 years we've been able to track the changes in an extreme religious group from the inside, and also from the perspective of its ex-members. We've been able to tell a story about indoctrination, where it comes from, how it is enforced — but also about deradicalisation, and the way in which a handful of those who were formerly zealots have managed to break free and take a kinder, less hateful view of the world."
As reported by the Metro, Theroux stated that the church's now deceased founder Phelps had set the angry and bigoted tone of the community prior to his death. However, with reports that Phelps had changed his hateful outlook towards the end of his life, the filmmaker was inspired to revisit Westboro for a third time. Speaking of his decision to go back, Theroux said: "It was exciting going back for thirds. For their own reasons — to do with spreading their twisted take on the gospels — Westboro let me back in. For my part, it was a chance to see the strange machinations of psychology, religion and social conditioning. I feel lucky to have had the chance to conduct this kind of longitudinal documentary making."
As it stands, the BBC have not yet revealed any details surrounding the air date of Louis Theroux: Surviving America's Most Hated Family. Bustle have reached out to a BBC rep to see if there is any word on that front, and I'll update you if we hear anything. However, if Louis' previous body of work gives us any indication, viewers have a lot to look forward to, and I cannot wait to feast my eyes on Theroux's latest masterpiece.
Update: A rep at BBC has confirmed that Louis Theroux: Surviving America's Most Hated Family will air at 9 p.m. on 14 July, 2019, on BBC2.