Louisiana Finally Moves To Protect LGBTQ Domestic Violence Victims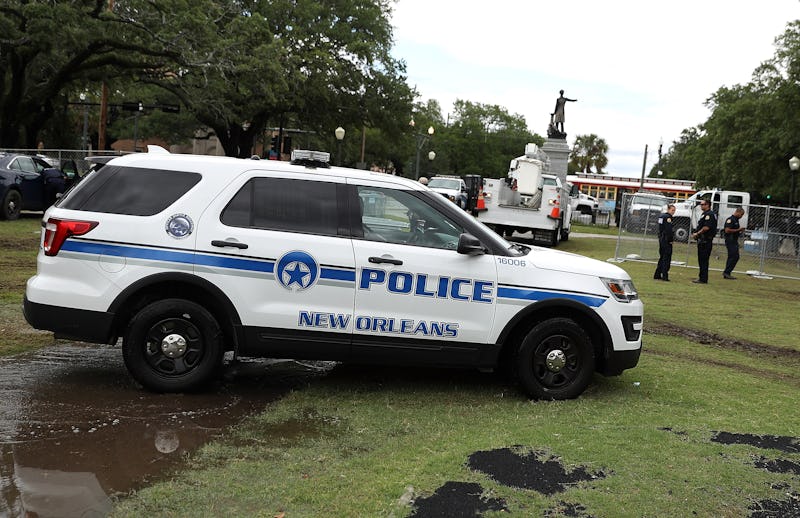 Justin Sullivan/Getty Images News/Getty Images
Just one week after voting it down, the Louisiana Senate passed an LGBTQ-inclusive domestic violence bill on a second try. The state's current law explicitly excludes same-sex partners from being covered because they are not "of the opposite sex," but the new bill would change this, making the language gender-neutral.
Louisiana's law as it stands requires holding abusers for 72 hours to give victims time to find shelter somewhere safe, but its gendered language exempts LGBTQ people from that protection.
While passage of the inclusive bill is good news, the legislative success is a bit of a surprise. The state's track record on LGBTQ issues is somewhat lacking. According to the Human Rights Campaign, the only existing protection is a hate crimes law that includes sexual orientation — but not gender identity. Plus, teaching about LGBTQ topics in school is forbidden, and there is no protection from discrimination on employment.
Yet the bill passed 25-13, an unexpectedly easy majority in a state that has shown hesitancy in protecting its LGBTQ residents. As recently as last week, its passage seemed impossible because it was considered a controversial vote; it failed to pass the Senate with a 14-17 vote.
The change, however, may not have been solely in the interest of Louisiana's LGBTQ community. After the bill failed, sponsor Rep. Patrick Connick made an effort to explain to the senators that the current law could be found unconstitutional, leaving all people, even women and children, without protections. "We have to educate senators on what the bill does," Connick told the Times-Picayune. "If the law is declared unconstitutional, it wipes away the protections for everybody."
So the senators who came around on the issue — six changed their votes in favor — may have been swayed not to help LGBTQ people per se, but to keep protections for opposite-sex couples.
Regardless of the reasoning, the bill would improve the system in place. According to the Times-Picayune, the current law is not only detrimental to LGBTQ victims of domestic violence, but also confusing for police officers. The Jefferson Parish district attorney's office explained to the paper that officers had arrested abusers in same-sex relationships only for prosecutors to later be unable to take the charges forward.
The bill now heads to the desk of Democratic Gov. John Bel Edwards. With luck, Edwards sign it quickly and LGBTQ domestic violence victims will finally be covered.