Louisiana Moves To Protect Confederate Monuments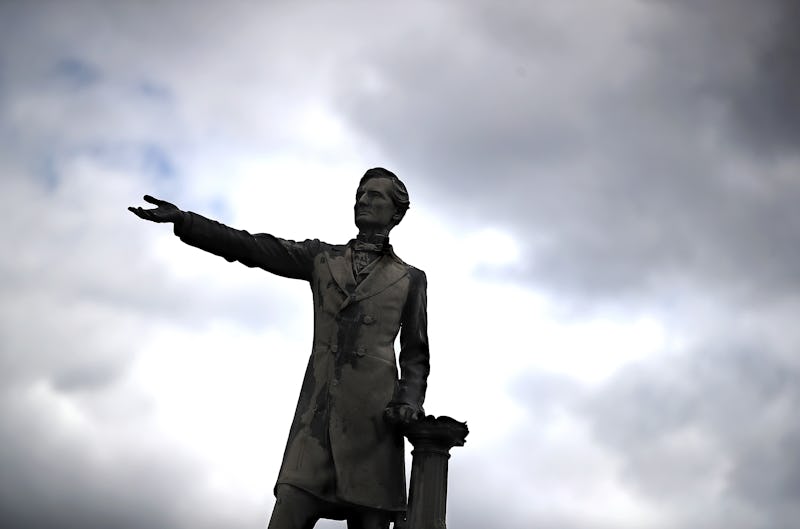 Justin Sullivan/Getty Images News/Getty Images
Amid outcry from Democratic lawmakers, including members of the black caucus, the Louisiana House of Representatives voted to protect confederate monuments on Tuesday. Although the vote comes too late to prevent the pulling-down of two more monuments in New Orleans, it does mark a significant roadblock against anyone taking action on any others.
The bill, HB 71, would require an election to decide the removal or alteration of war memorials. It doesn't specifically single out the Civil War ― in fact, it doesn't even get the name right ― instead listing a slew of different wars as examples, including the euphemistic "War Between the States." It then says:
No public memorial, including any structure, plaque, statue, monument, school, street, bridge, building, park, or area, that has been dedicated in memory of or named for any historical military figure, historical military event, military organization, or military unit shall be altered, removed, relocated, destroyed, rededicated, or renamed.
One outraged voice was Rep. Gary Carter of New Orleans, who was incensed at what the state's GOP was trying to do, and let his colleagues know it. Confederate monuments are, after all, inextricable from their appalling history ― the Confederacy was an explicitly, violently pro-slavery rebellion, and racist subjugation was defining cause of the Civil War. Carter reminded his Republican colleagues of that, according to CBS News.
In my city, the City of New Orleans, should we have a statue or memorial for someone who fought for my enslavement? Who fought for my disenfranchisement? That's what you're saying, that those people ought to be honored and recognized.
As ThinkProgress detailed, Rep. Ted James, also a member of the Louisiana House's black caucus, had a very similarly dark message. Namely, that some of his ancestors had been raped by the ancestors of some of his House colleagues. James said:
We talk about history but we are ignoring a very significant part of my history. ... This is the worst thing I've ever seen done in this building. … I'm asking that you not just stand with my ancestors but remember that many of us are linked by the same blood.
It's fair to say that this debate has awakened a grisly history, one that the state's Republican lawmakers seem intent on trying to protect and celebrate. Next, the bill will be headed to the Louisiana state senate, which will considering passing it on to the governor's desk ― the GOP currently controls the Senate by nine votes.