Love Island's Casual Racism Has Stunned Viewers & Twitter Isn't About To Let It Slide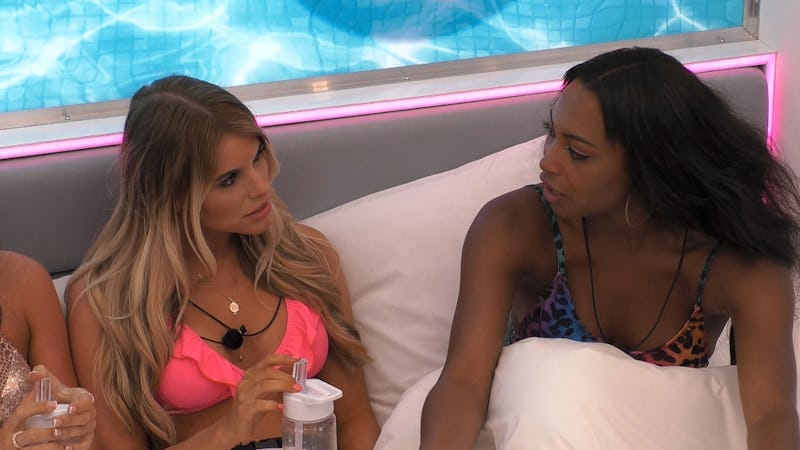 Love Island/ITV
British reality TV shows aren't known for being the most diverse. Yes, Love Island has a complicated history when it comes to race. But even I'm amazed that casual racism in Love Island 2018 appeared just a few minutes into the first episode. The show started much like you'd expect. The girls descended on the villa, understandably very excited about their luxurious new surroundings (if you're saying you wouldn't shriek at the sight of an infinity pool, then you're lying), sized up each other's bikini-clad bods, and engaged in some small talk.
But before Samira had even had a chance to raise a toast to a summer of love, one of her fellow contestants had dropped an eye-roll inducing clanger. As the girls got to know each other around the fire pit, Samira told the others that she's a dancer, leading Hayley to ask her if she can twerk.
Seriously? Like really? So a black girl says she's a dancer, and your mind jumps straight to twerking Hayley? It doesn't take a genius to wonder why that might be, and I shouldn't have to point out why that really isn't great. Thankfully if anyone was confused, Love Island fans wasted no time calling out the comment on social media.
I'd like to get one thing straight, not all black girls know how to twerk, wine, wuk up, or perform any other stereotypically "black" dance move. And assumptions that they should, or requests for them to teach you how to, are straight up racist. As one Twitter user pointed out, why wouldn't Hayley ask Samira if she did ballet, or contemporary or literally any other kind of dance that didn't have an explicitly racial association? Because she's black. And black girls twerk, obviously.
While it seems like a small thing, it's telling that in 2018, the first thing that a black contestant arriving on a show that's notorious for its lack of diversity had to deal with was casual racism. It was also seriously disappointing that none of the boys Samira stepped forward for opted to couple up with her. While this might not have anything to do with race, and, in fairness, no one stepped forward for Alex, there's an unfortunate theme with black contestants being left out in the very first partnering up ceremony.
The only black man in last year's initial line up, Marcel Somerville, was memorably left on the subs bench, and struggled to find a match until personal trainer Gabby Allen walked in. He said it affected his confidence for weeks afterwards. But even after he had found love, that wasn't the end of the ex-Blazin' Squad band member's race-related woes. In the weeks after leaving the villa, Allen spoke out about the racist abuse she'd received for doing nothing more than daring to date a black man in the public eye.
Samira, I'm really sorry you had to deal with this nonsense at all, let alone during your very first day in the villa. Love Island owes its black contestants more than casual racism and being picked last. As it stands, its inclusion of black contestants looks like little more than a box-ticking diversity exercise when it can't also ensure that they aren't forced to deal with casually racist comments and knocks to their self esteem caused by the colour of their skin.
So here's hoping that Hayley is pulled aside for an illuminating chat with a producer before Samira has to cope with any more awkward questions. Seeing the model learn from her slip up would make for interesting and informative viewing, and would show Love Island is committed to improving its race problem.