Kendall Has Just Revealed Her Post 'Love Island' Job & Wait WHAT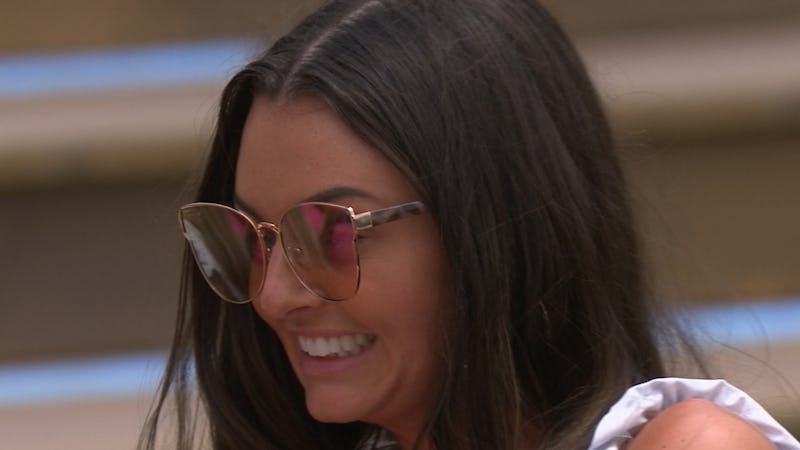 Love Island/ITV
The first Love Island dumping is never pretty. It hardly seems fair that after less than a week, one of the singletons has to turn right around, wave goodbye to their new mates and stroll back through those doors. Sadly, not everyone can win, and on Friday, Kendall became the first dumpee of 2018. If you feel sorry for her, don't. Now she's out of the villa, she has some pretty interesting plans moving forward. No, she's not about to launch a career in reality TV or try and become a presenter. Love Island's Kendall Rae-Knight's job is going to be exactly the same as when she entered the villa.
"I never went in there for a change in career," she tells me. "I went in there for the right reason, to find love. I'd be happy to go back to the shop, I was happy with my career beforehand. I didn't go on Love Island as a reality show. I'm not really too interested in all of that." Wow, take that, reality TV.
Oh and instead of spending the next few weeks earning a bit of extra from personal appearances at clubs, Kendall has other ideas. In the days after her exit, the islander says she "plans to spend time with my family and speak to my mum and sister" because quite frankly, that's more important to her. Wow. I don't think I've ever heard of an islander leaving the villa and saying that before. You go, girl. if that's not what you want, you stick to your guns.
But the surprises don't end there. Although she spent her time in the villa pining after Adam Collard, she's now well over him. Especially after finding out on Sunday night's Love Island After Sun that he kissed Rosie Williams while her back was turned. Urgh. Boy bye. Now, she says she's be more up for a date with doctor Alex George if he should ever ask. Oh, why didn't couldn't she have had this epiphany while in the villa?
Commenting on why Alex hasn't had much success with the girls so far, Kendall adds: "I think maybe nowadays girls like a bad boy and he's an absolute angel. I'd be up for [a date with him]. He's a really nice guy." Please, please, please, someone make this happen.
While Kendall seems to be handling her elimination pretty blooming well, she admits she is "gutted" to be out. "No one wants to be first," she adds. "But I wouldn't change anything. I'm proud of all my decisions. I don't look back and regret."
Looking back, Kendall doesn't even regret how things turned out with Niall Aslam (the Harry Potter fan she was first coupled up with before being re-coupled with Adam). She explains: "I didn't pick Adam, Adam picked me. It wasn't the best situation for Niall but we get on as friends. I don't wish I'd pursued him. I really got on with him but I didn't have that instant connection that I had with Adam."
Despite the pair initially hitting things off, Kendall predicted her partner Adam would opt to recouple with Rosie in Thursday's game of truth or dare, resulting in her elimination. Unfortunately, that's exactly what happened. "I wasn't surprised," she tells me. "He wanted to go right ahead and I wanted to take things a bit slower. Adam said he always had to reassure me, maybe my way of being in the villa wasn't for him."
Although Adam's behaviour left a lot of viewers pretty miffed on Twitter, Kendall insists she doesn't have any hard feelings towards the personal trainer or his new partner. "I think he was genuine from the start," she says. "He didn't come in thinking he was better than everyone or tread on anyone's toes. If two people click you can't be mad at them. [Rosie] is a lovely girl. She's so sweet. No hard feelings."
While Kendall might not have achieved her goal of finding love in the villa, she does have a good idea of whose romance might take them all the way. When asked who she reckons might win, she tipped Jack Fincham and Dani Dyer, despite the pair's bump in the road earlier this week. "They seem to have a really good connection when you see them day to day."
According to Bookmakers Ladbrokes, Kendall's gut feeling is right. Jack and Dani are favourite to win at 3/1, with Niall and newbie Georgia Stell at 5/2 and 3/1 odds respectively.
Love Island continues nightly at 9 p.m. on ITV2