'Love Island's Sophie Gradon Has Died At Age 32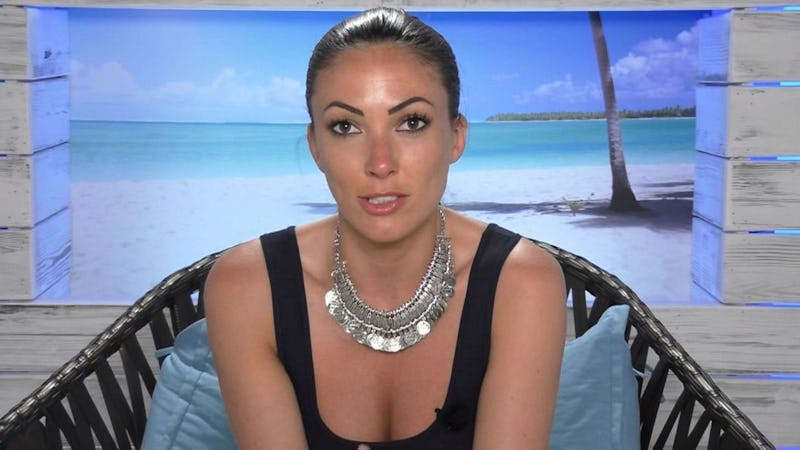 ITV
Love Island star Sophie Gradon has reportedly passed away at the age of 32. Her boyfriend Aaron Armstrong published a post on Facebook announcing her death on Thursday morning. It read: "I will never forget that smile I love you so so much baby your my world forever ever and always."
In a statement to Bustle UK, Northumbria Police confirmed that a 32-year-old woman was found dead on Wednesday evening. It read: "At about 8.27 p.m. yesterday (June 20) police attended a property in Medburn, Ponteland, where sadly a 32-year-old woman was found deceased. There are not believed to be any suspicious circumstances surrounding her death. A report will now be prepared for the coroner."
Bustle UK has reached out to Gradon's spokesperson and ITV for comment. An ITV representative said in a statement: "The whole ITV2 and Love Island team are profoundly saddened to hear the news about Sophie, and our deepest sympathies and thoughts go to her family and friends."
Following Armstrong's post on Facebook, he has been inundated with supportive messages from heartbroken friends and loved ones on social media. Meanwhile, on Twitter, countless people have been posting messages to pay their respects. Gradon's former Love Island boyfriend Thomas Powell has not commented on her tragic passing specifically but has retweeted a message from her good friend and Geordie Shore star Holly Hagan, which read: "If you're struggling right now PEOPLE CARE ABOUT YOU! I promise please speak to someone."
Many more celebrities, including Gradon's former Love Island co-stars, have been addressing the devastating news online too.
Gradon's death comes just days after her good friend Paul Burns died suddenly. He was nicknamed "Mr Newcastle" and was close to a number of local celebrities, including members of the Geordie Shore cast. Vicky Pattison is believed to have spoken at his funeral, which took place six days ago. Gradon attended the service and published an emotional post on Facebook afterwards:
"Today was all about you sweetheart. What an amazing send off for our Mr Newcastle Paul 'Conrad' Burns Thank you for being there when you recognised I needed someone, you are a true saint. I only wish I had got to know you better. All my love and thoughts with your nearest and dearest. @vickypattison you made us laugh & cry all at the same time... #viviennewestwood Emma English_ you told us about his selflessness & the size of his heart Christiano & Andrew Shiel-Redfern you gave us insight into his love for his work & all his friends in this town Rosie'may Edge you gave us a collection of memories to treasure forever. I've never felt so emotional yet so uplifted in my life. #paulburns #mrnewcastle #restinpeace."
In the weeks leading up to her death, Gradon had been posting regularly on social media. One post in particular that she seemed happy to share was the confirmation of her relationship with Armstrong. The couple made their romance official on Facebook just three weeks ago on May 29. However, friends have hinted on the site that they had been dating for far longer.
A few days after updating her relationship status, Gradon changed her profile picture to one of herself posing with Armstrong. She then shared began sharing more photos of them enjoying each other's company. In one post, she described Armstrong as the "love of my life".
Less than two weeks ago, the pair were enjoying a break in Antibes, France, to celebrate his birthday. She wrote on Facebook: "Happy Birthday to my sidekick & partner in crime. Here's to laughing so hard that we piss ourselves & creating more PURELY LEATHAL memories together." Gradon also shared images of their trip online, captioning the images: "Having a magical time. First time in Antibes and I'm blown away by the beauty of the place."
Previously crowned Miss Great Britain, Gradon established herself as a reality star back in 206 after taking part in the second series of Love Island. On the show, she coupled up with ex-boyfriend Thomas Powell from the very first episode. The pair parted ways when he was eliminated and she then became one half of the show's first ever same-sex couple with fellow islander Katie Salmon. However, their relationship didn't work out and Gradon made her relationship with Powell after leaving the villa.
Upon hearing news of Gradon's death, Salmon was quick to post a message on Twitter to pay her respects. She wrote: "The world has failed you beautiful...Your smile will be remembered forever, My thoughts are with your family, friends, and loved ones at this horrendous time. Too young, too sweet. Too kind. Am sending all my love. I truly am to everyone who had the pleasure of ever being in her company!"
After Love Island ended, Gradon went on to launch her own fitness clothing line and landed a partnership with The Fashion Bible which saw her create her own womenswear range. She also promoted a range of brands online, stretching from hair extensions to personalised Father's Day vouchers. Her last post on Instagram was promoting underwear brand, Sneaky Vaunt.