'RHONY' Fans Need To Read Luann de Lesseps' Comments About Moving Forward After Her Arrest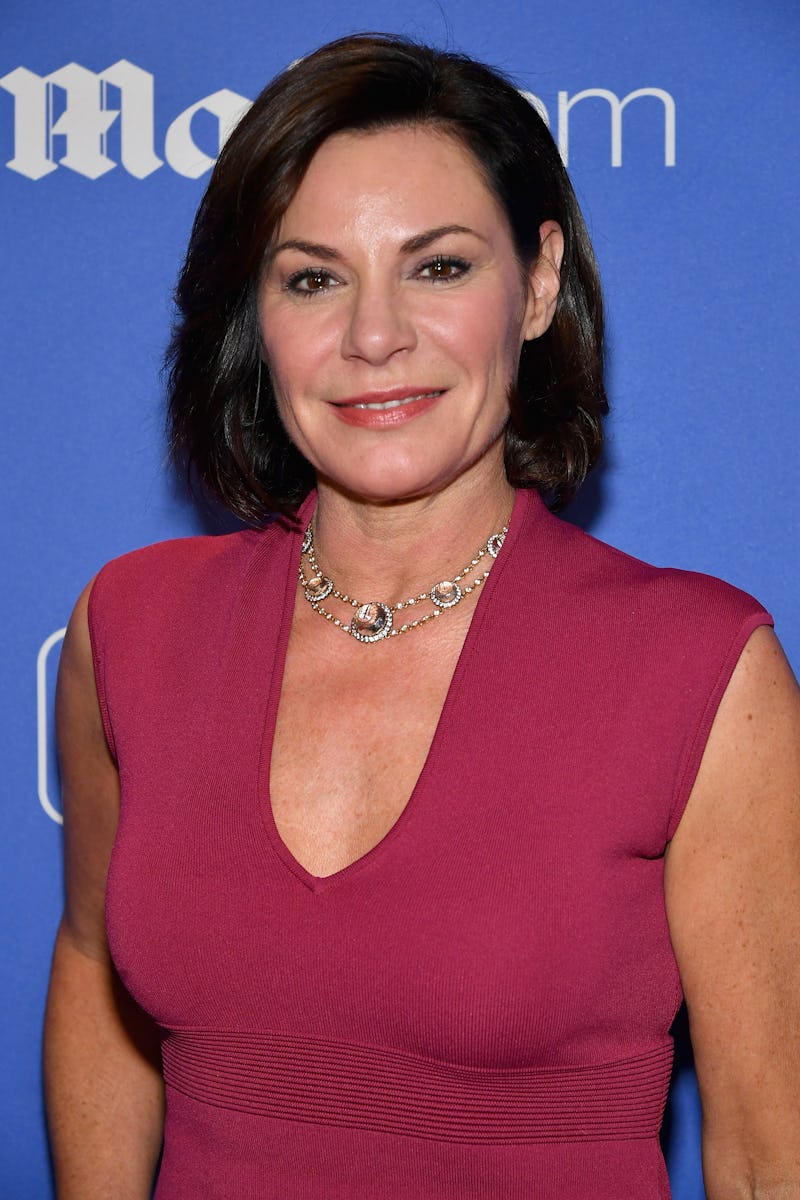 Slaven Vlasic/Getty Images Entertainment/Getty Images
For Real Housewives of New York's Luann de Lesseps, 2017 was a pretty tough year. In August, the reality star (who famously split from her husband of 16 years, Count Alexandre de Lesseps, in 2009) announced her second divorce from Tom D'Agostino, Jr., after less than a year of marriage. Several months later, in December, de Lesseps made headlines once again when she was arrested in Palm Beach, Florida, for alleged disorderly intoxication and assaulting a police officer. But, judging by Luann de Lesseps' recent comments on her arrest to the New York Times, it seems like the RHONY star is turning over a new leaf with the onset of the new year.
Since the arrest, which took place at the Colony Hotel in Palm Beach during the evening of Dec. 23, de Lesseps (better known by RHONY fans as "Countess Luann," or simply, "The Countess") has managed to remain largely removed from the public limelight. But, in a recent feature interview with the New York Times, published Feb. 23, de Lesseps finally spoke openly on the subject of her Palm Beach arrest. Speaking to the New York Times about the incident, de Lesseps seemed to recognize, and take responsibility for, her behaviors that evening. She told the Times,
Obviously, it was a really bad night for me and something I am not proud of.
In broad strokes, de Lesseps' New York Times interview as a whole is saturated with an air of "new beginnings." As the Times reported, the 52-year-old RHONY veteran (who, in addition to TV personality, also doubles as a singer, model, and author to boot) is starting anew this year — in more ways than one. More specifically, for the first time, de Lesseps will take her talents to the glitzy NYC stage with an upcoming cabaret show, aptly titled #CountessAndFriends, which is slated to debut at the Manhattan nightclub Feinstein's/54 Below on Feb. 27. And, despite the cabaret show's intended playful tenor, de Lesseps acknowledged that it will probably be impossible to remain tight-lipped about her arrest. "I can't avoid the whole story of what happened to me in Palm Beach," she told the Times. "I'm trying to keep it light while also taking it seriously."
If the New York Times report is any indication, it seems de Lesseps is already finding ways to do just that. According to the Times, in rehearsing her introductory remarks for the upcoming cabaret performance, de Lesseps certainly capitalized on the prime opportunity for wordplay, referencing songs like "Jailhouse Rock" and "I Fought the Law and the Law Won." And, as the Times reported, de Lesseps even managed to laugh about the pushback move that earned her a misdemeanor charge (for "resisting an officer with violence," according to the Palm Beach Police report): "Craaaazy for thinking I could get out of those handcuffs," she joked.
According to the police report provided to Bustle by the Palm Beach Police Department, de Lesseps was arrested at the Colony Hotel on Saturday night, Dec. 23, for disorderly intoxication and assaulting a police officer. The report essentially provides a play-by-play account of de Lesseps arrest, which transpired after she and a male companion reportedly trespassed in another guest's room and refused to leave. Two Palm Beach Police officers arrived at the scene, at which time, de Lesseps had reportedly locked herself in the bathroom. In a statement from the Palm Beach Police, Officer Robert E. Mastrangelo noted that de Lesseps "smelled of an unknown alcoholic beverage, had slurred speech and appeared to be highly intoxicated." The statement continued to describe her interaction with Palm Beach Police Officer O'Leary.
De Lesseps was told several times to come out of the bathroom and leave the room, however she still refused. When [the hotel security guard] attempted to open the bathroom with a key, de Lesseps opened the door. Officer O'Leary then attempted to detain de Lesseps and remove her from the bathroom, at which time de Lesseps shoved Officer O'Leary with an open palm to the chest, then slammed the door on Officer O'Leary face, striking him in the forehead. While de Lesseps was being placed in handcuffs she resisted by pushing and pulling away from Officer O'Leary and I.
In January, de Lesseps pleaded not guilty to one felony (resisting an officer with violence) and two misdemeanor charges (trespassing and disorderly intoxication, respectively). A hearing has been set for April 13.
Immediately following the arrest back in December, de Lesseps (who had actually married her most recent ex, D'Agostino, in Palm Beach on New Year's Eve 2016) released a statement on Twitter, which read, "This was my first time in Palm Beach since my wedding, and being here brought up long-buried emotions. I want to offer my sincere apologies to anyone I might have offended with my behavior." The tweet finished with de Lesseps pledging her commitment to a "transformative and hopeful 2018." She took to Instagram a few days later, on Dec. 29, to announce her plans to check herself into an alcohol treatment facility.
"After the events of last Saturday night in Palm Beach, I am truly embarrassed," de Lesseps wrote, continuing on to reveal her plans to seek professional guidance. "I intend to turn this unfortunate incident into a positive life changing event."
It was that same kind of positive attitude that colored much of de Lesseps' comments to the New York Times. "The important thing is to not take yourself so damn seriously," she told The Times. "I always think, 'I can survive this if I keep on moving.'" And, while there's still a few months to go ahead of de Lesseps' April hearing, based on her actions so far, it certainly looks like she's gearing up for a redemption tour in 2018 — cabaret style.