Luke Bryan Will Sing At The Super Bowl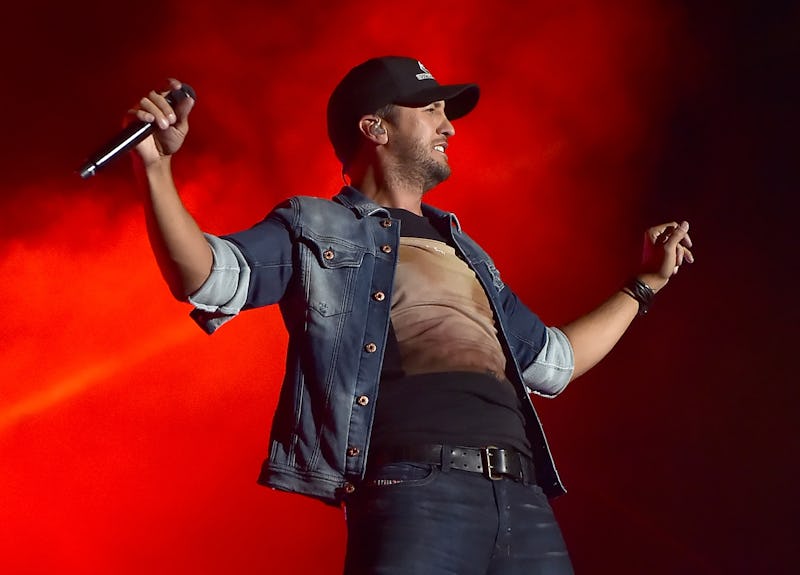 Kevin Winter/Getty Images Entertainment/Getty Images
Over the weekend, news broke that Luke Bryan will sing the National Anthem at the Super Bowl. It marks his first performance at football's biggest game, which is slated for Feb. 5 at Houston's NRG stadium. "I said, 'Hell yes, I'll do it!' " he told People. "Is the anthem challenging? Yes. Is it nerve-wracking? Yes. But I moved to Nashville to follow my dreams and singing the national anthem on that stage doesn't get any bigger."
For the Georgia-born country star, it's also a way for him to express his patriotism. "I never served in the military — that's something I wish I had had the opportunity to do," he continued, "but I feel like this is my way of honoring my country. It's a little chance to serve."
It's a major get for Bryan, who follows entertainers like Idina Menzel, Garth Brooks, Mariah Carey, Dixie Chicks, and Whitney Houston — to name a few. Still, he's not a stranger to a stadium-sized audience. Since first shooting into the national spotlight with debut record I'll Stay Me in 2007, he's gone on to sell out shows at Chicago's Soldier Field, Denver's Sports Authority Field at Mile High, Detroit's Ford Field, and Pittsburgh's Heinz Field, among many others. His current tour, in support of 2015 album Kill the Lights, also includes a stop at New York's famed Madison Square Garden.
Bryan's addition to the lineup will also make for a particularly country-flavored show. He joins previously announced half time headliner Lady Gaga, who sang the National Anthem at last year's face-off. Her latest record, October's Joanne, saw her trade in her dance pop roots for something a little more Southern.
"Everyone thinks of rock & roll and country in different ways. Rock & roll, country and blues — they all have babies. So I love Johnny Cash, I love Neil Young, I love Garth Brooks," Gaga previously told Rolling Stone of the project's influences. "I have a general and deep respect for all country musicians, but I myself am not a country musician. I'm just a musician period. I love all different kinds of music and this is just what I wrote."
Perhaps she'll bring out Bryan for a surprise duet? We'll have to watch it all go down when Super Bowl LI kicks off in just a couple weeks.