What's Next For Luke & Misty After That Ominous 'Luke Cage' Season 2 Ending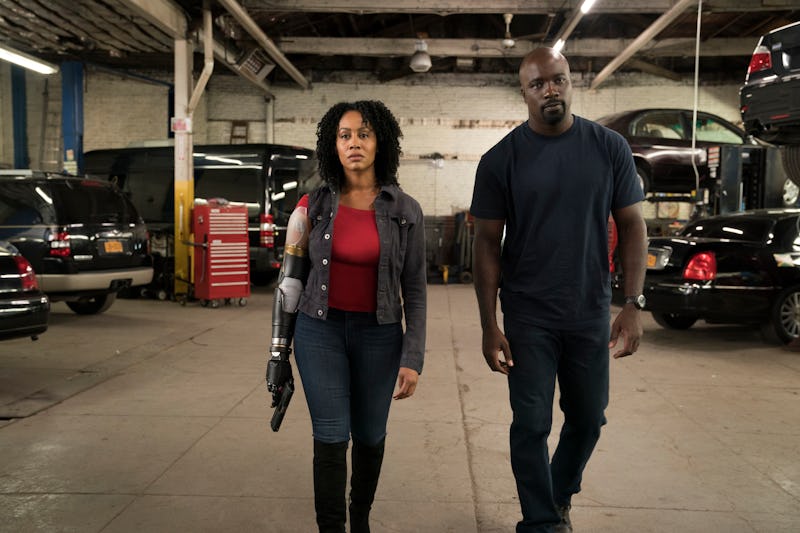 David Lee/Netflix
Spoilers for Luke Cage Season 2 ahead. Misty Knight and Luke Cage make for a powerful team, but the future of their relationship may be in jeopardy. On the red carpet with Bustle at the Luke Cage Season 2 premiere in New York City, stars Simone Missick and Mike Colter discuss the Luke Cage Season 2 ending, what it means for Misty and Luke, and what they hope Season 3 brings for their characters.
The final episode leaves Luke in charge of Harlem's Paradise and, by proxy, Harlem itself. He seems to have grown a bit colder, and dangerously close to becoming one of the villains he used to oppose in this new position. Has absolute Power Man corrupted absolutely? It's difficult to say, and if Netflix renews the series for Season 3, it seems like this choice Luke made to take over Mariah Stokes' kingdom will be a major source of conflict regardless.
Missick seems worried — and the ominous look that her character throws Luke in those final moments is definitely teasing some tension between Harlem's two heroes in Season 3. "I think that by the end of the season [Misty is] questioning if this friendship, this partnership with Luke is something that can last," Missick says. "Something that his step into power will allow. It's exciting to look forward to in Season 3."
Colter, meanwhile, adds that the end of Season 2 puts Luke in a place where he's about to break new ground. "The last beat of the season is him coming to the sobering conclusion that he's in a place that he never thought he would be," Colter says. "He's got to figure out what to do and there's no way out. He's sort of trapped."
Going forward, Colter says, "I'd like to see him explore this position he's in. See what he can do, and see if... [Luke] thinks that running Harlem is easy, or he thinks he knows how to sort of do it, and he thinks can do it better than Mariah or Cottonmouth. So I'd like to see what he can get himself into and I'd like to see his approach see what happens when he's in the position he's in."
It's definitely a test of heroism unlike anything Luke Cage has faced yet. You can't run a club with thick skin and powerful punches and be considered a good guy — at least, not in most cases. "This is what makes great drama," Colter adds.
What else could be coming for these characters in Season 3? Maybe, if Luke and Misty are at odds, the audience can get to know more things about them as individuals — particularly Misty. Her journey this season may have landed her with a cool bionic arm, but there's so much more to learn.
"I really wanna get into who Misty is," says Missick. "Her backstory. Find out about her family and what makes her tick in that way. She has a lot of issues with women and I think there's a reason why."
While Misty does occasionally team up with Colleen Wing and has had some friendly moments with Claire Temple, she doesn't have a lot of female friends. Her tense relationship with Nandi in Season 2 hints at some of that backstory, and it would be great to see that aspect of Misty's character developed further.
Missick will reprise her role as Misty in Iron Fist Season 2, potentially further developing that relationship with Colleen that, in the comics, becomes known as the Daughters of the Dragon or NightWing Restorations. So, at the very least, there is that to look forward to in the Netflix Marvel Universe.
Since Luke and Danny Rand, AKA Iron Fist, are pals, there's a chance that Luke's takeover of Harlem's Paradise will be addressed in Iron Fist Season 2 as well — but let's hope that Luke Cage is renewed for Season 3 so that these new developments can all reach a satisfying conclusion.