Lupita Nyong'o Is Calling Out A Magazine That Photoshopped Her Natural Hair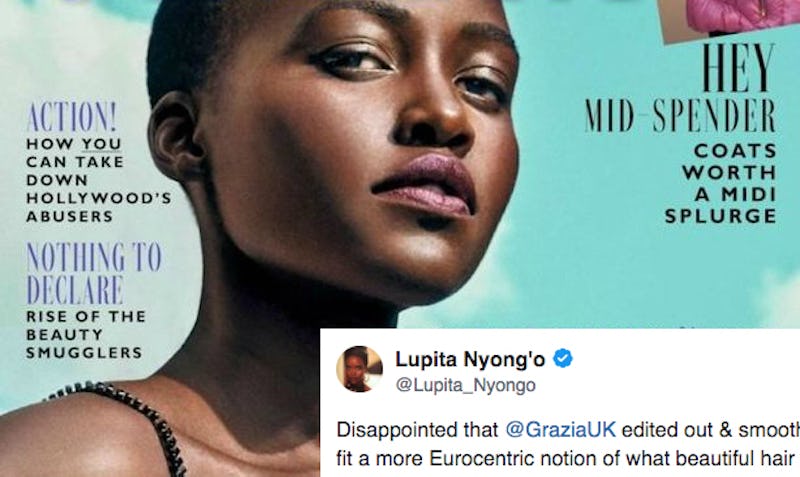 Garzia Magazine/ Twitter
On the heels of Missguided's decision to stop photoshopping, another editing scandal has broken out in fashion. While scandal may seem like a strong word, Lupita Nyong'o's natural hair was photoshopped out of a Grazia magazine cover, and the image illustrates just how far the industry has left to go when it comes to inclusivity. Nyong'o is now speaking out about the cover — and her response to the magazine removing and smoothing her natural hair is so important.
Nyong'o went to her Instagram account to reach all 4.2 million of her followers after the publication of the cover. The actress posted a collage which features two unedited images from the photoshoot paired with the final Grazia magazine cover. In the unedited images, Nyong'o has her hair pulled back with her natural curls clearly visible. In the cover image, however, Nyong'o hair has been smoothed over her scalp and along her hair line, and her pulled back curls are completely gone.
In the post Nyong'o explains, "I am disappointed that @graziauk invited me to be on their cover and then edited out and smoothed my hair to fit their notion of what beautiful hair looks like. Had I been consulted, I would have explained that I cannot support or condone the omission of what is my native heritage with the intention that they appreciate that there is still a very long way to go to combat the unconscious prejudice against black women's complexion, hair style and texture."
Nyong'o didn't just speak out regarding the cover image. She also shared an insightful, meaningful critique of a culture that devalues black women's natural features and attempts to hide them.
She also wrote, "As I have made clear so often in the past with every fiber of my being, I embrace my natural heritage and despite having grown up thinking light skin and straight, silky hair were the standards of beauty, I now know that my dark skin and kinky, coily hair are beautiful too. Being featured on the cover of a magazine fulfills me as it is an opportunity to show other dark, kinky-haired people, and particularly our children, that they are beautiful just the way they are."
Nyong'o finished the post with #dtmh, which appears to be a reference to both singer Solange's song "Don't Touch My Hair" and a similar incident that the singer faced. Unfortunately, Solange's experience was only a few short weeks ago.
The Evening Standard edited out a braided crown in a cover story on Solange despite her explicit discussion of the inspiration behind the crown in the article itself. Solange also took to her Instagram account to post the hashtage #dtmh, and Nyong'o may have done so in solidarity with Solange.
Since the cover image on Grazia, the magazine has apologized, issuing an comment on smoothing and editing out of Nyong'o's curls. In an Instagram post, the magazine says, "Grazia is committed to representing diversity throughout its pages and apologizes unreservedly to Lupita Nyong'o. Grazia magazine would like to make it clear that at no point did they make any editorial request to the photographer for Lupita Nyong'o's hair to be altered on this week's cover, nor did we alter it ourselves. But we apologize unreservedly for not upholding the highest of editorial standards in ensuring that that we were aware of all alterations that had been made."
Nyong'o's photoshopped image is indicative of a widespread issue in fashion and beauty. Black women's natural hair is often considered outside the arbitrary standards of beauty, which revolve around whiteness. Women such as Nyong'o's and Solange's desire to speak out and challenge norms grounded in racist conceptions of beauty are integral to changing the landscape in fashion, and they (and their hair) should be applauded.