LUSH's Harry Potter-Themed Bath Bomb Is All Sorts Of Sorcery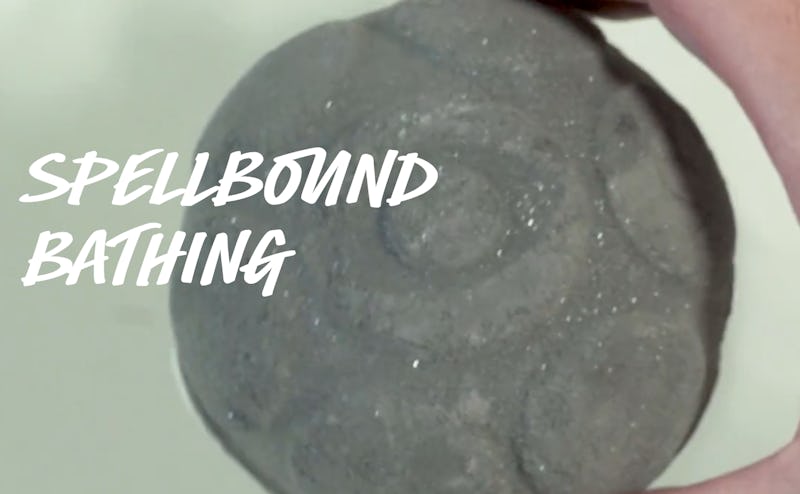 Courtesy of LUSH
LUSH Cosmetics is giving its legion of Lushies yet another reason to swap showers for baths. Aside from Bath Bombs, the brand's latest newness is the LUSH Jelly Bomb, a skin-loving product that also transforms bathwater into a jelly-like texture. But wait — it gets better. There is a Harry Potter-themed Jelly Bomb called "Dark Arts" and OMG I want to dive right in.
The official description on the UK LUSH site espouses the virtues of the Dark Arts Jelly Bomb.
It reads as follows: "When you're feeling like going to the dark side, dabble in the dark arts, slither into a hot bath and cast this Jelly Bomb into the water. As tendrils of black give way to love potion pink, cinnamon leaf oil warms and stimulates. Jelly spreads on the surface of the water, softening skin as it goes. Uplifting and brightening Brazilian orange oil gives moods a boost and sweet almond essential oil helps to keep skin conditioned. Relax and restore yourself and rise anew from the cinders."
That sounds like bath time heaven for me. Dark water? As an all-black devotee, this sounds like something I've searched for my whole life. It's bathcraft.
Here's what this transformative product looks like in solid form.
Another description on the site reads as follows: "Why not become a professor of Dark Arts? Sink into deep, inky black water and inhale a spellbinding Brazilian orange oil and spicy cinnamon leaf oil mist. As this mystifying Jelly Bomb fizzes it dissolves into a dark jelly which wraps around the skin, conditioning and nourishing it with mineral-rich seaweed and almond essential oil. Conjure up this enchanting soak and perplex witches and wizards with your bathtime sorcery."
Look at how it fizzes and thickens the water? I want to sink into a tub of this and not care about the cleanup efforts. A further description, provided by Cosmo, contained a specific Harry Potter reference, which I can't find on the LUSH UK site currently.
Here's the screen grab.
The jelly water is just... magically beautiful.
A black bath bomb is life. It's currently available in the UK, per the post's caption.
This video from LUSH product inventor Jack Constantine is straight up sorcery.
Here it is in action.
How are fans feeling? I've seen some rumblings that it leaves behind a mess in the tub, while LUSH maintains in Twitter replies that the Jelly Bomb is an easy clean up and good for the environment.
I mean, who doesn't want to play with this? Personally, I am not concerned with having to use additional elbow grease on my tub afterwords in order to soak in this. But that's just me.
Lushies and Harry Potter lovers are down.
Dark Arts combines two things people love.
The LUSH Jelly Bombs aren't available in the U.S... yet! Cosmo reports they will arrive for fall. Oh, I cannot think of a more perfect time to take a bath in black water with a Harry Potter-themed bomb than the fall.