LUSH Is Releasing Solid Foundation In 40 Shades & Here's How To Get Your Hands On It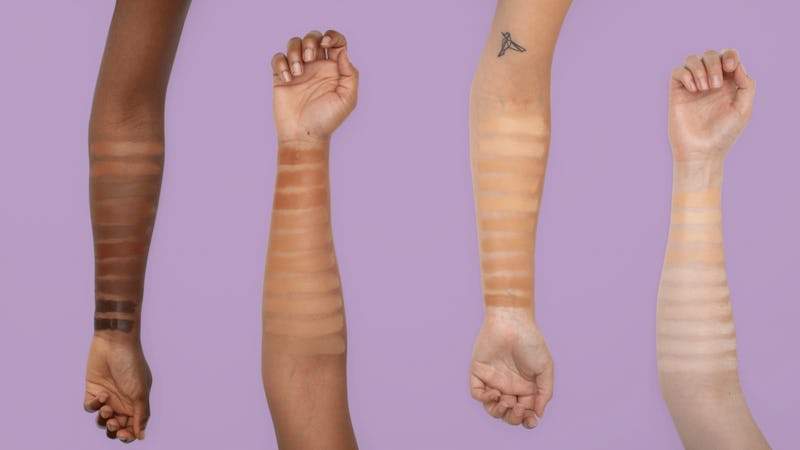 Lush
Lush is no longer the store where you only get you favorite colorful bath bombs and package-free shampoo bars and body washes — it's also going to be the place you get your makeup. Move over, Sephora. The brand is launching 40 shades of foundation with its new Lush Slap Sticks Solid Foundations line, but there's one catch to this exciting news. The line will only be available in UK stores and on the UK Lush website, meaning beauty lovers across the Atlantic can't quite experience it yet. But there's still hope it will make its way over here.
When Rihanna launched Fenty Beauty, she revolutionized the beauty game by releasing her first foundation line with 40 different skin tone shades — which was something that other beauty companies claimed they didn't do because it was never profitable. Seeing the massive success she experienced by catering to all of her customers and not just a small sect, other companies have now followed suit, and 40 has become the magic number.
While this isn't the brand's first foray into makeup — they have launched products like mascara, eye liners, highlighters and skin tints — this is their first wide-range foundation collection. The vegan cosmetic is meant to be a medium-coverage, buildable foundation that comes in three different undertones to choose from — warm, cool, and neutral — so the whole spectrum of skin shades are catered to.
Coming in the form of solid foundation sticks rather than being packaged in hard to recycle bottles, this new venture into skin cosmetics stays in line with the brand's commitment to scale back on waste. When it comes to packaging, Lush's motto is "less is more, and none is even better," and as of right now 35 percent of their products are totally unpackaged, or "naked."
While the new foundation line is not 100 percent naked, each Slap Stick is dipped in wax that you could peel off — nixing plastic wrappers and packaging — and it and comes in a complimentary cardboard box that has been previously recycled and can be recycled again. You can use the box at home to store your foundation stick so it stays clean, or you can repurpose it for something else.
The vegan cosmetic is meant to be a medium-coverage, buildable foundation that is made with 45 percent of coconut oil from Indonesia to help hydrate your skin, as well as candelilla, sunflower, pigment, and Turkish rose waxes. Because of its lush ingredients, one can assume that this is more of a dewy foundation rather than a matte formula.
Since Lush is all about giving back and raising up communities, 10 percent of profits from the purchase of the coconut oil will go back to the Indonesian island of Nias to fund literary classes and a dentist.
While all of this sounds amazing, unfortunately it's only being test-driven in the UK right now. Starting on Friday, June 29, beauty lovers across the pond can shop the foundation range online for a month, or if they would want to see which shade best suits them in person, they can go to the Lush Swatch Shop in Soho to check them out in person. And seeing how the foundation sticks are listed as £16.95, or approximately $22, they're an affordable mid-range foundation that won't break the bank.
There's no telling when the launch will come to the U.S., or if it's going to stick around in the U.K., but seeing how they already have skin tints and eye makeup in stock, there's a strong possibility the foundation line will become a permanent part of their offerings. Fingers crossed that that's the case!