Lyft's New Tool Makes The App Even More Accessible For Visually Impaired People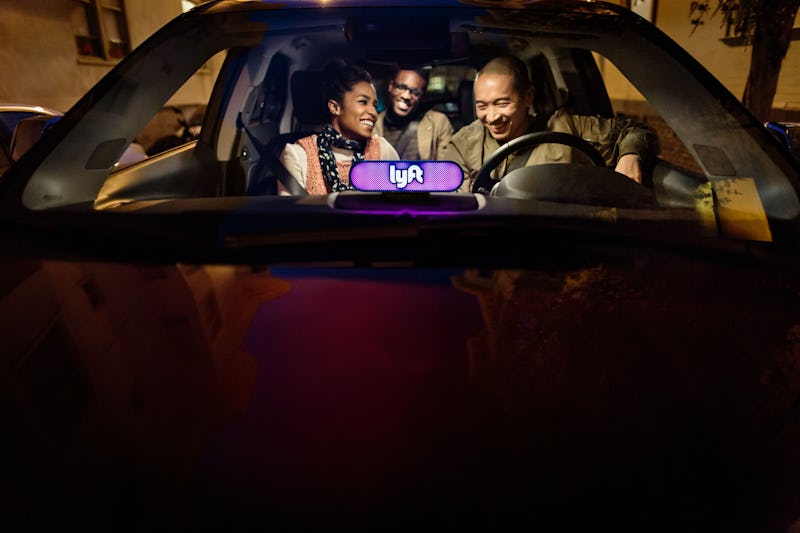 Courtesy of Lyft
Lyft has made accessibility a priority in 2017. First, in April, it announced its partnership with the National Association of the Deaf, along with changes to the app that would make it more accessible for Deaf and hard of hearing riders and drivers. Now Lyft is embracing its visually impaired riders by announcing its new partnership with Aira, which will make Lyft more accessible for visually impaired riders.
Aira "develops transformative remote assistive technology that connects the blind with a network of certified agents via wearable smart glasses and an augmented reality dashboard that allows agents to see what the blind person sees in real time." Folks who sign on with Aira receive a pair of sleek silver glasses equipped with Aira technology. If they need assistance, they simply tap the side of their glasses, and one of Aira's trained agents will be able to assist them, through microphones and cameras set into the glasses, with tons of tasks, including navigation, reading everything from restaurant menus to books, and, thanks to the new partnership, calling and taking a Lyft.
A Dec. 19 press release from Aira explains that Aira agents will now be able to initiate Lyft rides for Aira users — called "explorers" — as well as "convey important information about the ride, including the location of designated pick-up spots, estimated time of pick-up, and the estimated fare." Aira agents will also be able to tell explorers their driver's name and vehicle information, "provide navigational information to users as they walk the last 50 feet to their destination," a Lyft rep tells Bustle, and will be able to track the ride from their Aira dashboard to ensure the rider arrives safely. You can see the Aira-Lyft partnership at work in this video.
Finding reliable transportation is one of the biggest challenges facing people with visual impairment, and though some cities make navigation easier for the blind and visually impaired, ridesharing has been an independence-boosting game-changer for folks who are blind or visually impaired. Considering Lyft is available to 95 percent of Americans, and Aira serves 300 million blind and visually impaired folks around the world, according to a press release from Aira, the partnership is set to help millions of people access rides they can count on.
Suman Kanuganti, Aira founder and CEO, said in a press release that "Lyft is committed to be a model for the type of community we want our world to be: diverse, inclusive, and safe. Aira's mission is to give people who are blind or low vision the power of information. I am psyched about this partnership as it's designed to provide an end-to-end enhanced experience that makes traveling more accessible to the blind and low vision community, anytime and anywhere."
Aira operates using Wi-Fi data powered by AT&T, so users have widespread access to agents through plans starting at $89 per month for 100 minutes of agent help time (glasses included). The only limitation is that Aira agents are not available 24/7; instead, they're available from 5 a.m. to 11 p.m. CST, seven days a week.
Gyre Renwick, vice president of Lyft Business, tells Bustle in an email that Lyft is excited to partner with Aira "to reach a new population of underserved riders." Renwick added, "Our mission is to improve people's lives with the world's best transportation, and to better connect communities, and our work with Aira enables us to do just that."
Renwick calls this "another very important step in our efforts to provide better transit solutions, and ultimately better experiences, for those who are hard of hearing or low vision."
While plenty of companies talk up their commitments to diversity, it's absolutely vital they make useful, quantifiable changes to their apps that will make them equally as accessible to disabled folks as they are to abled folks. Lyft has pledged to continue making changes that will add to its accessibility, opening transportation opportunities for more and more people in the months to come.