Your Next Lyft Ride Will Help The Fight Against Climate Change — Here's How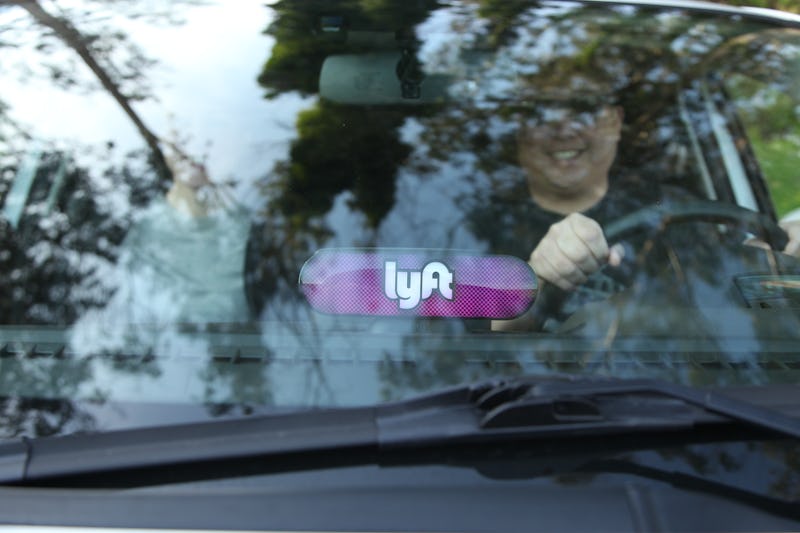 Kelly Sullivan/Getty Images Entertainment/Getty Images
Lyft is officially going carbon-neutral. The ridesharing business announced on April 19 that going forward, it will offset the carbon emissions from all Lyft rides by becoming one of the largest voluntary purchasers of carbon offsets in the world, according to a press release about the change-up. Lyft riders will see cars' trademark Amps turn green April 22 to mark Earth Day and celebrate Lyft's commitment to carbon-neutral rides, which the company expects to have a significant green impact. In year one, Lyft said in its press release, carbon offsets purchases are expected to be "equivalent to planting tens of millions of trees or taking hundreds of thousands of cars off the road." And, considering that Lyft needs to have cars on the road in order to operate, that makes a huge difference towards offsetting their impact.
"We feel immense responsibility for the profound impact that Lyft will have on our planet," Lyft co-founders Logan Green and John Zimmer said in the press release. "As we continue to grow, we have a greater responsibility to dedicate material resources to our vision and values."
Part of that vision includes Lyft's Green Cities Initiative, which Lyft's purchase of carbon offsets will be a part of. The Green Cities Initiative follows up on the climate impact goals Lyft announced last year, including a goal to "reduce CO2 emissions for the U.S. transportation sector as a whole by at least 5 million tons per year by 2025."
In case you're not in the know, here's how carbon offsets work: Anyone, individuals or businesses, can purchase carbon offsets to help reduce or balance the carbon footprint they leave on the Earth. According to HowStuffWorks, the purchase price of carbon offsets goes toward funding projects that reduce greenhouse gas emissions, thereby letting you pay to make up for parts of your lifestyle that add to your carbon footprint. (Purchasing carbon offsets could make a great/passive-aggressive Earth Day gift for a friend... just saying...)
According to Green and Zimmer, Lyft's carbon offsets will go towards "the direct funding of emission mitigation efforts, including the reduction of emissions in the automotive manufacturing process, renewable energy programs, forestry projects, and the capture of emissions from landfills."
This is all in addition to the future goal of getting engines revved with clean energy. "In the future all vehicles will operate with clean energy," Green and Zimmer said in the press release. Another of Lyft's climate impact goals promises that all electric autonomous Lyft vehicles will be powered by renewable energy, which is currently the case in Boston. "But climate change is not waiting," Green and Zimmer added. "It's happening now, and it presents a clear and immediate threat to our world and those who live in it. Action cannot wait."
Lyft's partner in sustainable energy, 3Degrees, will help ensure Lyft's funds are going toward legitimate, Earth-saving projects by overseeing the "registration and independent verification of all projects according to rigorous third-party standards. The majority of these projects will be in close proximity to our largest markets, and all projects will be US-based [sic]," Lyft said in the press release.
Green and Zimmer said in the press release that they recognize transportation companies are one of the largest sources of greenhouse gas emissions. "As a growing part of the transportation ecosystem, we are holding ourselves accountable to being part of the solution," they explained. "We're in the unique and fortunate position to be a driving force in bringing forward a more sustainable future, and we don't take that lightly."
They added that purchasing carbon offsets "is not the full solution" to greenhouse gas emissions caused by vehicles in their fleet, "but a real step forward." Well said.