Speed Skater Maame Biney Advances To The Quarterfinals & Twitter Is SO Excited For Her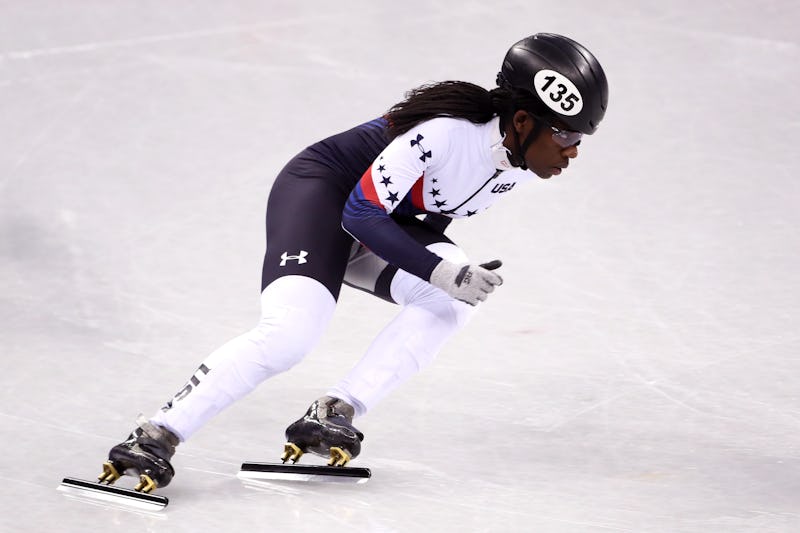 Jamie Squire/Getty Images Sport/Getty Images
It's on to the quarterfinals for one of Team USA's breakout Winter Olympics stars. Speed skater Maame Biney advanced in women's short track speed skating after the 500-meter event Saturday at Gangneung Ice Arena in South Korea, and Twitter was ecstatic. Biney, the first black woman to qualify for a U.S. Olympic speed skating team, will compete Tuesday for the chance to advance to the semifinals and then a shot at an Olympic medal.
Although she was placed in a heat that included decorated and seasoned veteran speed skaters like five-time world champion Fan Kexin of China and Olympic gold medalist Kim Alang of South Korea, Biney held her own, speeding around the track to cross the finish line less than a second behind Kexin. Biney's time of 43.665 seconds earned her second place in her heat, a spot in Tuesday's quarterfinals, and praise from Vice President Mike Pence.
But while Biney was certainly a speed queen on the track, she admitted to being a bit nervous in a post-race interview. "Jeez, that was nerve-racking!" the Washington Post reported Biney said of her race. "My legs were like 'Eee-yowww!' But it was good! It was good!"
Biney went on to say her strategy in the race had been to keep Kim from overtaking her. "The plan was to block [Kim] as much as I could," Biney told the Post. "And the last lap, if she wanted to pass me, she had to go on the outside and not the inside." For Biney, it was a job well done. "I blocked pretty well; it was the best block I've ever done," she said.
Born in Ghana, Biney is the first African American woman to have qualified for a U.S. Olympic speedskating team. The 18-year-old is also the youngest Team USA athlete competing at the 2018 Winter Games. According to NBC, she moved to the United States to be with her father at the age of 5. Shortly after her arrival Biney's father signed her up for ice skating after seeing an advertisement for classes. "She didn't even know what skating was," Biney's father, Kweku, told NBC News. "She didn't even know what that word was and I explained it to her."
Although ice skating may not have been a popular pastime in Ghana, Biney reportedly took to the ice almost immediately. In fact, she had more speed than most figure skaters and so her coach suggested she try her hand at speed skating. The rest is, as they say, history.
According to U.S. speedskating team coach Anthony Barthell, Biney is a natural athlete. "She's learned how to skate and is able to use her natural athletic abilities," Barthell told NBC News. "In my eyes, I feel she can be one of the top girls in the world. It's going to take a little bit of time, but she has the potential."
Indeed, Biney's performance on the speedskating track has made her one of Team USA's must-watch athletes. Even Vice President Pence and South Korean President Moon Jae-in showed up to watch her event Saturday at Gangneung Ice Arena.
Now, Biney is focusing on continuing to make history. And as for Tuesday's quarterfinal race, Biney appeared confident and ready. "I'm just ready to go out there Tuesday and let it rip," she told the Post. And her fans can't get enough of her — and are so excited for her next race.
We Love A Legend
Biney is skating her way to being an icon.
She's Worth Skipping Dinner For
MUST. WATCH.
Your Favorite Olympian
There's a lot of the games left, but Biney has already secured her spot as many viewers' favorite Olympian.
Girlcrush Material
Her skills. Her smile. Her attitude. What's not to love?
You Shall Not Pass
Her performance was show-stopping, literally.
Local Hero Status
She's already a hometown hero after advancing in the first round.
That Smile
It's already captivated a nation.
NOVA Pride
Biney will surely return to Virginia a hometown hero, win or lose.
Fangirling
I mean, who else are you gonna follow for the next two weeks of competition?
May She Win All The Medals
Just give 'em all to Biney.
One Proud Dad
Biney's dad was seen celebrating her win.
Rooting For Her
Aren't we all?