You Can Get A Free Graphic Sweatshirt At Macy's Black Friday Sale (Yes, Really)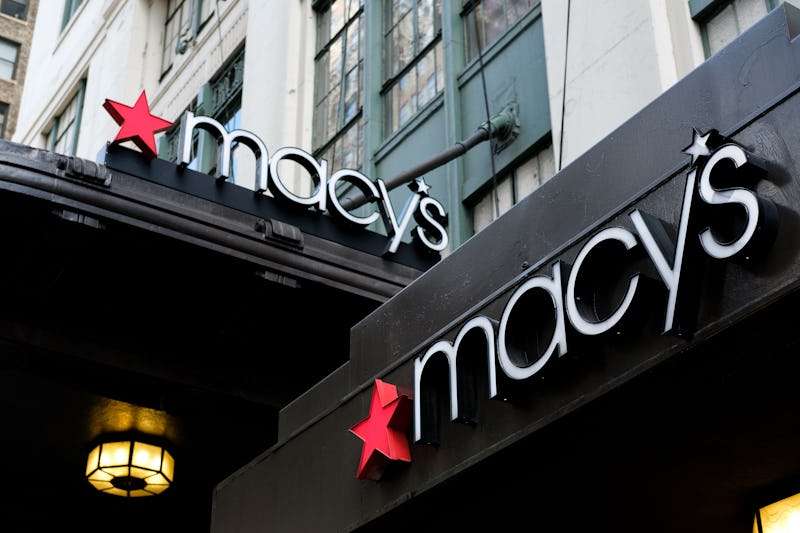 Drew Angerer/Getty Images News/Getty Images
Black Friday is just around the corner, but certain retailers are kickstarting the shopping frenzy early. Early shopping combined with Cyber Monday is turning this period into a holiday shopping week. Macy's Black Friday sale, for instance, is extended and epic, including sweet deals on bags, boots, and shoes prior to Turkey Day.
You can start shopping at Macy's on Wednesday, Nov. 22 through Saturday, Nov. 25 via the store's app and online. The stores themselves will open for the big sale on Thursday, Nov. 23, at 5 p.m. local time.
Those of you who plan to brave the stores on Thursday have the chance to nab really cute tote bags, which feature the words "Sparkle" and "Shine" and a smattering of silver glitter. The totes are normally $35, but they are $10 for doorbusters shoppers and free after the mail-in rebate. The savings continue to coffee pots, graphic sweaters, and select fragrances, all of which are free with mail-in rebate.
The Macy's Black Friday circular also features a $10 off and a $20 off savings pass, which does not apply to the doorbusters. So there are additional savings alongside slashed, holiday pricing.
You could shop the Macy's Black Friday sale and not spend a single dime after rebate. If you are seeking an efficient one-stop for all your holiday shopping, Macy's is it.
Here's more intel. Soak it all in!
If you want to come up with a game plan prior to Black Friday, then why not peep the 40-page circular online? The circular will help you with strategized shopping, and you can start compiling a list of items you want to purchase as gifts for loved ones.
If your mom or your accessories-loving BFF are in need of a new handbag, you can't argue with a 40 percent off discount on a Coach or Kate Spade bag that will never, ever go out of style.
What pairs better with a new handbag than boots? Select styles are also 40 percent off.
Accessories aren't the only fashionable items included in Macy's Black Friday shopping extravaganza. Outerwear is, too. Designer coats are deeply discounted. So you will not only stay warm and look good while doing so, but you won't cause a major dent in your bank account balance.
Functional shoes are also marked down by Macy's. Utilitarian, cold weather boots will keep the winter chill at bay and won't break the bank.
Don't forget about the annual Macy's Thanksgiving Day Parade. It's pretty much required viewing during Thanksgiving a.m. and might further inspire you shopping sojourn. Good luck out there!
Did you know that you can find Macy's coupons at the Bustle Coupons page? Bustle Coupons is a service provided by Groupon in collaboration with BDG Media, Inc. Each time you use a coupon or promo code from Bustle Coupons to make a purchase, Groupon and BDG Media, Inc. earn a small commission. This article was created independently from Bustle's sales department.