Lili Reinhart Helped Madelaine Petsch Avoid A MAJOR Wardrobe Malfunction Because That's What Friends Do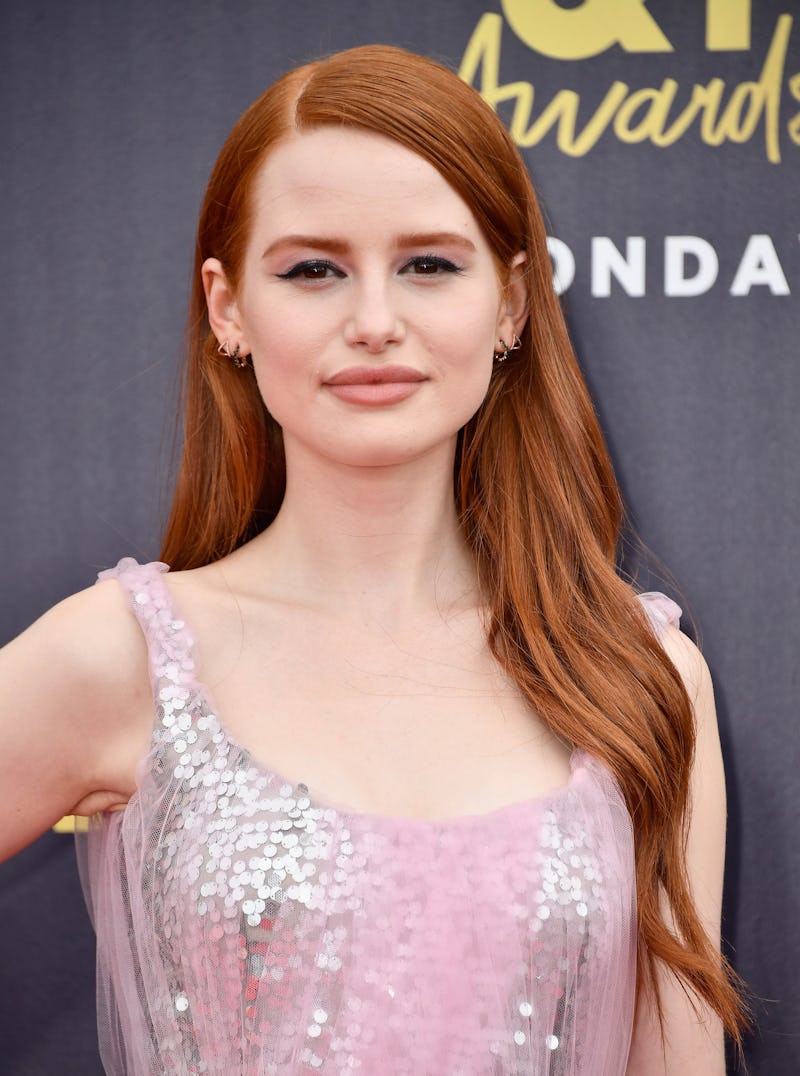 Frazer Harrison/Getty Images Entertainment/Getty Images
You never truly know who your friends are until they save you from showing your butt on the red carpet. According to her Instagram post, Madelaine Petsch had a wardrobe malfunction at the MTV Video and TV Awards. Don't worry, though. Her Riverdale co-star came through to save the day. Because that's what friends are for.
When you're watching the MTV Video and TV awards on June 18, just know that a whole lot more is happening behind the scenes. Petsch walked the red carpet wearing a stunning sparkly Prada dress with light pink mesh over the top. Apparently, it didn't stay in one piece all night though. The star took to Instagram to share how Lili Reinhart helped her pin her dress to make sure her butt didn't get shown to the world.
"Little does this Madelaine know that in 2 and a half hours @lilireinhart would be safety pinning the bottom half of her dress so her butt doesn't become exposed to the world," Petsch's Instagram caption reads.
We all have that one friend that has all the must-haves in her purse. You know, the blister bands, extra stick of deodorant, and safety pins. If this post is any indication, Reinhart is that friend.
We all have those times that we wish we could go back and tell ourselves what is coming next. Especially when it comes to fashion moments — whether that means a bad fashion choice or a mishap to come. For Petsch, that moment was when her butt was about to be exposed to all of MTV. It's a good thing that Reinhart came through with that safety pin and some handy work.
Although the neither Riverdale star shared what the dress looked like after the DIY, Petsch did share how Reinhart fixed it. According to the post, she took the bottom of the dress, folded it up, and pinned it to the top of her dress. The description makes it sound like it went from a super sparkly gown to a mini dress with just one pin. With the mesh still left over the top, it might have looked even better than when it originally walked the red carpet.
There's no word on who won the MTV Movie and TV Awards until it airs on June 18, so there's no way to know when this mishap happened or if fans will see the dress walk the red carpet. If nothing else, this is a great reason to tune in.
Riverdale was nominated for three awards the night of the event. While the cast was up for Best Show and co-stars KJ Apa and Camila Mendes for Best Kiss, Petsch was nominated all by herself for Scene Stealer. The star didn't give any hints about whether or not she or the rest of the cast won.
Unfortunately, there's no awards for Best Wardrobe Malfunction Saver, or Reinhart would have definitely walked out of the event with a win. (Petition to start that category, anyone?) When you get this many high-end outfits together in the same room, it's only a matter of time before someone needs a little help with their custom-fitting design.
This isn't the first time that Reinhart has saved a wardrobe malfunction, either. According to HelloGiggles, the waistband of Reinhart's lace dress at the Teen Choice Awards broke just minutes before she was supposed to walk the red carpet. Her best friend came to the rescue to sew her into the dress before she got out.
If these fashion mishaps teach you only one thing, it's to make sure one of your besties is on the red carpet with you. Also, maybe take a safety pin to your next big event.