You Have To See Mahershala Ali's SAG Speech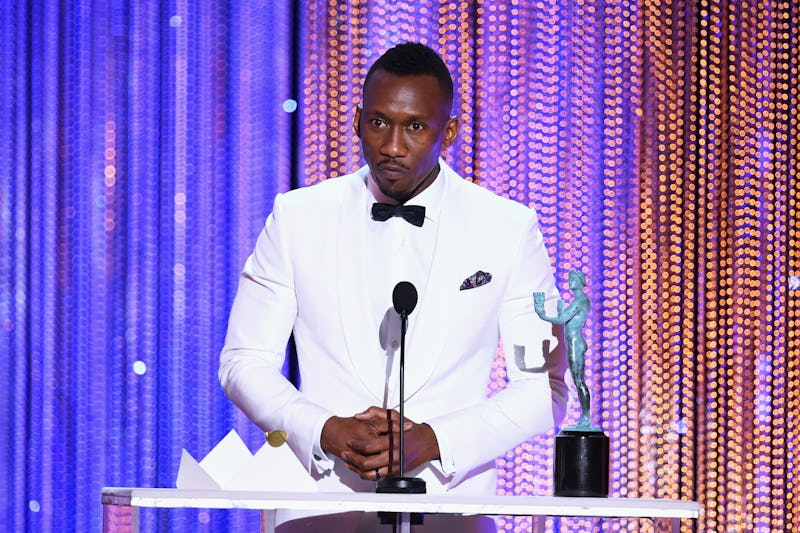 Kevin Winter/Getty Images Entertainment/Getty Images
Mahershala Ali shocked no one by taking home the SAG award for Outstanding Performance By An Actor In A Supporting Role. The actor's work in Moonlight has been the most talked about performance of this awards season, and after getting snubbed at the Golden Globes, this win is hardly a surprise. But, while you might have seen his win coming, I doubt anyone predicted how beautiful Mahershala Ali's SAG Awards speech would be. It was heartbreaking, inspiring, and one for the history books.
Ali, clearly emotional after receiving a standing ovation, took the stage to collect his SAG Award, and delivered one of the best speeches of the night. He wasted no time in relating his role in Moonlight, a film about the coming of age of a young, gay black man, to current events.
"What I was so grateful about having the opportunity to play Juan was playing a gentleman who saw a young man folding into himself as the result of the persecution of his community and taking that opportunity to uplift him and tell them that he mattered, that he was OK, and accept him," he said. "I hope that we do a better job of that."
Ali then cautioned against letting differences divide us. "When we kind of get caught up in the minutiae, the detail that makes us all different, I think there's two ways of seeing that," Ali added, noting that you can either "see the texture of that person, the characteristics that make them unique" or you can "say 'that person's different from me, and I don't like you, so let's battle.'"
On a personal note, Ali spoke about his own personal experience of converting to Islam and telling his mother, who is an ordained minister. "She didn't do backflips when I called her to tell her I converted 17 years ago. But I tell you now, we put things to the side, I'm able to see her, she's able to see me. We love each other, love has grown, and that stuff is minutiae. It's not important."
Ali's speech certainly set the bar for the night, not to mention his inevitable Academy Awards acceptance speech.