A Man Created An App To Remove Makeup From Women's Photos & It's As Misogynistic As It Sounds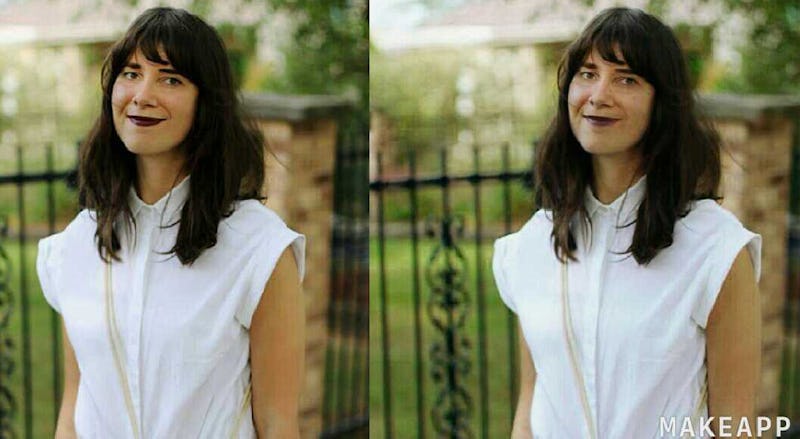 Marlen Komar
We've all heard the rib-jabbing comments about makeup that some men like to spout, from "Take her swimming on the first date" to "This is why I have trust issues." All these comments allude to the fact that a person somehow "tricks" their date if they show up to dinner with highlighter and mascara on. Apparently, this fear has grown to such exponential heights that one man has now invented an app that digitally wipes makeup off any photo uploaded to the service. Real world problems, and we get this bullshit.
The app is called MakeApp, and its the creation of Russian founder Ashot Gabrelyanov. The digital "miracle" lets you wipe away the cosmetics from five photos for free before asking you to pay $0.99 to continue editing images and videos. While the app description doesn't specifically say it's meant to digitally throw a bottle of makeup remover on unsuspecting beauty lovers — and in fact, the app also allows you to add cosmetics onto a face — one can still infer it's the underlying "perk" of such a tool. A man can now snap a photo of a done-up woman, run it through his phone, and decide if she's worth his time from look at her supposed sans makeup face.
And as you can imagine, there are quite a few problems with that.
First off, can we please talk about beards? Because I've seen a good deal of men — from boyfriends, to friends, to brothers — who have shaved off their stubble, and all I can think is: THAT'S YOUR CONTOUR. Are makeup lovers pulling up bar stools and sighing heavily into their Wild Turkey shots on how they have been burned by a beard sculpt? No, no we are not. Mainly because we know what men do with their faces is up to them. And we still like you for you even after your "contour" comes off.
Another issue that comes to light with this makeup removing app is that men often can't think about women's interests or hobbies without centering themselves. Many women use makeup as a creative outlet or a mode of pampering. Catching the eye of an anonymous man has nothing to do with the beauty hobby, yet many men can't imagine a scenario where their interests aren't front and center on a woman's agenda.
This has been going on forever. For example, in 1925, when cosmetics really began to boom, a concerned husband wrote to an advice columnist to his local paper to lament about his wife's "change." Introducing himself as the "Sick-O'Paint Father," he wrote, "Once she was one of the prettiest girls in town," but now "it takes more stuff to get her ready to go out than it does to cook a five-course dinner."
Instead of focusing her attention on him, the wife now had a hobby of her own that pulled her focus elsewhere. So the troubled man asked his wife whether the gratuitous makeup application was to make other women jealous or for the benefit of men. To that she "gave the funniest reason of all."
"She says she does it to please herself," the man wrote. "Can you beat that? All that work TO PLEASE HERSELF!" The idea was so unfathomable, Sick-O'Paint had to use caps in 1925.
While it might seem easy to brush off these kinds of societal opinions, they manifest themselves in people's lives in a real way. Take for example the CoverGirl's project launched this June entitled "PDA — Public Displays of Application." The brand conducted a survey of over 1,500 women from around the country, and more than half shared that they felt uncomfortable doing their makeup in public. In interviews, women relayed stories on how everyone from taxi drivers to other women (because, internalized misogyny) approached them in order to let them know they were offended when they brought the lipstick tube out. Then there was Sleek MakeUP's #MyFaceMyRules campaign, which was made when the cosmetic company conducted a survey and found one in three people have felt judged for the makeup they wore.
No matter how much we say we can do whatever we want with our bodies and faces, shaming tactics and "good natured" ribbing still have a real-world impact on us. These numbers, coupled with this new app, make it seem like women can't have hobbies unless men sign off on them.
To that there's only one thing to say: It's 2017. Stop channeling Sick-O'Paint Father from the 1920's and let people do their own thing.