Malala Yousafzai Joins Twitter On Her Last Day Of School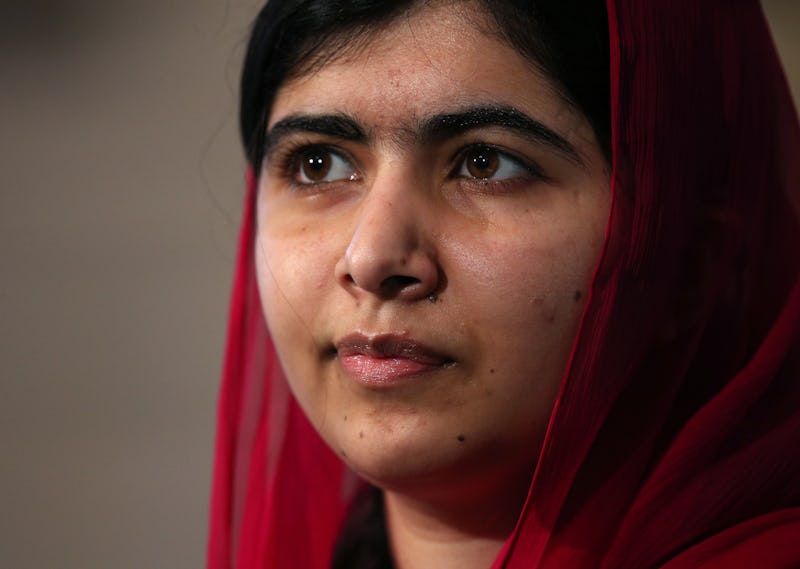 Dan Kitwood/Getty Images News/Getty Images
On her last day of high school, Malala Yousafzai began a new venture: She joined Twitter. In a series of tweets on Friday, the teenage Pakistani girls' education advocate kicked off her new Twitter account by ruminating on the mixed emotions that come with finally graduating.
"Hi, Twitter," Yousafzai's first tweet reads. "Today is my last day of school and my first day on @Twitter. Graduating from secondary school (high school) is bittersweet for me. I'm excited about my future, but I know that millions of girls around the world are out of school and may never get the opportunity to complete their education."
In her first three hours on Twitter, Yousafzai has quickly garnered more than 140,000 followers and her first tweet has been retweeted roughly 27,000 times. A quick scan of the thousands of tweets that have already been sent to Yousafzai shows Twitter users seem excited to welcome the young girls education advocate to the social media network.
While some spend their final summer before college soaking up as many relaxing moments as possible with friends and family, Yousafzai has embarked on a cross-continental Girl Power Trip where she's meeting with girls in Africa, North America, Latin America, and the Middle East. After a short break, she's set to resume her trip next week.
For those unfamiliar with Yousafzai's story, it is an incredible one. At just 15 years old, Yousafzai was an outspoken activist for girls' education in Pakistan when a Taliban gunman shot her in the head on Oct. 9, 2012 as she made her way home from school. But Yousafzai miraculously survived the attack, and, following specialized treatment in both Peshawar and the United Kingdom, has continued her efforts to fight for increased access to education for girls. In 2013, she delivered a powerful speech at the United Nations, and later found the Malala Fund in the same year.
In 2014, at the age of 17, Yousafzai became the youngest person to receive the Nobel Peace Prize in recognition of her advocacy work. In July, at 19, she became the youngest United Nations Messenger of Peace.
"Each girl's story is unique  —  and girls' voices are our most powerful weapons in the fight for education and equality," Yousafzai said about her Girl Power Trip in one of her tweets on Friday. Yousafzai is hoping to use her Girl Power Trip to amplify the voices of girls around the world by sharing the stories of those who are fighting for the right to an education, both for themselves and for others.
Although Yousafzai hasn't announced where she's decided to go to college, it was reported earlier this year that she has received an AAA-conditional offer to study Philosophy, Politics, and Economics (PPE) at Oxford's Lady Margaret Hall.