Malala Yousafzai Has A Message For US Lawmakers About How Refugees Are Treated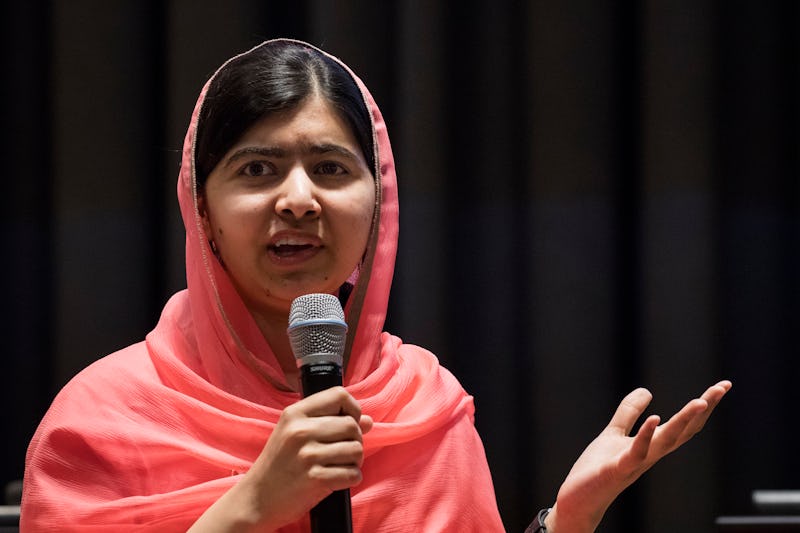 Drew Angerer/Getty Images News/Getty Images
On Thursday, Nobel laureate Malala Yousafzai gave a message to lawmakers about how to treat refugees, and she didn't pull any punches. Yousafzai was accepting an award at Harvard, and while taking a moment to discuss refugee policy, she said that policymakers need to exercise compassion when refugees come seeking asylum. That, she said, means greeting them with empathy, not weapons.
"I think, firstly, don't greet refugees with tear gas," Yousafzai said, according to the Harvard Crimson. "We should not assume that it is these people's fault that they are refugees." She added that "we need to look at it from the human eye and be more welcoming and consider themselves as our brothers and sisters."
Yousafzai won international recognition for her activism in Pakistan, where she became a leading advocate for girls' education in her Taliban-occupied town. At the age of 15, she was shot in the head by a member of the Taliban in retaliation for her activism, but she survived the assault and continued her efforts. A year later, Yousafzai released a best-selling autobiography, and in 2014, she became the youngest person ever to be awarded the Nobel Peace Prize.
She was speaking Thursday at the Harvard Kennedy school, which had just given her the 2018 Gleitsman International Activist Award. After her speech, she participated in a discussion with the audience, which was moderated by former Ambassador to the United Nations Samantha Powell.
In addition to discussing refugees, Yousafzai repeatedly brought up global warming as an urgent issue that needs addressing, according to the Crimson. She also returned to her signature issue, and encouraged everybody to challenge any belief or ideology that results in girls not receiving an adequate education.
"Right now, there are 130 million girls who do not have access to a quality education," Yousafzai said. "We should all make it our challenge to challenge those critical views, all those religious beliefs, and all those cultures that deny us an education."
According to the Boston Globe, 60 current and incoming members of Congress were present at the speech. One was Representative-elect Alexandria Ocasio-Cortez was in the audience, and she asked Yousafzai a question about what role men have in the fight for gender equality.
"A very large amount of successful women, whether they're female CEOs of Fortune 500s, or female heads of state, one of the most...common things that they talk about is that they all report a strong relationship with their fathers," Ocasio-Cortez said, according to the Crimson.
Yousafzai responded by citing her father. He understood that women and girls weren't being given equal opportunities in the environment he lived in, Yousafzai said, and sought to change that by first changing his own behavior.
"He knew that he had to change, so he challenged himself first and said, 'I'm not going to treat my daughter this way. I'm going to send her to school. I'm going to let her speak out,'" Yousafzai said. "Empowering women is not just giving something to women, but it also contributes to our economy, to everyone else."
Yousafzai has written new book about refugees titled We Are Displaced: My Journey and Stories from Refugee Girls Around the World. It hits shelves Jan. 8.