People Are Comparing 'Mamma Mia 2' To 'Godfather: Part II' & You Won't Be Able To Unsee It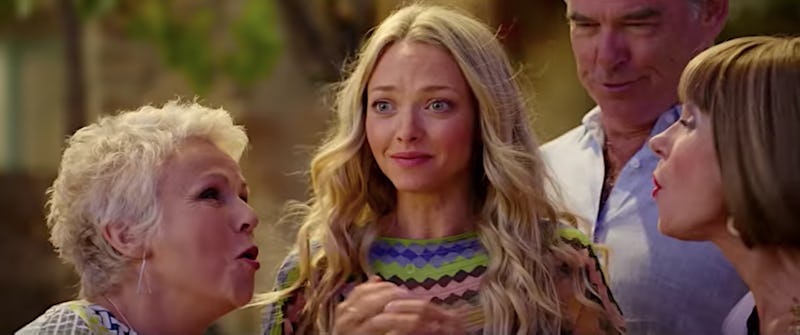 Universal Pictures
Normally when you think of the Mamma Mia franchise (or just ABBA songs in general), the word that immediately comes to mind is: fun. Sure, you're bound to reach for a box of tissues every so often, but at the end of it all, you're coming out of that movie feeling pretty darn good. But what if you were to learn that the inspiration behind Mamma Mia! Here We Go Again comes from a much darker franchise — one that has the power to make you an offer you can't refuse. You see, it turns out that when you break it all down, the Mamma Mia sequel is basically The Godfather: Part II, as Vulture has so astutely pointed out. And once you see the connection between the two, you won't be able to unsee it.
During a recent interview with Vulture, Mamma Mia! Here We Go Again director Ol Parker revealed that it was actually producer Richard Curtis' daughter, Scarlett, who came up with the idea, suggesting that the story "should be Godfather II"— meaning that it should serve as a sequel that's actually more of a prequel in nature. However, the two films are actually much more alike than just the overall plot construction, which is something many fans have been quick to pick up on after leaving the theater over the weekend.
The two movies, which you'd expect would have nothing in common at first glance, can almost be seen as mirror images of each other — though, arguably, one has a lot less musical numbers than the other. (And, it should be noted, a lot less female characters.) So let's break down all the similarities, shall we? After all, this claim is a dish best served with cold, hard facts. (Warning: Mamma Mia 2 spoilers ahead!)
The Frequent Flashbacks
Much like how The Godfather: Part II would flashback to a younger version of Marlon Brando's Vito Corleone (played by Robert De Niro), Mamma Mia 2 goes back in time to see how a young version of Meryl Streep's Donna (played by Lily James) met the the three men (Bill, Sam, and Harry) who would one day become Sophie's dads. It's a great way to use the past as a tool to help viewers understand the present much better.
The "Starting Over" Approach
In The Godfather: Part II, De Niro's Vito is shown traveling to a new part of the world (America) in order to make a better life for himself. In Mamma Mia 2, James' Donna also travels to a new part of the world (Greece) in order to move on to bigger and better things for herself.
The Family Business
The comparisons don't just stop and start with Vito and Donna. Sophie can also easily be seen as the Al Pacino of the story, especially since she becomes very invested in reopening her mom's hotel, which is ultimately her family's business. That feels very similar to how Pacino's Michael Corleone goes to great lengths to keep his own family business (aka the mob) on track.
Relationship Woes
Much like how Sophie and Sky face relationship problems in Mamma Mia 2 due to distance, Michael and his love interest (played by Diane Keaton) face their own set of hurdles in their relationship due to the fact that she, you know, doesn't want to live a life of crime anymore. (Only one relationship out of the two is able to recover, though.)
The Trifecta Effect
Those familiar with the Christian religion know that "God" represents the holy trinity (the father, son, and holy spirit). Vulture astutely connects this to how Sophie has a "trinity of men" that serve as her dads. In short, she has a Godfather.
The Baptism Scenes
The Godfather franchise loves a good baptism scene and Mamma Mia! Here We Go Again was quick to hop onboard that way of thinking. At the end of the film, when Streep's Donna finally shows up, it's in a ghost-like form at her grandson's christening in a scene that is guaranteed to leave you sobbing into your bag of buttery popcorn. No actual murders may have occurred in Mamma Mia, but Streep continues to slay in everything she does.
So there you have it — undeniably proof that The Godfather: Part II and Mama Mia! Here We Go Again are practically the same movie. You'll never be able to watch either film the same way again. You're welcome.