Manchester Sings "Don't Look Back In Anger" At A Vigil For Concert Victims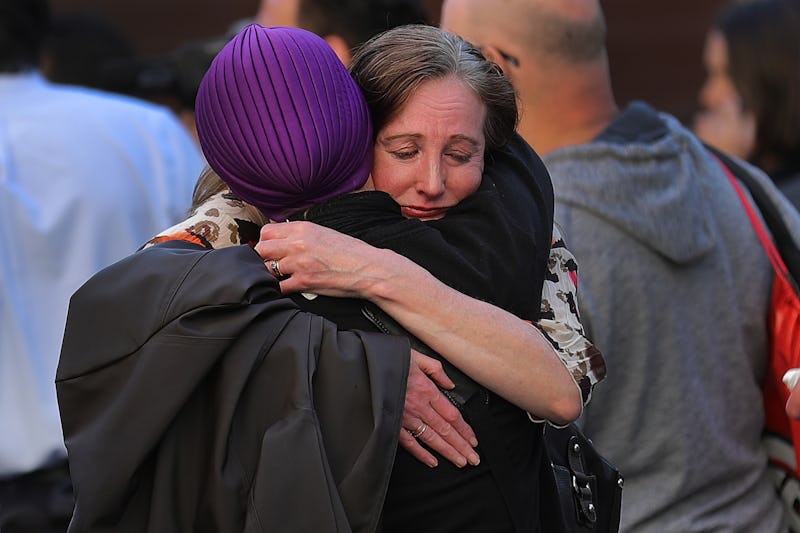 Christopher Furlong/Getty Images News/Getty Images
An impromptu sing-along lifted Manchester residents' spirits after the devastating attack on Monday. On Thursday, residents of Manchester, including Greater Manchester's mayor Andy Burnham, had packed into St. Anne's Square for a midday memorial; after a moment of silence, mourners at the vigil broke out in song, softly crooning Oasis' "Don't Look Back In Anger" in a powerful moment.
Despite the crowd, Josh Halliday of The Guardian managed to track down the woman who started the song, Lydia Bernsmeier-Rullow. Explaining why she chose this particular song, Bernsmeier-Rullow told Halliday:
"Don't look back in anger" — that's what this is about. We can't be looking backward to what happened; we have to look forwards to the future. We're all going to join together, we're all going to get on with it, because that's what Manchester does.
It seems those gathered in Manchester agreed, as the song began quietly, but picked up in volume as more voices chimed in. A man can be heard shouting "We love Manchester!" at the end, followed by clapping.
Besides the lyrical content, Oasis itself is a fitting choice. Arguably the biggest band out of England during the 1990s, Oasis was a five-piece alternative rock group that compared themselves favorably to The Beatles (their cardinal mistake, according to actual Beatle Sir Paul McCartney). Hailing from Manchester, they boasted similarly working class roots, accents, and even rocked similarly floppy haircuts. And while they did not achieve the stratospheric success of their rock & roll forefathers, Oasis did put out a number of hit songs, one of the biggest of which was "Don't Look Back in Anger."
Police are still investigating the ties of 22-year-old suicide bomber Salman Abedi. His younger brother and father were recently detained in Libya, and his older brother has been apprehended by police in southern Manchester. At least six other arrests have been made in relation to the Manchester bombing incident, which indicates that Abedi was likely part of a larger network.
But the people of Manchester have demonstrated extraordinary courage and defiance in the face of one of the worst terrorist attacks in England in recent memory. Rather than drum up outrage or calls for revenge, the power of "Don't Look Back in Anger" stems from its emphasis on rejecting bitterness, moving on, and looking towards the future. The singing in St. Ann's Square is a beautiful reminder of what strength can look like.