Mandy Moore Shared A Picture Of Her '90s Beauty Look & It Is SOMETHING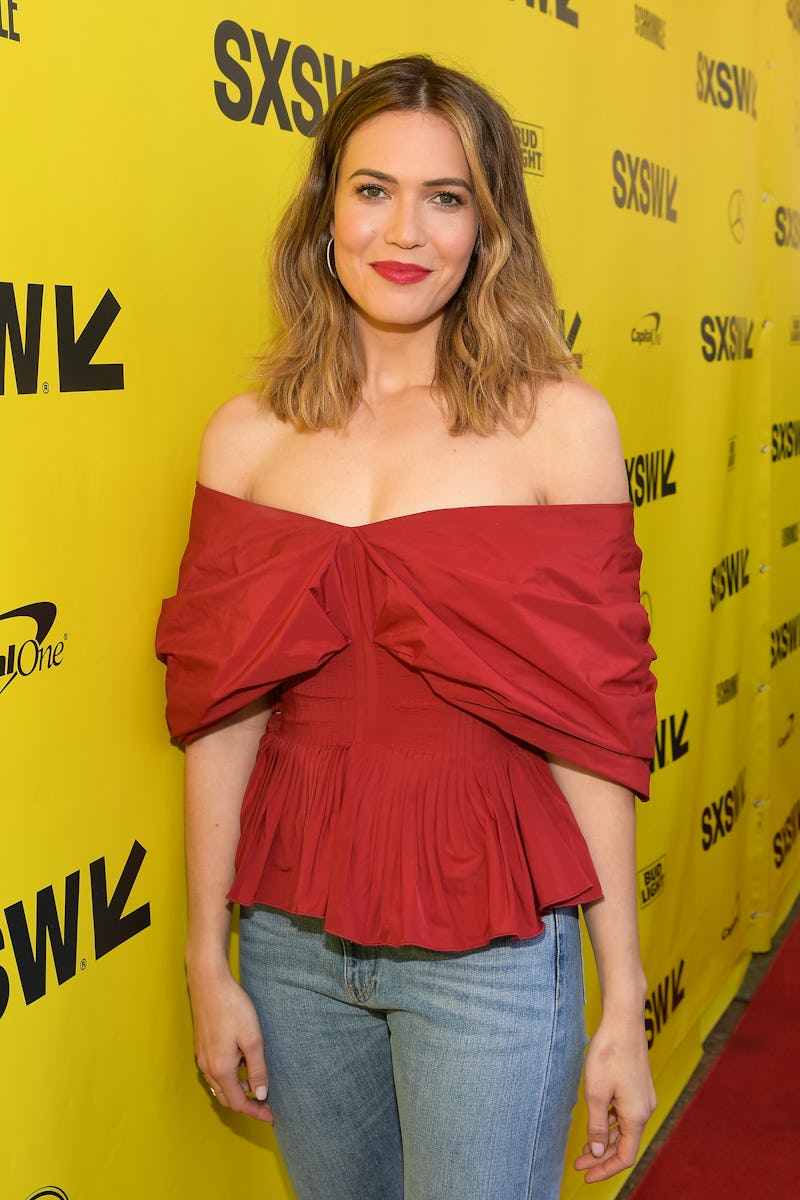 Matt Winkelmeyer/Getty Images Entertainment/Getty Images
Back in 2002, one of my favorite hairstyles was throwing my hair up into a top knot, and then taking my fake-hair-scrunchie (the one with the spiky wisps,) and wrapping it around my knot so I could have a fan of pointy hair ends sticking out in all directions on my head. Which is why when Mandy Moore shared a throwback '90s photo of herself on Instagram, my heart hurt from the nostalgia. She was rocking my eighth grade go-to look.
Moore is now 34 years old and an accomplished drama actress that stars in This Is Us, but her career started off on a whole different trajectory. Most of us know her as one of the original top four pop princesses of the '90s: Britney Spears, Christina Aguilera, Jessica Simpson, and Mandy Moore. Thanks to her 1999 single "Candy," her likeness was quickly taped onto preteens' walls and locker doors in the form of posters, calendars, and J-14 magazine rip-outs, along with her uniquely early-aughts looks. Complete with low rise jeans, sparkly crop tops with spaghetti straps, platform flip flops, and an array of different frosted lip glosses, one peek at that image and you can't help but be thrown back into nostalgia.
Which is why when Moore posted a photo of herself from 1999, fans couldn't help but freak out over it. In the picture she wore all the important trends: Porcupine spikes, a zig-zag center part, a slicked-down crown, random face tendrils, and a healthy dose of hair jewels.
"I don't even know where to start with this. How could I have ever thought this was acceptable? And yah, those are red crystals glued on my part," the actress wrote, making fun of herself. As someone who used to be a fan of random face tendrils coming down from my center part (and I used to gel them down on my face so they wouldn't get into my eyes during class,) I was very excited to see this pop up in my timeline. And I wasn't the only one.
"This is the Mandy Moore that my 8-year-old self will always love," another fan wrote.
"It was a different time in hair," another wisely stated. "I literally took that pic to a hair stylist for prom #1999," another shared, proving how this was one of the hottest styles of the year.
If you thought this was a nostalgic throwback, Moore's whole Instagram is filled with old photos from back in the day, posting pictures of her teenage looks and reminding fans of all the amazing and cheesy beauty trends that were popular during those early years of the millennium.
For example, she posted another 1999 photo of her and Justin Timberlake in Abercrombie & Fitch t-shirts and bucket hats, on the day of her opening for NSYNC for the first time. Look how blonde and young!
Fast forwarding a few years, she also posted a photo of her MTV win for her work in A Walk to Remember, sporting her trademark early-aughties hair, where she rocked the dark brown crop that flipped out at the ends. It was like the early-2000s version of the mullet, and it was one of the hottest looks for people with short hair.
Or how about this "Candy" music video clip, where she's sporting a cross-body discman, with her hair slicked back and coming out in all directions from her hair clip.
While we can be glad that the beauty world has moved on from those particular trends, it's still fun to look back and remember how creative we were in front of the bathroom mirror.