Mar-A-Lago Is Reportedly Planting Trees For Trump To Hide Behind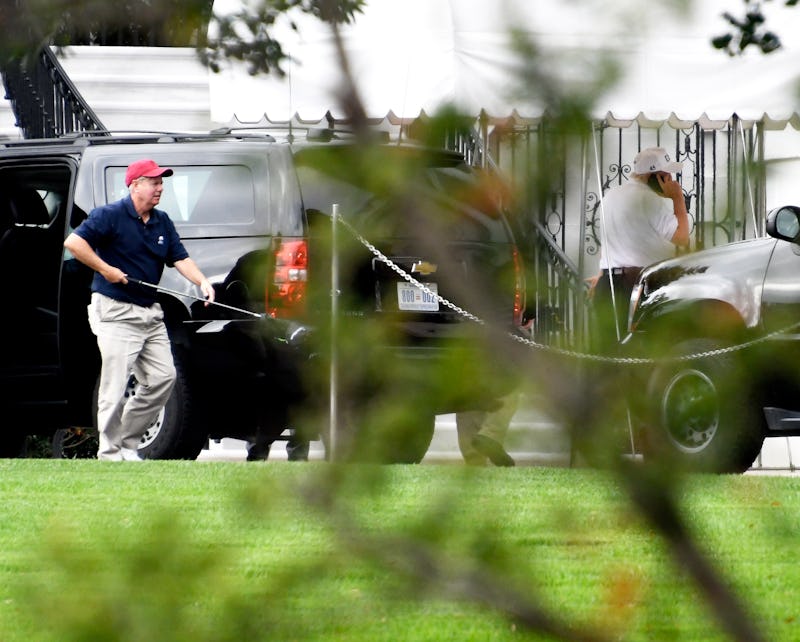 Pool/Getty Images News/Getty Images
President Trump has received quite a bit of flack for the amount of time he's spent golfing at his Mar-a-Lago golf resort in Florida, and according to a recent CNN broadcast, the criticism appears to be getting under his skin. CNN reports that while Trump was spending his holidays at his "Winter White House" this week, Mar-a-Lago planted trees to block news cameras from filming the president.
"CNN news cameras did not get any video of President Trump playing golf, and here's why," CNN host Ana Cabrera said during a newscast on Sunday. "Where CNN cameras were once positioned, trees appeared. Yes, trees are being planted there."
Cabrera also suggested that this isn't the first time President Trump has tried to block the news network from obtaining footage of him. In fact, according to Cabrera, a large white truck was in the same spot blocking reporters' view just a few days before being replaced by the newly planted trees.
Earlier this week, a white truck parked in that spot to block the view. As CNN photojournalists moved the camera, that truck moved with them to block the picture.
Cabrera went on to question the president's subversive attempt at "secrecy."
Trump has publicly feuded with CNN a number of times throughout the first year of his presidency. He has repeatedly derided the network as "fake news," and even announced last week that it is in the running for his "2017 KING OF FAKE NEWS" trophy for being "corrupt and/or distorted in its political coverage of your favorite President (me)."
The President received widespread condemnation in August for seeming to promote violence against journalists by retweeting — and then deleting — a cartoon image of a person with the CNN logo covering its head being hit by a train. He also retweeted an image of himself with the CNN logo squashed beneath his shoe last week.
In addition to insults and aggressive tweets, Trump has also made it a point to restrict press access for journalists who have provided unfavorable coverage of him throughout his term. In January, Trump refused to take a question from CNN Senior White House Correspondent Jim Acosta during a press conference, instead shouting at him, "You're fake news." In June, Trump also banned all news networks from broadcasting live video or audio during afternoon White House press briefings.
Trump continues to criticize and attempt to discredit mainstream media organizations, just as those same organizations continue to inform the American people of his actions and whereabouts, and that just happens to include, on many occasions, his golf resorts. An interactive NBC News features, "Tracking President Trump's Visits to Trump Properties," even informs readers of exactly how much time Trump has spent at one of his properties since Inauguration Day. As of Sunday, the count was up to 116 days.
A number of critics have expressed dismay at this number, criticizing the president for spending so much of his time in office playing golf. Before being elected, Trump would often chastise his predecessor, former President Barack Obama, for his own golfing habits, even though, according to PolitiFact, Trump has played golf at least 10 more times than Obama did in the same amount of time at this point in his presidency.
CNN's latest report of Trump's camera-blocking trees seems to be just the latest attempt to control the news narrative and block the mainstream media, especially CNN, from gaining access to his administration. As 2017 comes to an end, it appears that the Trump-CNN feud won't be going away anytime soon. At least he wished the news network a (very sarcastic) happy new year.