All 9 Minutes Of This New March For Our Lives Video Will Leave You Speechless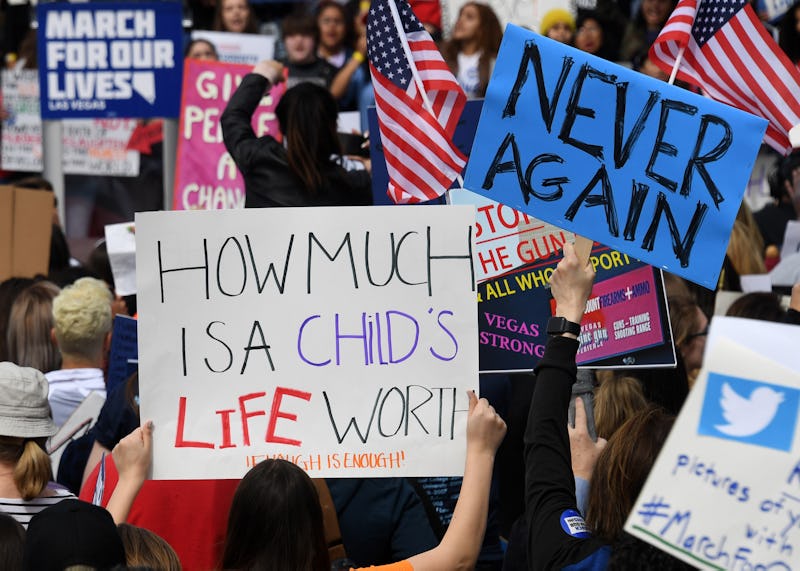 Ethan Miller/Getty Images News/Getty Images
As part of their nationwide voter registration campaigns, the survivors of February's school shooting in Parkland, Florida have been busy coming up with new ways to combat gun violence. On Friday, the anti-gun violence organization March for Our Lives released a powerful video illustrating the vicious cycle of school shootings.
Titled "The Most Vicious Cycle," the nine-minute video opens with a gunman spraying bullets into a school hallway. Using a series of props, such as posters, abandoned backpacks, and textbooks, the video then depicts the responses that politicians, media organizations, and the gun lobby typically have to mass shootings. A stack of textbooks has the words "thoughts and prayers" painted across the side, for example, while posters in the gym reflect the gun lobby's call to arm teachers and to avoid stricter gun laws.
The video appears to end as a janitor sweeps up bullets and broken glass — but it doesn't. Instead, as the janitor walks away, the screen fades to white, and the words "#VoteForOurLives 11/6, or this will never end" flash across the screen. Then, the video replays two more times, each time with subtle differences, in order to explicitly call out the cyclical nature in which people respond to mass shootings.
"After every shooting, there's outrage, prayers, and false promises," March for Our Lives tweeted on Friday. "Then it happens again. End #TheMostViciousCycle. Vote for morally just leaders and share the video. #VoteForOurLives on 11/6."
In order to make as convincing a case as possible, the video features posters protesting gun violence in a school hallway, students ducking into classrooms, memorials for people who were killed by gun violence, a scoreboard tallying the number of deaths caused by guns, televisions displaying media analysis of mass shootings, and bobbleheads of politicians who accept money from the gun lobby — all of which can be seen as the camera pans throughout the school.
The video is accompanied by a song called "Safe," which was written by singer Kesha and her younger brother, Sage Sebert. In an op-ed published by Teen Vogue on Friday, Kesha explained that she, her brother, and rapper Chika partnered with March for Our Lives "to change the normalcy of the American gun violence culture," and the lyrics to "Safe" reflect that desire.
"I don't wanna be a moment of silence, I don't wanna be an early grave, When I'm walking through the halls, I don't wanna be brave, I just wanna be safe," the song states.
According to Kesha, Sebert was a senior in high school when the shooting at Marjory Stoneman Douglas High School took place earlier this year, and he told his sister that he no longer felt safe at school. Sebert subsequently wrote the first version of "Safe," and he, Kesha, and Chika then worked with March for Our Lives to produce "The Most Vicious Cycle."
The video is March for Our Lives' latest effort to challenge gun violence and engage young people. The group spent the summer facilitating voter registration efforts across the country as part of the "Road to Change" bus tour, and is planning to go another 12-day tour before the midterm elections.