March For Our Lives Is Launching One Last Midterm Campaign Effort & You Can Be Part Of It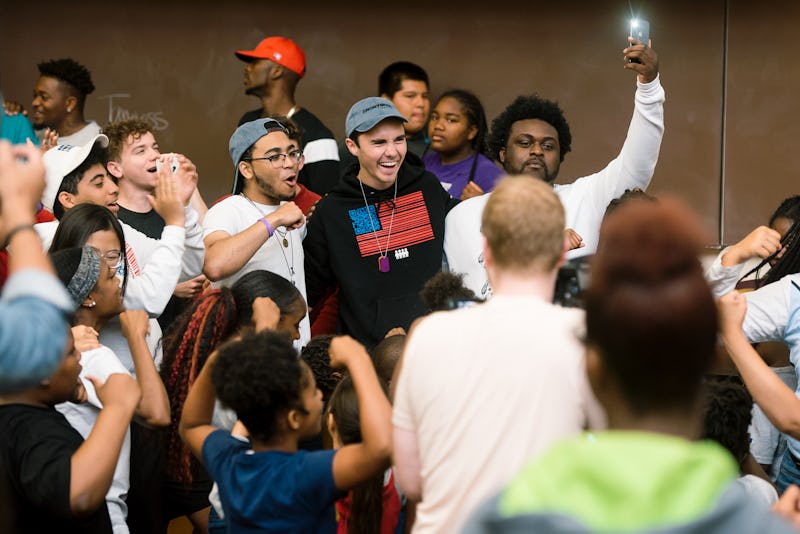 Courtesy of Emilee McGovern/March For Our Lives
March For Our Lives' summer tour may have come to a close, but the gun control activists aren't slowing down before the midterm election. On Wednesday, March For Our Lives is launching a #TurnoutTuesday midterm campaign aimed at registering voters and mobilizing young people to show up at the polls on Election Day, Bustle can exclusively report. Whether you're old enough to vote or not, they say you can help save lives by getting involved.
"It's important to constantly remind the youth in this country that if young people in their community went out to vote, they can actually sway any election so long as they get involved," Jaclyn Corin, a Marjory Stoneman Douglas High School senior and March For Our Lives co-founder, tells Bustle. "Our hope is to have the largest voter turnout in history this November, and I truly believe that's going to become reality."
The #TurnoutTuesday campaign involves a different call to action each Tuesday leading up to the election, beginning with "Register EVERYBODY To Vote" on Oct. 2. Each action is designed to educate people on registering to vote, reminding people that Election Day falls on Nov. 6, and getting voters excited to make their voices heard on the big day.
"When people tell us that their vote doesn't matter or their vote won't make a difference, we tell them that it will. We tell them that your vote will save a life," says Ramon Contreras, a 19-year-old national field strategist for March For Our Lives and the founder of Youth Over Guns. "Imagine if everybody just all of a sudden changed their mindset, and that one person who said they couldn't vote now thinks they can. And that leads to a domino effect, leading to millions of young people wanting to vote."
Regardless of whether or not you're old enough to vote in November, Contreras and Corin insist that there's a role for you in #TurnoutTuesday (check the March For Our Lives website for more info on each activity). In fact, the actions scheduled for Oct. 16 and 30 involve creating artwork to spread the word about Election Day — an activity people of all ages can help with.
"Honestly a large chunk of the organizers that we work with all around the country and that we hope to work with in the future aren't 18 yet. I'm not 18 yet, but fortunately I [will] get to vote," Corin says, thankful that her birthday happens to fall before Nov. 6.
Corin is most excited about "Get ART the Vote" day on the 16th because putting up artwork in a school or business is a totally different type of activism than marching in the streets.
While March For Our Lives activists don't endorse specific candidates, they do encourage people to vote for politicians who will champion the gun control policies they believe would help prevent another tragic school shooting like the one that took place at Marjory Stoneman Douglas in February. But it's up to voters to determine which candidates fit the bill in their district, and the March For Our Lives activists believe it's crucial that people get politically involved on a local level.
On top of registering people to vote and raising awareness, Corin say the #TurnoutTuesday campaign will help build a sense of community between young people all over the country who see each other participating on social media.
"They're not alone in this," she says.