March Madness Predictions For The Final Rounds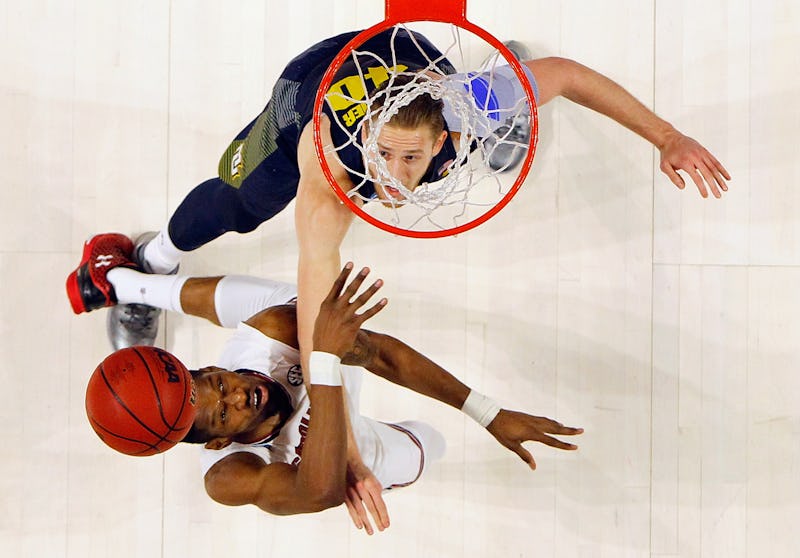 Gregory Shamus/Getty Images Sport/Getty Images
Here's a pretty solid indicator about the unpredictability of the NCAA's March Madness: comedian and writer Cousin Sal has offered up his family's Los Angeles home to anyone who can create the perfect bracket. And I'm not too worried about Sal's future living situation. The college basketball tournament is full of upsets, which can tip the outcome of even the most meticulously designed bracket. But even with it seems futile to try and tell the future, there are a few pretty safe March Madness predictions coming out of 2017's tournament.
Saturday was the kickoff of the second round of the tournament, with 32 teams left out of the initial 68. As SB Nation pointed out, there was a surprising, uh, lack of surprises in the first round this year — by their estimate there were only two true upsets: USC and Wichita State. But as the site noted, that means that from the round of 36 on, we're in for a pretty wild ride for the rest of the tournament. Think of it this way. Because there weren't any giant upsets, that means that we're about to watch the best teams in the country duke it out. March Madness, indeed.
So here's what you should watch for. CBS rounded up predictions from sports professionals, and though there is some variation, there seems to be a consensus that Duke will end up in the final showdown. Five of the seven experts had Duke in the finals, but the other opponent is up in the air. Two people chose UCLA as the other last man standing, two others chose Kansas, and one person put North Carolina in the big show. The other two participants both put Arizona and North Carolina as the final game.
The numbers nerds at FiveThirtyEight disagree with the optimism around Duke, giving them a 13 percent chance at making it to the final two and a 7 percent chance of winning the tournament overall. Gonzaga gets the highest vote of confidence with their stats with a 14 percent overall chance of winning (the rest of the teams are in single-digit chances).
The odds over at Bleacher Report predict that North Carolina (2:1), Gonzaga (5:2), Villanova (3:1), and Kansas (3:1) will be in the final four, which seems to support FiveThirtyEight's theory that Gonzaga could take it all the way. It also lends credence to the idea that North Carolina will be left standing for the final two.
Predictions aside, this is March Madness. Anything can happen. So sit back and enjoy basketball fans' favorite time of the year.