Marco Rubio Trashed Ryan Gosling's Movie For Not Showing An American Flag On The Moon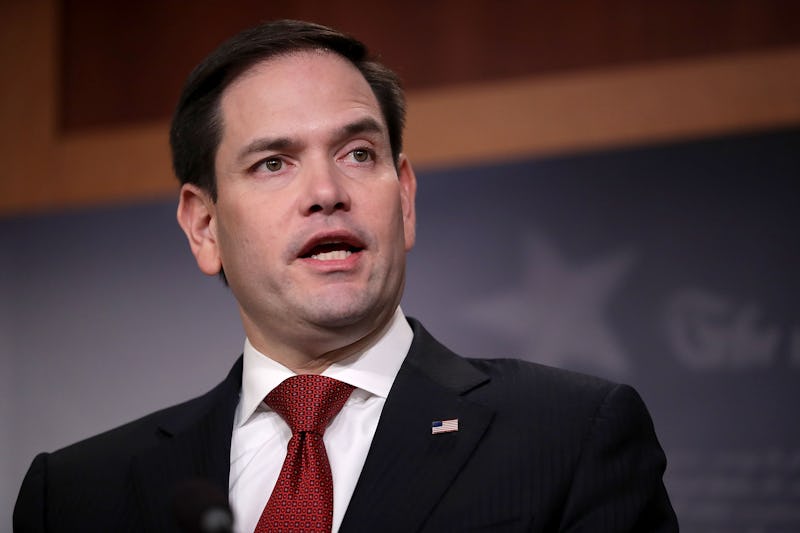 Chip Somodevilla/Getty Images News/Getty Images
An upcoming biopic about Neil Armstrong has received largely positive reviews following its premiere at the Venice Film Festival, but Florida Sen. Marco Rubio is not one of the film's early fans. The biopic, "First Man," does not include the moment that Armstrong placed the American flag on the moon, and the Florida senator thinks this is a "disservice. In a tweet posted early Friday, Rubio dismissed the Neil Armstrong movie as "lunacy," arguing that Armstrong's journey to the moon should be regarded as an American feat.
"This is total lunacy," Rubio tweeted. "And a disservice at a time when our people need reminders of what we can achieve when we work together. The American people paid for that mission, on rockets built by Americans, with American technology & carrying American astronauts. It wasn't a UN mission."
Actor Ryan Gosling, who plays Armstrong in "First Man," defended the decision to omit the American flag placement in an interview with The Telegraph. The first voyage to the moon "transcended countries and borders," Gosling argued at the Venice Film Festival, and was a "human achievement." As a Canadian, however, Gosling joked that he "might have cognitive bias."
"He was reminding everyone that he was just the tip of the iceberg — and that's not just to be humble, that's also true," Gosling said of Armstrong. "So I don't think that Neil viewed himself as an American hero. From my interviews with his family and people that knew him, it was quite the opposite. And we wanted the film to reflect Neil."
But Rubio isn't the only one who finds the biopic's American flag omission to be unpatriotic. Other conservatives have suggested that this decision by filmmakers was "daft" and an "assault on America," according to Salon. Fox & Friends host Pete Hegseth went so far as to describe Gosling as an "idiot" who, among other "revisionist actors in Hollywood," wants to "preach to us that it was a human achievement." His co-host, Ainsley Earhardt, compared the omission of the American flag to NFL players' decision to kneel during the national anthem.
"They're scared to use the American flag," Earhardt argued. "It's Hollywood."
However, as Slate pointed out, it might be useful for Rubio and other right-wing critics to actually watch "First Man" before passing such strong judgment. According to Slate, the American flag does, in fact, appear in the biopic; the film reportedly does not presume that the first voyage to the moon was a UN mission, nor does it ignore the fact that Armstrong placed the American flag there. It is visible in the background during the film, and is clearly present on the lunar surface as the astronauts leave the moon. Slate also reminded its readers that the movie is supposed to be about Armstrong, and not merely a reenactment of the moon landing. Twitter users immediately sought to remind Rubio of this — and also to suggest that he focus on other priorities:
Multiple Twitter users wondered why Rubio seemed more outraged about a movie that hasn't even been released yet than about recent tragedies.
Meanwhile, others simply could not understand why the Florida senator didn't also claim that potential Russian interference in the U.S. election, or the U.S.' high maternal mortality rate, were "total lunacy." Most people don't seem to agree with Rubio's take on the film, however. "First Man" — which is slated to be released in theaters on Oct. 12 — currently has an 89 percent rating on Rotten Tomatoes.