Margot Robbie's 2018 Oscars Dress Is Basically A Formal, Floor-Length Version Of A Skating Costume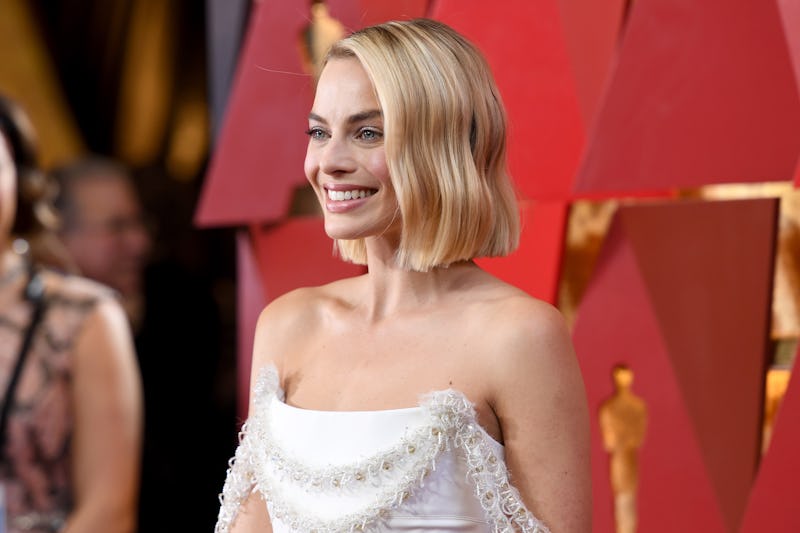 Kevork Djansezian/Getty Images Entertainment/Getty Images
The Oscars this year are full of red carpet favorites. Both newcomers and fan favorites are nominated this year, meaning that the fashion this year is bound to create some buzz. Margot Robbie's 2018 Oscars dress is no exception. Nominated for Best Actress for her role in the movie I, TONYA, a film based on figure skater Tonya Harding's life and career, Robbie is in for a huge evening when it comes to the March 4 Academy Awards. Her choice of outfit certainly reflects what a special occasion it is for the actor.
Robbie wore a white, embellished gown, accessorized with simple, minimalist jewelry, and a simple clutch purse. Her hair was down with a slight wave and a part to the side, while her makeup was incredibly simple and natural. The whole look is pretty simple, and incredibly gorgeous.
Compared to looks in her past, this look is actually a little more simple than Robbie usually goes for. The last time Robbie attended the Oscars was in 2016, when she attended for her role in the nominated film The Wolf Of Wall Street. Robbie wore a gold, wrap-style dress that is bright and bold compared to this year's look. The looks are totally different while still remaining the same in the sense that they're both classically gorgeous in their own ways.
And, in fact, the 2018 Oscars dress is actually very figure skater-ish, which is fitting considering Robbie's nominated role. It's basically a long, flowy version of an embellished skating costume.
This year's look compared to the 2016 gown is really interesting, and reflects how Robbie's style has evolved over the years. But at the same time, it really shows how Robbie likes to keep things relatively simple — basic hair and makeup, minimal accessories.
The 2016 gown was almost mermaid-like in a way, with the gold embellishment looking sort of scale-like (in a gorgeous way, of course).
Robbie's outfits that she's worn while promoting I, TONYA have all been gorgeous in their own way as well, although very, very different than her Oscars red carpet look.
For this year's Golden Globes, Robbie went with a black, long-sleeved gown with some metallic embellishments and emphasized shoulder details. Her hair was deeply side-parted and simple, and paired with red lipstick.
In comparison to the 2018 Oscars outfit, her Golden Globes choice was much darker and rocker-chic. The Oscars dress is much lighter and ethereal. In both looks, though, the Oscar-nominated actor looks simply stunning. She also looks completely comfortable in both looks, which is of course the most important aspect of the whole look.
Twitter was all about Robbie's red carpet appearance — but it was more for who she brought as her date than her actual look.
"Margot Robbie's mom is the cutest!!! They look like sisters! #TheOscars," one Twitter user wrote about Robbie bringing her mom as her Oscar's date.
Robbie and her mom both look gorgeous on the red carpet, that's for sure.
Look at that embellishment! Look at that glowing, simple makeup!
Robbie looks so excited and thrilled to be on the red carpet, and given her huge nomination, that makes total sense.
Some Twitter users thought she looked positively bridal.
"Margot Robbie looks like a Bride," one Twitter user wrote about the look.
Some users were inspired by the actor's beauty look, as well.
One person referenced the actor's gorgeous haircut, in particular.
"Excuse me Margot Robbie, I'm trying to grow my hair out and you are NOT HELPING," one Twitter user wrote about Robbie's gorgeous blunt, slightly waved bob.
No matter what your favorite part is of Robbie's look, it's impossible not to admit she looks absolutely sunning.