You Need To See Mariah Carey Sit On An "Invisible Chair"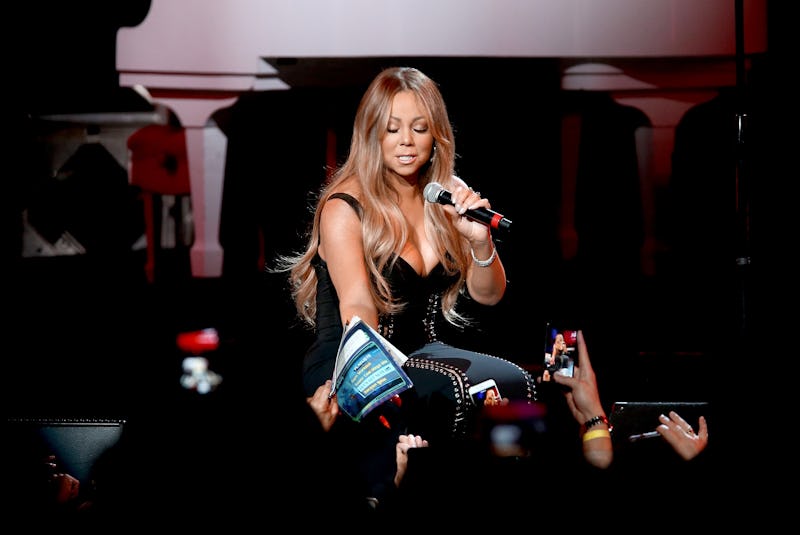 Tommaso Boddi/Getty Images Entertainment/Getty Images
You will never believe why Mariah Carey is making headlines this time. There is a video of the singer signing autographs going around, which has people convinced Carey is sitting on an invisible chair, as TIME reports. This isn't a joke. There are some individuals who believe the "All I Want for Christmas" queen is capable of sitting in an invisible chair. It sounds crazy, but let's discuss the situation.
While performing at the AHF World Aids Day concert on Friday, Dec. 1, the 47-year-old singer bent down to sign autographs for some of the concertgoers. First of all, it was lovely of her to do such a thing. Secondly, the way she chose to give the gift of her signature has caught the eyes of many. As you can watch in the video shared below, Carey's posture and the way she has her legs bent makes it look like she's sitting in a chair — and an invisible one at that.
She doesn't lose her balance once, which makes the entire situation even more curious. How is she staying like that for so long? It's almost mesmerizing to watch her hold that position. Obviously, Carey is extremely talented and apparently that extends to how she can squat while signing autographs.
Whatever the case, fans are now reacting with some crazy, yet hilarious, theories.
She Has Powers
This tweet, that now has over a 100K retweets, brought up the idea of the "invisible chair."
She's The "Queen of Christmas"
It makes her magical.
And She's The "Queen Of Trigonometry"
Which also gives her special powers to be able to "sit" like this.
It's Just Another Talent
She has all the skills.
It's Because She's Rich
If anyone could afford one, it's Carey.
She Can Squat Like No Other
She's seriously good at squats.
It's A "Tight Dress" Thing
This actually makes a bit of sense.
Her Legs Are Wealthy
They're probably insured, too.
It's A Great Mystery
Some people remain mystified.
Guess what? Carey finds all of this funny. She actually responded to the above tweet reading, "i'm convinced that Mariah Carey gets special powers during the holiday season. how is she sitting on an invisible chair?", with "LOL" and a crying laughing emoji.
It's great to see she has such a great sense of humor about this.
Of course, she isn't really sitting on an invisible chair. She is just a professional squatter who has some extremely strong muscles to be able to hold that position for as long as she does without error.
Believe it or not, this isn't the first time she's "sat in an invisible chair." On Monday, Carey tweeted a series of photos of herself and her family trimming their Christmas tree. Be sure to take note of the top left picture. Do you see what she's doing? Yep, she is the squatting master.
And here is an Instagram of Carey bending down to take a photo with her twins, Moroccan and Monroe. This just goes to show you that she's used to coming down to her kids' level in order to achieve the cutest picture possible. In the process, it also makes her a pro at sitting without a seat.
There's also this one:
The singer could even start a new workout trend, where people can tell their trainers, "I want to be able to do squats like Mariah Carey so it looks like I'm sitting in an invisible chair."
Leave it Carey to cause chaos over how she posed to sign autographs. She's just that magical. It really is the most wonderful time of year.