Marie Kondo Just Came Up With A Seriously Chic Way To Help You Stay Organized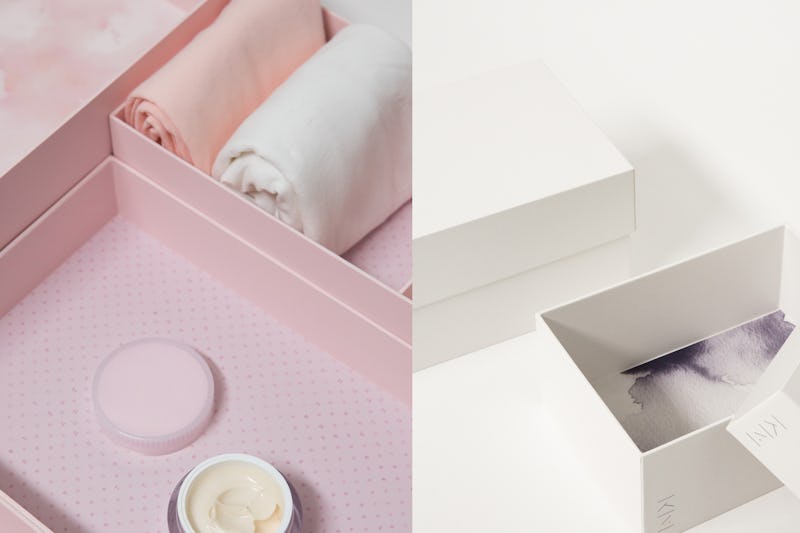 Courtesy of Marie Kondo
When Japanese lifestyle guru Marie Kondo's book, The Life-Changing Magic of Tidying Up, was published in 2011, it quickly became a bestseller, transforming legions of people around the world into devotees of her tidying technique-cum-life philosophy, the KonMari method. Now, to make the method's application even easier, Marie Kondo is launching a collection of Hikidashi box sets that are expertly designed to help all tidiers find a home for their possessions at the end of the day.
In The Life-Changing Magic of Tidying Up, Kondo extolls the virtue of boxes for organizing pretty much anything in your home. "Basically, the only storage items you need are plain old drawers or boxes — you don't need anything special or fancy," she writes. But, seven years after the publication of her book catapulted her to international tidying fame, she's noticed that not everyone keeps these kinds of boxes handy.
"In Japan, we have a great number of empty boxes," Kondo tells Bustle. "But that's not so at all in the U.S. With all the lectures that I've done, and the experience of publishing books in the states, [...] my honest wish is for as many people as possible to complete their tidying, so that as many people as world as possible can live a life that sparks joy." And these boxes, she concluded, are the best way to empower people to complete their tidying in accordance with the KonMari method.
As someone in the process of KonMari-ing my life myself, I can say that I was loathe to implement Life-Changing Magic's suggestion of using shoeboxes to organize everything from clothes to komono (miscellany), if only because the ones I had didn't match each other, and were mostly falling apart. But the new, artfully designed Hikidashi boxes set about to correct that course.
The $89 set includes three sturdy nesting boxes with lids (six pieces total) that can be used for anything in your home that needs a place. The boxes can be purchased in four different color ways, each with its own mood and purpose. The Balance set comes in white with a cream interior, "designed to quietly appreciate that perfect tipping point" of having just enough joy-sparking possessions, as a press release puts it. The Clarity set is also white in the exterior, but reveals graphic interiors in cool lilacs and yellows, with the intention of helping you "[i]dentify what matters the most to you." The Wonder set was designed with a "sakura-inspired color" to "celebrate the delight" one feels for their things, and the olive-toned Harmony set is meant to inspire mindfulness. Needless to say, I'd like them all.
"I wanted to create a box in which the things that are stored inside are happy," Kondo tells Bustle, explaining how each box set has a unique design on the inside. "Tidying isn't just about storing things away or tucking things away. It is an act of expressing gratitude for these items that support us in our daily lives. So in a way, it's like creating a home for our belongings," she continues. "These boxes are, in a sense, an embodiment and an experience in themselves of the KonMari Method."
The Hikidashi boxes — named for the Japanese phrase for "to draw out" — are available for pre-order beginning July 24, and will begin shipping in September. With each purchase, you receive access to the KonMari Tidying Series, "an online guided journey through each step of the KonMari Method," which includes tips on how to use your set once it arrives.
"I really encourage everyone to ask what you would like to put in these boxes, to really commune with the boxes themselves," Kondo tells Bustle. And with boxes so beautiful, it makes it pretty easy to do just that.