This One Moment From Mark Zuckerberg's Testimony Sums Up The Whole Facebook Scandal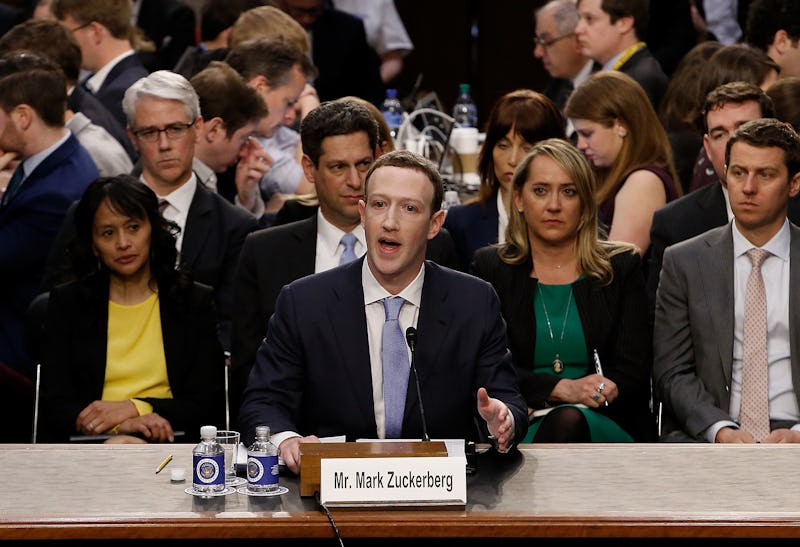 Pool/Getty Images News/Getty Images
Politicians grilled the world's most powerful social media mogul on Tuesday, resulting in some seriously tense and awkward moments on Capitol Hill. Mark Zuckerberg's testimony had one moment in particular that perfectly summed up the whole scandal facing the social media network. It was all thanks to some probing questions from Democratic Sen. Dick Durbin who emphasized Facebook's privacy issues and appeared to make Zuckerberg uncomfortable.
Durbin started asking Zuckerberg if he felt comfortable sharing the name of the hotel he spent the last night in. The Facebook CEO narrowed his eyes and mulled over the question for a moment, then uncomfortably laughed, and said, "No." At the time, the attendees of the Senate's Judiciary and Commerce committees hearing were merely amused by Durbin's strange question and laughed while the tech mogul responded.
But Durbin didn't stop. The Democratic senator then asked Zuckerberg if he would ever share the names of the people he texted in the last week. Again, Zuckerberg said that he wouldn't share such personal information in public so openly. This is when Durbin said,
I think that might be what this is all about — your right to privacy, the limits of your right to privacy, and how much you'd give away in modern America in the name of 'connecting people around the world.'
The audience was no longer laughing. Here's an ABC News clip of the exchange.
Durbin grilled Zuckerberg further and said, "The question, basically of what information Facebook's collecting, who they are sending it to and whether they asked me in advance permission to do. Is that a fair thing for a user of Facebook to expect?" The Facebook CEO enthusiastically agreed with the senator and said, "Yes, senator, I think everyone should have control over how their information is used."
Zuckerberg went on to say, "I think that is laid out in the some of the documents. But more importantly, you want to give people control in the product itself."
However, people are responsible for what they share on Facebook, Zuckerberg noted. The tech billionaire said that people are aware of the business model that upholds the social network. "Everyday people come to our services to choose to share photos and send messages, and every single time they choose to share something, they have control right there about who they want to share it with," Zuckerberg told Durbin. That kind of control users have on Facebook, he said, was "extremely important."
In the video clip of the exchange, it seemed like the senator had made the tech mogul visibly uneasy with his direct questions about user data and privacy. Durbin noted that while people knew they were sharing their personal details on the social network, some of them may not have known that third party vendors had access to their data. The senator's question was an indirect reference to Facebook's recent Cambridge Analytica scandal.
According to an explosive investigative report by The Guardian in March, the personal data of some 87 million Facebook users was shared with Cambridge Analytica, a United Kingdom-based data analytics firm. Durbin reminded Zuckerberg that he had conceded that a massive data-leaking like that happened. In March, Zuckerberg said, "We didn't take a broad enough view on what our responsibility was and that was a huge mistake. That was my mistake."
Since then, the Facebook CEO has tried to mitigate growing public criticism and resentment by introducing newer privacy measures. On Tuesday, Zuckerberg seemed to be trying similar damage control in front of his audience. In one of his last remarks to Durbin, Zuckerberg tried to assure the senator that third party vendors would no longer have access to Facebook users' data.