The Tennessee Politician Taylor Swift Said She Can't Support Just Responded To Her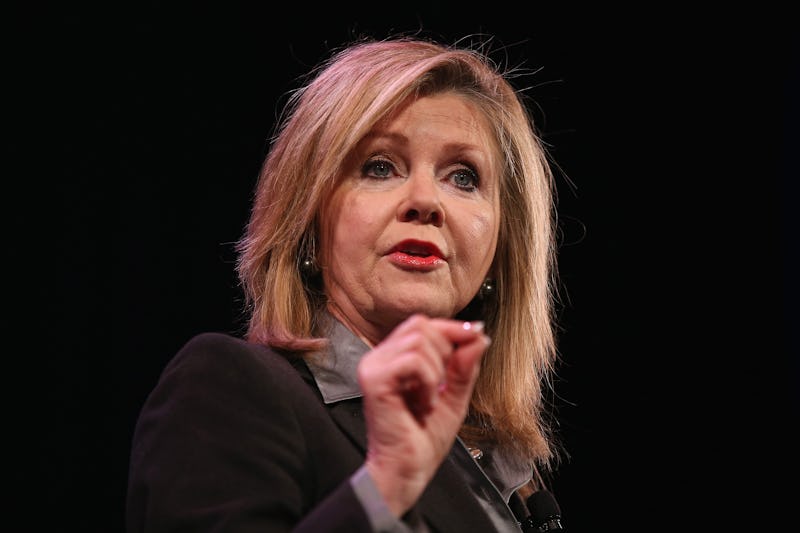 Scott Olson/Getty Images News/Getty Images
After a singer's Instagram post decrying her political record went viral on Sunday, Tennessee Representative Marsha Blackburn responded to Taylor Swift by asserting that she has plenty of support for her Senate election bid. In her response, Blackburn implied that she does not believe that Swift's condemnation of her record will have a substantial impact on her ability to win over voters in her state.
On Sunday, the famously apolitical Swift shared a post on Instagram revealing her political opinions. The star noted that, while she has been reluctant to express her views in the past " ... due to several events in my life and in the world in the past two years, I feel very differently about that now." In this post, Swift specifically noted that she will not be voting for Senate candidate Blackburn — and that she will be supporting Blackburn's Democratic opponent, Phil Bredesen, instead. In describing the rationale behind her decision, Swift cited what she believes is Blackburn's disconcerting record on LGBTQ and women's rights.
Blackburn responded to Swift's post during an interview on Fox Business on Tuesday. In her reply, Blackburn implied that she believes that Tennesseans are not necessarily concerned with which political candidates Swift chooses to support, saying:
I've got to tell you, Tennesseans are more interested in the fact that Marsha Blackburn is endorsed by the US Chamber of Commerce, by the Fraternal Order of Police, by the Police Benevolent Association, and by the National Rifle Association where I have an A rating in their endorsement.
In her interview, Blackburn also responded directly to Swift's condemnation of her record on women's rights. Swift had asserted that she believes that Blackburn does not support women's rights because of her votes on specific legislation. As Swift wrote,
Her [Blackburn's] voting record in Congress appalls and terrifies me. She voted against equal pay for women. She voted against the Reauthorization of the Violence Against Women Act, which attempts to protect women from domestic violence, stalking, and date rape ...
As BuzzFeed noted, Blackburn's record does in fact indicate that she voted against equal pay legislation and against reauthorizing the Violence Against Women Act (VAWA). She supported a conservative alternative to VAWA that did not include protections for LGBTQ couples.
Blackburn pushed back strongly against Swift's assertions and defended her record during the Fox Business interview, saying:
Of course I support women and I want violence to end against women. I've been very active in abuse shelters and child advocacy centers. I've been advocating for women in equal pay since I was 19 years old and making certain woman have the opportunity for maximum pay and I have a good record on that.
Time will soon tell whether Swift's comments about Blackburn do indeed make an impact on voters. Notably, it seems as though Swift's Instagram post has already had a pretty significant influence on the public in other ways. As Business Insider reported, the organization Vote.org noted that an unprecedented 65,000 people registered to vote in the first 24 hours after Swift posted her views to Instagram. The organization believes that at least some of this surge can be attributed to Swift, saying in a statement (as reported by CNBC), "Taylor's post has helped bring out young voters ... We're especially happy to see that because we know voting is habit-forming." It remains to be seen whether Swift's words will have an equally powerful effect on Blackburn's election bid.