Martin Luther King Jr.'s Dream Would Have Included The Dreamers
Chip Somodevilla/Getty Images News/Getty Images
On Sunday at Dr. Rev. Martin Luther King's home church in Atlanta, where the civil rights leader preached until his assassination, the nation's immigration debate took center stage — or center pulpit, that is. In a sermon that connected justice on immigration with the celebration of MLK Day, Rev. Raphael G. Warnock made the argument that. King's dream isn't complete without justice for Dreamers.
Warnock made a clear connection between the teachings of King and the current political stalemate, following the Trump administration's ending of the Deferred Action on Childhood Arrivals (DACA) program and Congress's failure to pass a Dream Act. Those actions put the legal status of at least 800,000 immigrants who came to the country as children in question.
"Some of us came on immigrant ships, others of us came on slave ships, but we're all in the same boat," Warnock told the Ebenezer Baptist Church congregation. "It is our diversity that makes us greater, it is our inclusion that makes us greater."
Warnock used strong language on DACA and the Dreamers, reminding his congregants of "of some 2,000 Bible verses that tell us to care for the poor and the widows, the immigrants in our midst." He said:
You cannot celebrate the Dream if you will not liberate the Dreamers. Give these 800,000 young people who are in our colleges and in our neighborhoods a path to dignified citizenship.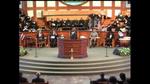 One scholar who studies King's work also tells Bustle that King would have supported legal status for Dreamers. Jonathan Rieder, a professor at Columbia University and author of Gospel of Freedom: Martin Luther King, Jr.'s Letter From Birmingham Jail and the Struggle That Changed a Nation said that King "would have recoiled from the meanness of much of Trump's and the hardliners' response to immigration."
Rieder tells Bustle about one of King's favorite bible passages that would have informed his thinking. "Are we telling the Salvadorians, the DACA kids, the suffering immigrants from what Trump derided as 'sh*thole countries' what Marry and Joseph were told in their moment of need: 'There is no room at the inn'?"
"[King] was utterly driven by his prophetic vision of a duty to deliver the captives, feed the hungry, welcome strangers," Rieder tells Bustle. "You need to remember that, as he made clear in 'Letter From Birmingham Jail,' the failure of empathy, the failure to care is just as much a sin as vicious racism."
In the Dreamers' case, the failure of empathy and racism may be interconnected, the NAACP argued in a press release on Saturday. The group called out the "raw racism of Donald Trump and those driving his immigration and other policy making decisions" — and not just because Trump called Haiti, El Salvador and much of Africa "sh*thole countries."
The administration — in that same meeting on immigration in which Trump said "sh*thole countries" — actively called for an end to the Temporary Protected Status (TPS) program, which lets people fleeing war and natural disasters remain in the United States legally for renewable 18-month periods. Many are from Haiti, El Salvador, and other parts of Central America.
The NAACP noted Saturday that Trump and his attempts to end the diversity lottery and TPS were in essence an attempt to make white supremacy the guiding principle behind the nation's immigration laws. The administration has "called for fewer Black people to be admitted into the United States in favor of white immigrants," the press release read.
Immigrant rights leaders, together with the NAACP, also criticized the administration's proposed immigration policies as racist. Clarissa Martinez-de-Castro, the deputy vice president of UnidosUS said in the statement released by the NAACP that Congress must stand up to the administration's proposed policies and pass a clean Dream Act:
There is no gray area here. A failure to stand for a solution is an embrace of racialized policy-making designed to persecute contributing immigrants based on the color of their skin, and in doing so continue to be complicit in the maligning of Latino and Black communities regardless of immigration status.
Warnock's addressed Trump's immigration meeting in his sermon, and even went on to defend Haiti and Africa at length, noting the West's role in robbing the countries of their wealth. He called Trump "a willfully ignorant, racist, xenophobic, narcissistic con man of a sexual predator" and went on to criticize what he called the president's "hate speech" on Thursday. "Let's call a spade a spade: It's hate speech."
Warnock then pointed out the irony that after using that language on Thursday, Trump went on to make an MLK Day proclamation on Friday morning. "Since I'm the pastor of King's church, let me be clear, a proclamation without an apology is hypocrisy."
"To cuss out God's children and then to call King's name the next morning adds insult to injury," Warnock went on. "There can be no redemption without repentance. Mr. Trump, you need to repent."
Perhaps on the road to redemption, Trump will pass a clean Dream Act, too.