Marvel's Stan Lee Has Died At Age 95, According To Reports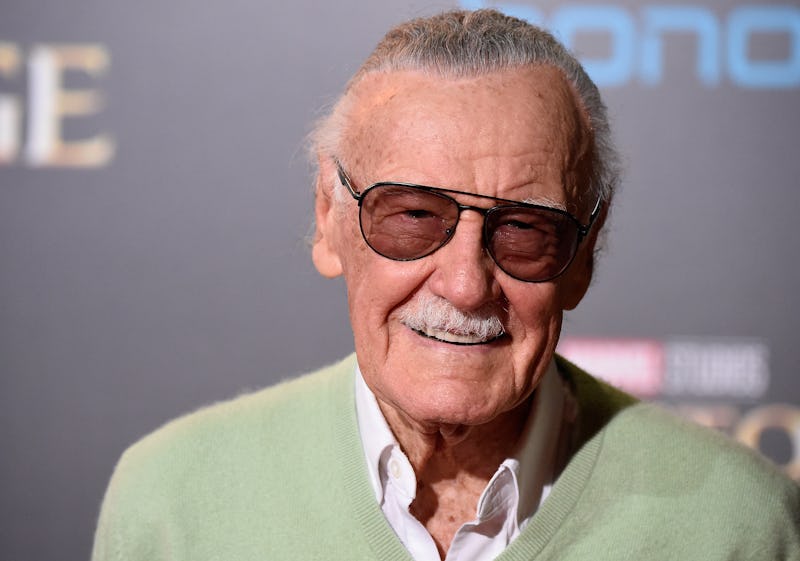 Frazer Harrison/Getty Images Entertainment/Getty Images
On Monday afternoon, TMZ broke the news that Stan Lee has died at age 95, citing Lee's daughter as their source. The Hollywood Reporter also reported on the Marvel Comics co-creator's passing. And the Associated Press subsequently confirmed the news on Twitter, citing Lee's family attorney. Cause of death is still unknown, but reports from TMZ and THR claimed that the man who was synonymous with Marvel Comics was rushed to Cedars-Sinai Medical Center early on Monday morning. (Bustle reached out to Lee's rep for comment, but did not receive an immediate response.)
Lee was a titan in the entertainment industry. As co-creator of Marvel Comics and a beloved comics writer, Lee co-created Spider-Man, the X-Men, Iron Man, the Fantastic Four, Thor, Black Panther, the Hulk, Daredevil, and more. Over the years, as comic books have evolved into a massive entertainment industry, Lee became known for more than just his comics. An entire generation recognized Lee from his consistent cameos in Marvel movies. He appeared in almost every single Marvel adaptation, from Spider-Man (2002) and The Fantastic Four (2005) to Black Panther (2018) and Avengers: Infinity War (2018). Most recently, he made an appearance in Venom, alongside Tom Hardy.
Though Lee seemed to enjoy the spotlight, his public appearances in recent years have been steadily declining due to health concerns. Moreover, he was publicly accused of sexually harassing several female nurses in a report published by the Daily Mail in January of 2018. Lee's attorney Tom Lallas denied the allegations in a statement to Daily Mail, saying, "Mr. Lee denies these false and despicable allegations and he fully intends to fight to protect his stellar good name and impeccable character." The statement went on to claim that the comic book hero was being extorted by the private nursing company. In April of 2018, he was also accused of sexual misconduct by a massage therapist. Jonathan Freud, a lawyer for Lee, told the Chicago Tribune that Lee denied the allegations and "will defend his rights vigorously."
Allegations of a separate nature emerged in March, when The Daily Beast reported that Lee was, essentially, being taken advantage of by those around him, including a former business associate and a bodyguard. Other reports alleged that Lee was being taken advantage of by his daughter, J.C. In response to one such report from The Hollywood Reporter in April, J.C.'s attorney Kirk Schenck, told the publication, "the story isn't that J.C. is taking advantage of her father, but that she's potentially being taken advantage of by multiple men." Whatever happened, Lee and J.C. appeared close and on good terms when they participated in a joint interview for The Daily Beast published in October.
After the news of Lee's death was confirmed on Monday, Marvel Comics and Disney issued a joint press release to honor Lee. The statement read, in part:
"Marvel and the entire The Walt Disney Company salute the life and career of Stan Lee and offer their undying gratitude for his unmatchable accomplishments within their halls. Every time you open a Marvel comic, Stan will be there."
The press release also quoted Disney Chairman and CEO Bob Iger, who called Lee "a super hero in his own right to Marvel fans around the world." Iger added, "The scale of his imagination was only exceeded by the size of his heart."
Meanwhile, Marvel Studios President Kevin Feige responded to the news of Lee's death on Twitter Monday afternoon. "No one has had more of an impact on my career and everything we do at Marvel Studios than Stan Lee. Stan leaves an extraordinary legacy that will outlive us all," he wrote. "Our thoughts are with his daughter, his family, and his millions of fans. #ThankYouStan #Excelsior!"
Other stars of the Marvel Cinematic Universe and other Marvel adaptations, including Chris Evans, Letitia Wright, and Hugh Jackman also honored Lee on social media.
Lee is survived by his daughter, his family and friends, and, of course, all the characters he created and the fans he inspired.