'Marvelous Mrs. Maisel' Finally Gives Jewish Women A Bold Character Who's More Than A Stereotype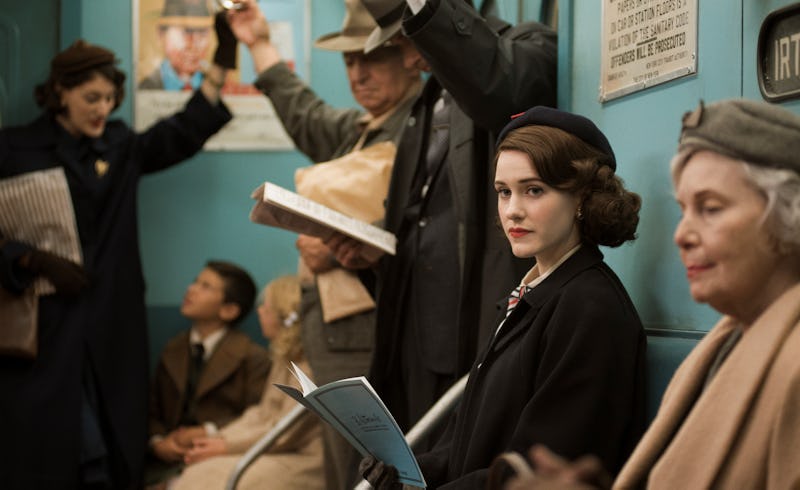 Amazon
In the pilot episode of Amazon's The Marvelous Mrs. Maisel, the eponymous protagonist, Miriam "Midge" Maisel, effortlessly chic in a black turtleneck with a kicky scarf in her hair, swiftly barters her irresistible home-cooked brisket and plays up her daughter's (fake) illness in her slight New York accent to successfully snag her husband a better time-slot for his stand-up routine at the Gaslight Café. Midge Maisel's Jewishness permeates her entire presence and diffuses through all her interactions at the hip Village club — and because of that, the scene is also a reminder that Midge Maisel is decidedly different from her Jewess silver-screen predecessors, and even her peers.
The premise of The Marvelous Mrs. Maisel is that when Midge finds out her husband has been having an affair and wants to leave her for his super-goyische secretary, she decides to stop following all the strict rules of what being a wife and mother means for women, especially good Jewish women. Not for nothing does the pilot end with her ditching her careful preparation for Yom Kippur break fast to do some drunken but really funny off-the-cuff stand-up in the Village.
The Marvelous Mrs. Maisel, which drops on Amazon Prime Nov. 29, bears the trappings of Gilmore Girls creator Amy Sherman-Palladino's previous work, which I always found had its own Jewishness in its humor, fast-paced talking, and esoteric cultural references, even if it was about WASPs. In fact, although Midge is a 1950s housewife who follows many of the era's conventions for domesticity and femininity to a well-studied tee, she's not unlike another Sherman-Palladino creation, Lorelai Gilmore: a beautiful brunette, whip-smart and quick with sarcasm, especially when facing infuriating and/or ridiculous people (and especially when those people are ones they're related to).
But Midge in particular comes with no shortage of Jewish clichés. There's the repeated mentions of her brisket (which comes up again when she sees her husband is having his secretary's pot roast, or as Midge calls it, "Lutheran brisket") and her up until recent obsession with appearances, materialism, and willingness to rely on her dad's money that could, in a less dynamic set-up and in more prejudiced viewers, make her easy to brush off as a Jewish American Princess. Also, some of the Jewish terms and details don't quite sync (don't get me started on the family's unrealistic approach to Yom Kippur, let alone the fact it seems to last three days on the show).
However, Midge is hard-working, meticulous, principled, and prepared to field whatever is thrown at her, whether she's bailing Lenny Bruce out of jail, MC-ing at a downtown jazz club while high as a kite, or playing hostess to her soon-to-be ex-husband, her brash in-laws , and her own less than-warm-and-fuzzy parents. She's a Jewess who gets shit done, swiftly, unapologetically, and while looking stylish as hell. That combination of moxie, delivery, and her nonchalant way of being stunning is what makes Midge Maisel unlike other Jewish television characters, even beloved heroines.
Midge is funny, but in a way that transcends other Jewish-girl stereotypes, like the comparably frumpy sidekick Rhoda Morgenstern (played by Valerie Harper) to Mary Tyler Moore on The Mary Tyler Moore Show, or the hyper comic relief Shoshanna Shapiro (played by Zosia Mamet) was in pretty much any scene in which she appeared on Girls. And her humor doesn't come with a side dish of debilitating neuroticism or insecurity, as it does with two of my very favorite Jewish women on TV, Grace Adler on Will & Grace and Rebecca Bunch on Crazy Ex-Girlfriend.
Let me be clear: I love the neuroticism, the anxiety, the self-doubt that plagues these women, not only because it creates great humor but because it makes them eminently relatable. Grace Adler is the woman I want to be friends with, and Rebecca Bunch is my spirit animal. Aside from the fact we're two Jewish girls from New York who speak a little too fast, Midge Maisel is not relatable to me.
However, that doesn't mean I'm not grateful for Midge Maisel.
While there may not be a shortage of Jewish women in comedy or writers rooms or even on screen, there is, ironically, a shortage of ones who are Natalie Portman-esque, competent, sexy, strong-willed, crazy smart scene-stealers. Midge Maisel is not held back by her own self-doubt or sabotaged by her own neuroticisms. On the contrary, she will not kowtow to anyone, be it her father and his unabashed order that she chase after her cheating husband or a judge debating whether to imprison her for obscenity charges. Against the pressure of an audience, whether it's a potentially hostile crowd of hecklers or Jane Jacobs' rally at Washington Square Park, Midge Maisel doubles down and burns brighter. In that sense, she's like her Jewish sitcom sisters and more like Wonder Woman (not Jewish, but hey, played by Jewish Israeli actress Gal Gadot).
That's not to say Midge Maisel is perfect, but even her imperfections are decidedly refreshing for a Jewish protagonist, too. Her most obvious one is arguably her ambivalence towards being a mother. While the series hasn't dwelled on Maisel's at best mixed feelings towards her children, her stoned monologue cracking jokes about how she remembers so little about her kids that she wouldn't be able to describe her son and baby daughter to police if they were kidnapped suggests we shouldn't expect the feel-good mother-daughter bond we got from Gilmore Girls.
The routine culminates in Maisel musing, more in a truthful high than in a play for yuks, "What if I wasn't supposed to be a mother? What if I picked the wrong profession?" Waving a copy of the classic parenting book Dr. Spock's Baby and Child Care, she continues: "I can't change my mind and donate my kids to the library, like I am going to do with this book."
And while there's been a trend towards absentee, selfish, inept moms on TV — Nancy Botwin on Weeds; Bonnie Plunkett on Mom; Betty Draper Francis in Mad Men; Lucille Bluth or, for that matter, Lindsey Bluth Fünke on Arrested Development — ambivalence towards motherhood flies in the face of decades, nay centuries, of stereotypes of Jewish women.
After all, the first television image Americans got of Jewish mothers — and for many Americans, Jews at all — was Molly Goldberg, played by Gertrude Berg on The Goldbergs, a sitcom about a Jewish family in the Bronx that aired from 1949 to 1956. Molly Goldberg was the quintessentially loving, attentive Jewish mamaleh, ladling her warmth even faster than her matzo ball soup.
Of course, the Jewish moms on TV, especially in sitcoms, tend to skew more towards overbearing, cloying, guilt-inducing, or passive-aggressive as hell, like Sheila Broflovski on South Park, Sylvia Fine on The Nanny, or Estelle Costanza on Seinfeld (though there is LOTS of debate online over whether she is actually Jewish). Still, for all of these ladies' questionable mothering, no one questions their failure to dote on their little ones or regret over having them.
Against this history, Midge Maisel's perfunctory approach to being a mother — made all the clearer against her genuine passion for comedy — is even more of an aberration in the depiction of Jewish women. But that's no shanda — or at least it isn't one Midge Maisel can't overcome.