Marvel's 'Avengers: Infinity War' Trailer Is Finally Here & Fans Are Freaking Out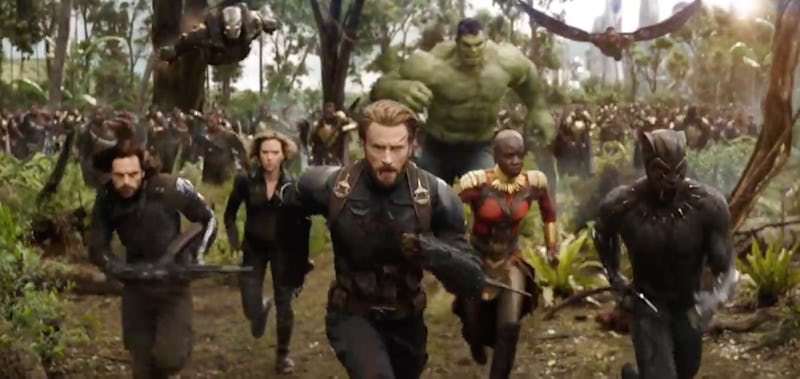 Marvel/Disney Motion Pictures
Take a deep breath, Marvel fans. Or don't, because the Avengers: Infinity War trailer is here. As expected, it's flipping amazing and definitely warrants some freaking out. Deemed "possibly the biggest superhero movie ever made" by Collider and "an event like no one has ever seen on film before" by director Joe Russo, the Infinity War trailer teases the film's greatness and inevitable mark on pop culture. There are shots of highly anticipated sights such as Doctor Stranger and Iron Man teaming up, Spider-Man's badass new suit, and Black Panther and what appears to be all of the Wakanda warriors charging into battle. Basically, in joining forces to face Thanos (Josh Brolin) and his destruction to complete the Infinity Gauntlet, the Avengers' return following 2015's Age of Ultron is already epic.
A culmination of the Marvel universe, superheroes in Infinity War (as seen in the trailer), include: Captain America (Chris Evans), Iron Man (Robert Downey Jr.), Thor (Chris Hemsworth), Doctor Strange (Benedict Cumberbatch), Hulk (Mark Ruffalo), Black Widow (Scarlett Johansson), Scarlett Witch (Elizabeth Olsen), Hawkeye (Jeremy Renner), Vision (Paul Bettany), Star-Lord (Chris Pratt) and the Guardians, Spider-Man (Tom Holland), Black Panther (Chadwick Boseman), Ant-Man (Paul Rudd), and Falcon (Anthony Mackie).
It's going to be one game-changing showdown, and it's all been leading up to this.
There' s just so much to unpack here that fans can't even handle it, and they've taken to Twitter accordingly to lose their freakin' minds. There's love, there's danger, and there's a booming musical background that really gets at the scope of the battle. There's Captain America's beard. There's Black Widow being blonde now. There's. Just. So. Much.
The day before the trailer release, fans were pumped up thanks to a teaser promo that showed Avengers fans of various ages, genders, races freaking out over past trailers with their real-time reactions while watching. Audiences have gotten some hints about Infinity War until this point, and none have disappointed. The Infinity War peek at D23 Expo over the summer showed the Avengers reinstating their purpose and mentally prepping for the war, ending with a daunting Thanos and his Infinity Stones.
Then, chill-inducing footage from Infinity War shown at Comic-Con in July was leaked online. It started with old footage from Civil War and gave brief snippets of what's to come, riling audiences up. This footage included: Captain America emerging from the shadows in a cell and with a full beard, Black Widow with blonde hair, Peter Parker on the ground saying "I'm sorry" to Tony Stark, Iron Man's sleek new armor, Thor's head in Thanos' merciless grip, epic battle, and Thanos using the power of two stones to drag a moon towards the planet they're on.
On Tuesday, the day before the world trailer release, Tom Holland accidentally revealed the Infinity War poster, in a video of him unboxing a box from co-star Mark Ruffalo. Coincidental timing, eh? Regardless, even the poster had fans losing their cool. Of course, that could be because of the way in which Holland did it. How intentional it was or wasn't is still being jokingly debated, but the video was, perhaps, more memorable than the rather minimalist poster.
Of course, this wouldn't be the first time that stars leaked information about the franchise. Who can forget when Mark Ruffalo accidentally live streamed the first 10 minutes of Thor: Ragnarok? You'd think Marvel stars would be a little more discreet or something, but at least fans have a good time every single time they slip up.
Basically, Avengers: Infinity War is bound to be a historic moment in film and these moments leading up to its release prove it.