This 'Pride And Prejudice' Retelling Is Told From The POV Of Mary Bennet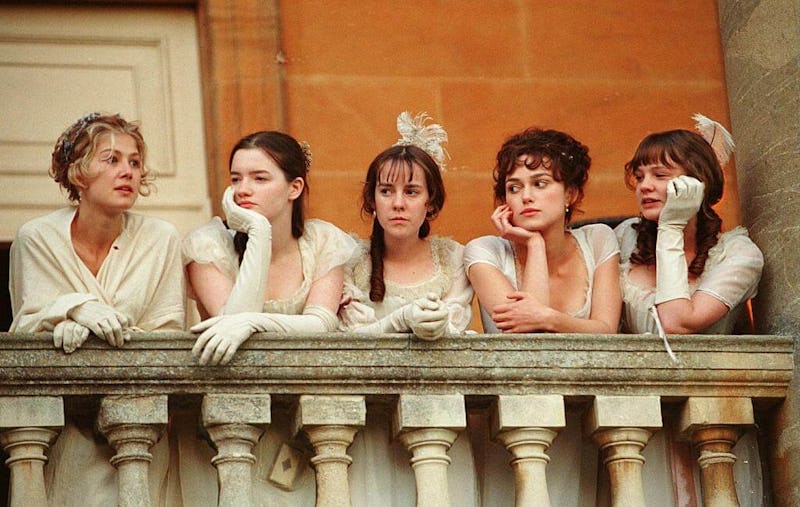 Focus Features
"Because I am plain, others have always assumed in me a disinterest to the opposite sex, to romance, and, accordingly, to marriage. But I will write here, as if with my own life's blood, that I have indeed loved. I have loved not once or twice but three times, which is three times more than anyone would believe of me," Mary Bennet tells us at the start of Katherine J. Chen's debut novel, Mary B: An Untold Story of Pride and Prejudice — a reimagining of Jane Austen's Pride and Prejudice, as told through none other than the most unassuming of Austen's Bennet girls: Mary herself. Out from Random House on July 24, Mary B takes readers beneath the plain dress and reserved spirit of Mary Bennet, revealing the secret life behind the somber gaze of the Bennets' middle — and most overlooked — daughter.
As the young woman lost in the center of four vivacious, notorious beauties, Jane Austen fans have only known Mary as the piano-playing wallflower of the Bennet bunch: pitied for her unattractiveness, teased for her practicality, and — as far as her mother is concerned — woefully unlikely to marry and relieve her family of the financial burden of her very existence. At least, that is who Miss Mary B has been until now. Set before, during, and after the events of Pride and Prejudice, Mary B introduces Mary Bennet as a lover of literature with a mischievous spirit, an unexpected sexuality, and an intellect that very few of her place and time in society appreciated in a woman.
Mary B: An Untold Story of Pride and Prejudice by Katherine J. Chen, $27.00, Amazon
Watching each of her sisters marry, one by one and to varying degrees of success, Mary is written off as a lifelong spinster. With no husband to entertain, children to keep, or household to manage, she is effectively considered a financial and social burden on her family. Nineteenth-century laws preventing women from owning property ensure that Longbourn, the Bennet estate, be relinquished to family cousin Mr. Collins — readers will remember him as the diminutive clergyman whose proposal to Elizabeth Bennet is scandalously rejected, and who later goes on to marry family friend Charlotte Lucas — rather than be willed to Mary or her mother, upon Mr. Bennet's death. This is the Mary Bennet familiar to readers, and it is a direct result of her seeming powerlessness and unremarkability that, in Chen's reimagining, Mary experiences more of the world than the other four Bennet girls together. Living constantly under the radar, Mary is able to live a life nobody would suspect of her: one of scandal, tragedy, and even romance.
Like that of most book-lovers, Mary's life of independent adventure begins between the pages of novels. "I prefer reading to any other activity." Mary expresses, in Mary B, spending more time in the Bennet library than the notoriously bookish Elizabeth, or even their voraciously literary father. "The act of reading is a silent rebellion. To read in the presence of company is a most convenient excuse for not partaking in conversation … it is as if to say to the guest, 'I would rather spend time with the litigious husbands, gamblers, and spendthrifts of this novel than with you, dear sir, even if you had no interest in wooing me in the first place.'" Her rich outer life beings with a rich inner life, not only found in the novels she consumes, but in her own imagining and reimagining of her experiences: mentally rewriting her awkward presence at balls and other social engagements, the personal slights inflicted by her sisters and their peers, and conversations with men who determine her worth based on appearance alone. It is this very spirit of creativity that, ultimately, will push Mary past her heartache and scandal — the unrequited love and jilted promises — and enable her with the economic independence that was so exceedingly rare to women of her generation.
The insight Chen offers into Mary's unseen character creates space for revelations about other of Pride and Prejudice's characters as well — Mary becomes the secret, mistakenly benign, confidant of several men in the novel. Mr. Collins, for example, is nearly as misunderstood as Mary, and he is given a more sympathetic character and developed backstory in Chen's retelling. He is, in fact, the first of Mary's unrequited loves. The narrative of the until-now irreproachable Elizabeth takes a turn that may startle fans of Austen's original text as well, but is far more relatable than the happily-ever-after readers were left to imagine as Lizzie and Darcy walked off into the Pemberley sunset. Chen hints at the once-spirited Lizzy's undoing early in her debut, in a brief exchange between Mary and Darcy, wherein it almost appears as though the two are better suited for one another than Austen's original pairing.
In fact, it is Elizabeth who ultimately wishes for the life Mary has, in the end, instead of the other way around. After the true expectations of her marriage to a prosperous man like Mr. Darcy have come fully into the light, Elizabeth tells Mary, "I have come to believe there is nothing more valuable in the world than one's independence." Because of course, while Austen's beloved novel suggests that the social burdens of a young woman ended upon her achievement of marriage, in reality that was hardly the case — marriage, especially a marriage of upward mobility, as Elizabeth Bennet's was to Fitzwilliam Darcy, was only the beginning of the soul-crushing sacrifices nineteenth-century women were expected to make at the altar of marital peace and social standing. Mary, for all the criticisms she receives for her spinster-like disposition, is the only character able to dodge such obligations.
Where Austen was considered a feminist writer for giving legitimacy to the domestic and emotional lives of nineteenth-century women through her novels, Chen's retelling of Pride and Prejudice is of a far more modern feminism; one in which Mary is able to achieve what was so impossible for so many of her generation: the life of a truly independent — economically self-reliant and sexually liberated — woman.