USA Gymnastics' President Resigned After Simone Biles Called Out Her Recent Tweet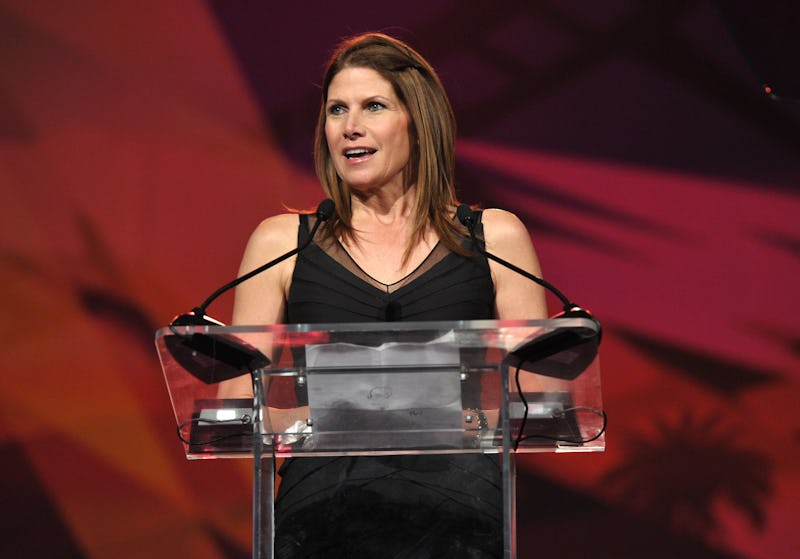 John Shearer/Getty Images Entertainment/Getty Images
There has been another shakeup at the national governing body for U.S. gymnastics. Just several days after she got the job, Mary Bono has resigned as USA Gymnastics interim president. She had recently been criticized for tweeting negatively about Nike.
The controversial Nike tweet depicted Bono marking out the Nike logo on her golf shoes, an apparent criticism of Nike's Colin Kaepernick ad campaign, according to USA Today. The tweet has since been deleted. In her resignation statement, shared to Twitter, Bono defended her decision to share the image in the first place, and suggested that it was unfairly being used to disparage her:
With respect to Mr. Kaepernick, he nationally exercised his First Amendment right to kneel. I exercised mine: to mark over my own golf shoes, the logo of the company sponsoring him for "believing in something even if it means sacrificing everything" — while at a tournament for families who have lost a member of the armed services (including my brother-in-law, a Navy SEAL) who literally "sacrificed everything." It was an emotional reaction to the sponsor's use of the phrase that caused me to tweet, and I regret that at the time I didn't bother to clarify my feelings. That one tweet has now been made a litmus test of my reputation over almost two decades of public service.
Five-time Olympic medalist Simone Biles swiftly criticized Bono after news circulated that she would be taking the helm at USA Gymnastics. "*mouth drop*," Biles wrote. "don't worry, it's not like we needed a smarter usa gymnastics president or any sponsors or anything."
Biles is sponsored by Nike, per The New York Times. In a statement released by USA Gymnastics, Bono expressed regret about her tweet.
"I deeply regret posting the tweet because I respect everyone's views and their fundamental right to express them," she said, per the Times. "This in no way reflects how I will approach my position at USA. Gymnastics. I will do everything I can to help change the culture and to work with the entire community to build an open, safe and positive environment."
In her resignation letter, Bono lamented that she had a lot to offer USA Gymnastics, particularly in light of the notorious Larry Nassar scandal. She characterized herself as an ally to those athletes who have been abused by those with power over them:
My regret is that I would have brought to the organization, the angst and anger of my own story: a young aspiring gymnast who witness first-hand the assaulting behavior of a coach; watched peers who acquiesced in it move ahead while those who didn't were left behind, and myself stayed silent — perhaps the norm then, but very troubling to me this day. I would have brought a fire in the belly to ensure that no one as taken with gymnastics as I was at that age, should have to choose between abuse and ambition, or between properly speaking out and promotion personal success.
In a statement, USA Gymnastics said that they accepted Bono's resignation, and believed it was "in the best interest of the organization." "While we have made progress, we have much more work to do," USA Gymnastics board members wrote. "This board is determined to take the necessary steps to support a safe, inclusive and competitive environment where all our athletes and members can grow, have fun and achieve their goals."