Lil Kim & Mary J. Blige Performed At The BET Awards & All Is Right With The World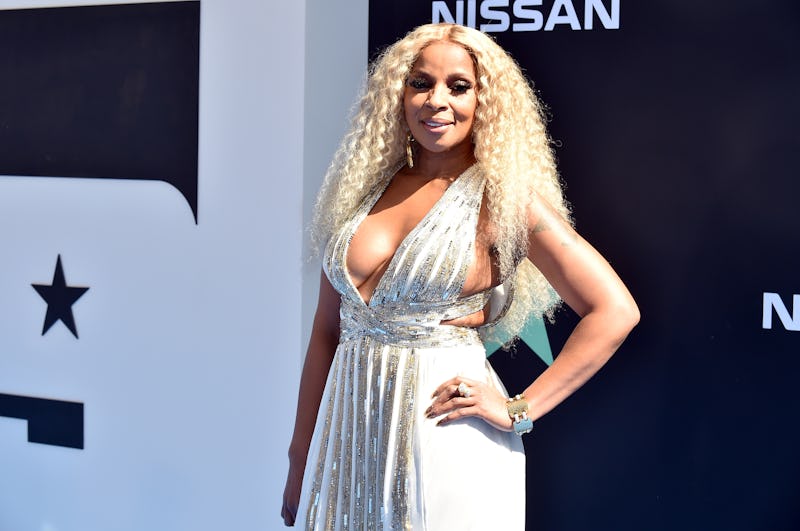 Aaron J. Thornton/Getty Images Entertainment/Getty Images
There is no denying that the 2019 BET Awards was one to remember. Not only did Regina Hall host — and pull off a very good Beyoncé parody — but the performances were legendary. Like, the kind of performances you'll be adding to your YouTube playlist for years to come. In between Cardi, Lizzo, HER, and so many more musicians taking the stage, a highlight of the night was Mary J. Blige's 2019 BET Awards performance after she accepted the Lifetime Achievement award from Rihanna.
Taking the stage in her signature knee high boots, the queen of hip hop and soul performed pretty much all of her hits while everyone in the audience sang along. And yes, in case you wondering, Method Mad joined her onstage for "All I Need" and Lil Kim stunned when she came out to do her verse on "I Can Love You." It was proof positive (as if anyone needed it) that Mary J. Blige is the queen of hip hop soul. And that her and Lil Kim need a Vegas residency — or something.
If anything, watching Cardi B., Lena Waithe, and Rihanna dance and rap along with Mary was good for the soul. She really did pave the way for so many young women (and men) no matter how they were feeling.
On Twitter, Fans Were All About It
Rihanna presented the award before the performer took the stage to perform her medley of hits. Rihanna said that Blige changed the game with her style, her sound, and for being best known for having a song for everyone's mood, all the time. "We're here for all of it," Rihanna said.
The Fenty designer added, "You opened multiple doors for multiple artists in this industry. And on behalf of all the women, and those that came after you, like myself, for being you so we could feel comfortable being ourselves. Thank you for pouring your soul into every track and giving us a song for every feeling. Thank you for showing us that love is all that we need, but we didn't know how much we actually needed you." There was not a dry eye in the front row where Blige sat nestled in between her mother and Puff Daddy.
Blige, who has eight multi-platinum albums, nine Grammy awards, four American Music Awards, and 12 Billboard Music Awards, accepted the award by thanking everyone she had worked with and who had helped her along the way. She added, "Although I'm a leader, a queen, a living legend... Although I'm all these things, I'm a servant as well and I'm here to serve. Being a servant is not always glamorous or popular, but it's the job and the assignment that I was given. Because in order to become an authority, I had to come under authority. It's because, when the glory is placed on me, I give it back to God."
The honor was all the fans, judging by the reactions in the room and on Twitter Sunday night. Now, can someone get on that Mary J. Blige Las Vegas residency? Because it's definitely long overdue for the legend.