Mary J. Blige's New Song Is All About Self-Love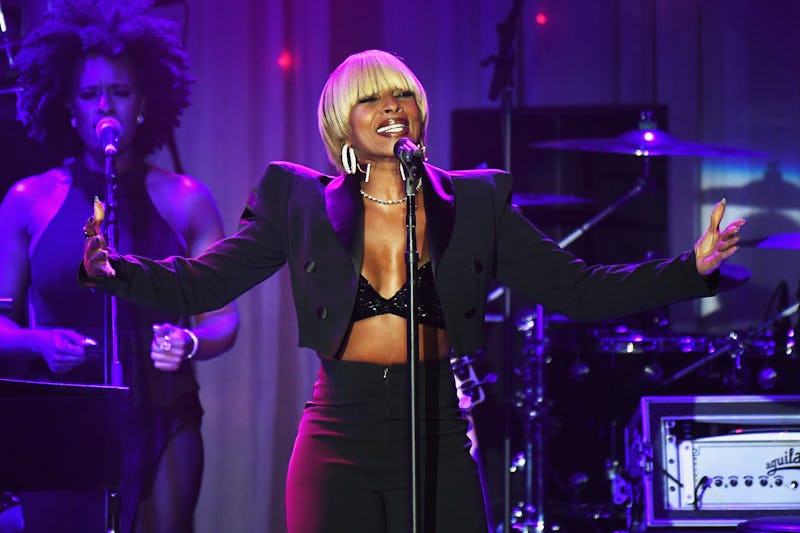 Kevork Djansezian/Getty Images Entertainment/Getty Images
The queen of hip-hop soul is back and ready to spread a message of self-love. Mary J. Blige released an empowering collaboration with Kanye West on March 31, entitled "Love Yourself," and it's the perfect track to combat any feelings of worthlessness. The singer's divorce with her husband of over a decade, Kendu Issacs, has caused a lot of fans to worry about her well-being. Blige's fall release "Thick Of It" shared some of her feelings on the matter, but overall, the singer has been mum about any of the gritty details. For good reason, however, because her anticipated album Strength Of A Woman is sure to fill in all of the story's missing pieces. But, until we get our hands on the entire LP due on April 28, I'll go ahead and hail "Love Yourself" as the anthem for spring.
"It's been a long way, but I made it here with love," Blige declares in the first few seconds of the track. Oh, and I believe her. If we've learned anything from relationships thus far, it's that divorce, or breaking up, is typically the hardest part. But, Blige is on her way to letting us know the secret to making it through. The singer breaks down her experience, singing:
I've been and up and down and I've been through it all
Took a while to know my heart
It's clear: Once she began to truly love herself, things got easier. And the conviction is right there in her voice. She continues,
Before love like this, you go through the fire and valley lows
But if you just hold on
Please hold on, 'cause love is strong, it'll save ya
But the chorus is where it all comes together. Ladies, grab your red lipstick and head on over to your bathroom mirrors. This is one affirmation that you'll want to recite before tackling the day.
Oh, you gotta love yourself
If you really wanna be with someone else
You gotta feed yourself
Before you feed somebody else
You gotta stay open, and don't be foolish'
Cause everybody don't mean you well
You gotta love yourself
Before you love somebody else
The upbeat track, paired with Blige's amazing lyrics, makes for one epic hymn. She's giving us everything we need to shake off any looming feelings of doubt. Kanye has a testimony to share as well, however. And he's using this opportunity to remind everyone not to put him in a box. "I decided not to use my color as a handicap," the rapper opens. "He a designer, artist, producer, and he rap."
West spills his emotions on top of the beat in true Yeezy fashion, but the star of the show is definitely Blige. I've been waiting patiently for her to drop something new, especially in the midst of her heartbreak. Because we all know, when Blige is hurting, we're going to get some heat. And selfishly, I live for those moments.
In the third verse, Blige celebrates her strength: "Thought they'd put my life on hold, but I knew somethin' they didn't know / I know myself too much to ever fold / Dark clouds are movin' past you."
If you've been paying attention to Blige over the years, you know that she's a fighter. The queen definitely falls from time to time, but she always gets back up. She's a true inspiration, and "Love Yourself" is just another example of why.