Mary Tyler Moore Dies At 80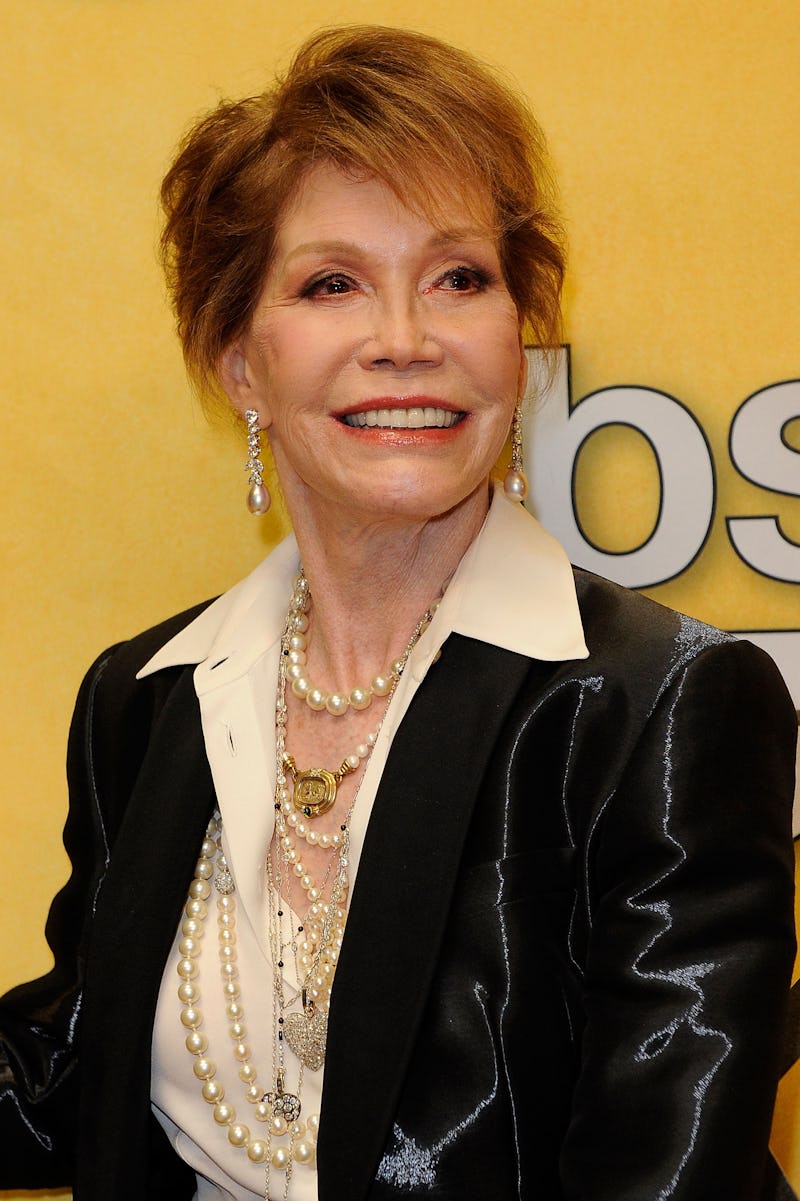 Kevork Djansezian/Getty Images Entertainment/Getty Images
In some extremely sad news, legendary actor and forever Hollywood icon Mary Tyler Moore has died at the age of 80, the Associated Press reported Wednesday. Earlier on Wednesday, TMZ reported that Moore was in "grave condition" at a Connecticut hospital, where she was receiving treatment.
Moore's longtime rep, Mara Buxbaum, released the following statement to Bustle:
"Today, beloved icon, Mary Tyler Moore, passed away at the age of 80 in the company of friends and her loving husband of over 33 years, Dr. S. Robert Levine. A groundbreaking actress, producer, and passionate advocate for the Juvenile Diabetes Research Foundation, Mary will be remembered as a fearless visionary who turned the world on with her smile."
Per TMZ's Wednesday report, sources allegedly close to The Mary Tyler Moore Show star's family revealed her condition to be so "grim" that family members were visiting Moore at the hospital on Wednesday to say goodbye. TMZ also claimed that Moore was facing "a number of health problems," which recently had become "critical." Another source reportedly told TMZ that The Dick Van Dyke Show actor had "been on a respirator for more than a week."
Over the years, Moore faced many health battles. At just 33, the actor who paved the way for so many women in the entertainment industry was diagnosed with Type 1 diabetes. After her diagnosis, Moore became a passionate spokesperson for diabetes awareness and treatment and even acted as the international chairwoman of Juvenile Diabetes Research International.
Furthermore, in 2011, Moore had brain surgery to remove a tumor from the protective lining around her brain, her rep confirmed to ABC News in May 2011. "At the recommendation of her neurologist, who has been monitoring this for years, and a neurosurgeon, Mary decided to proceed with this fairly routine procedure." The procedure involved the removal a meningioma, which according to ABC News, is "a benign tumor growing on the meninges, the protective layer of tissue between the brain and skull."
There's no doubt Moore left an impact on the world, on the acting industry, and especially on women, whom she let know in more ways than one that they "would make it after all." She will certainly be missed.