Massachusetts' Ayanna Pressley Is Set To Make History After A Stunning Primary Upset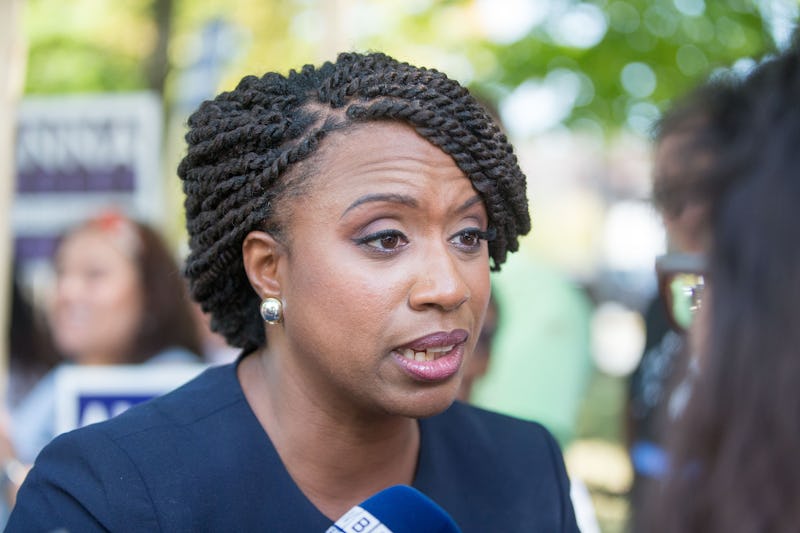 Scott Eisen/Getty Images News/Getty Images
After clenching a victory on Tuesday evening in the Democratic primary, Massachusetts' Ayanna Pressley will probably be the first black congresswoman in the state's history. She will be running unopposed in the November election, as there is no Republican opponent in the race. Though Pressley has been defined as an underdog throughout her campaign, her slogan worked to define the sense of momentum and urgency that boosted her to victory: "Change can't wait."
Pressley's victory isn't just shocking in the sense of what it will mean for better and more diverse representation within the state's legislature: it's also just plain impressive that Pressley was able to unseat opponent and incumbent Rep. Michael Capuano, who was a 10-term congressman.
Pressley has defined her campaign in a similar fashion to fellow progressives Alexandria Ocasio-Cortez and Stacey Abrams, all of whom are liberal women looking to stand against the Trump administration.
In one of her campaign videos, Pressley says, "Every generation has a chance...to push back against hate, to defy expectations. Now, what's happening in Washington right now is meant to divide us and to make us feel small. But now is not the time to play small."
Though Pressley has not yet commented on her historic win, her fellow politicians have. Ocasio-Cortez tweeted to Pressley, "Congratulations to my sister in service, @AyannaPressley, on continuing her historic path into Congress tonight. Let's push together to make Medicare for All, tuition free college, & living wages a reality in America - all without corporate PAC money."
Pressley isn't exactly new to breaking barriers. She was also the first woman of color to be elected to the Boston City Council in 2009. Per Fox News, Capuano is the fourth House member to lose a primary this year: others included Rep. Robert Pittenger of North Carolina, Rep. Mark Sanford of South Carolina, and another 10-term representative, Joe Crowley of New York, who lost to Ocasio-Cortez.
Pressley and Ocasio-Cortez have a lot of similarities, but they also have one stark difference: while Ocasio-Cortez is a political newcomer, Pressley is a seasoned politician. Via Fox News, Pressley previously served as John Kerry's political director when he was a U.S. senator, and has served on city council for nine years. Pressley even managed to secure an endorsement from the Boston Globe in late August, bolstering her support in the final days leading up to the primary.
The editors wrote,
"Pressley...has rare political talents, combining personal charisma with a shrewd understanding of how to translate values into policy. Her creative approach to reducing inequality is the mindset the district needs. Stretching from Randolph to Somerville, the Seventh District includes some of the neediest corners of Massachusetts most affected by racial disparities...But Pressley is a proven advocate with an understanding of the needs of the district, and she would be a fresh voice in Congress. Pressley represents the present of the Seventh District and the future of the Democratic Party."
According to USA Today, Pressley has cited the need for a movement to defeat the vitriol coming from the Trump administration. She said, "The hate that is coming out of this White House will not be defeated by a reliable vote on the floor of Congress. The hate coming out of this White House will be defeated by a movement and by a coalition."