Are You A Good Cook? 'Masterchef' Auditions Are Open Right Now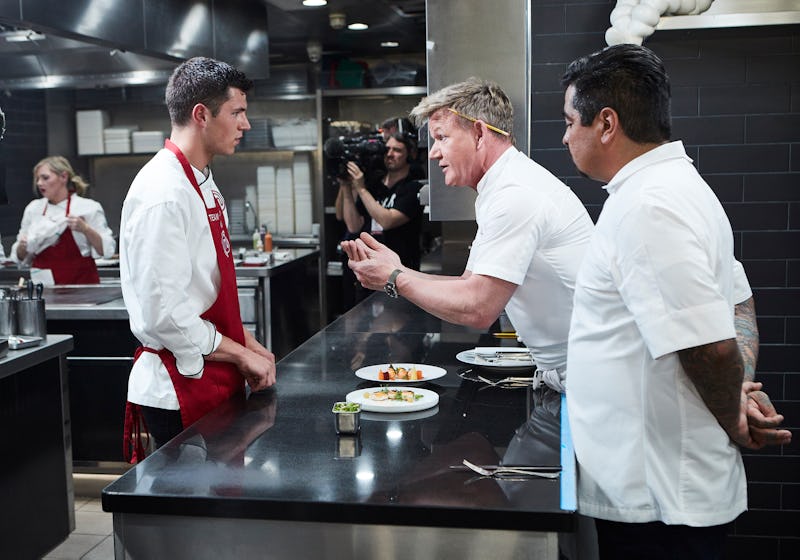 Matt Frost/FOX
Since 2010, Gordon Ramsay and a rotation of celebrity judges have been helping hone home chefs' cooking skills — and the streak is likely to continue. Masterchef has been renewed for Season 11, which is good news for dedicated home cooks. According to Variety, Masterchef Season 10 was given the green light before the Season 9 finale, so this renewal ahead of the finale is par for the course.
TV Series Finale reports that the show's ratings have dipped a little this season. It's down by 23 percent in the 18-49 age demographic and down by 14 percent in average viewers. However, it's still performing pretty consistently for the network. Season 11 is averaging 3.04 million viewers per episode, which makes it FOX's highest ranked show of the summer. That's likely not the kind of thing the network would want to turn its back on.
The show is also unique in that it could really have any combination of judges and still work. One of the original judges, chef Graham Elliot, is no longer on the show, and restaurateur Joe Bastianich left for a bit before returning. The show has also rotated judges like chef Aarón Sanchez and Milk Bar founder Christina Tosi in and out without disrupting the show's format. It would probably be a big loss for the show if Gordon Ramsay ever wanted to stop judging, but even he could be replaced by the right person. Season 10 was judged by Ramsay, Sanchez, and Bastianich, so it's possible they will all return again for Season 11.
As for when it might return, the series has aired one season per year since its inception. Usually the new seasons begin in late May and run through September, although a few have begun in early June. Season 11 is likely to air in May or June of 2020. But if you'd like to be part of the cast, that process begins ASAP. According to the casting site, you can apply online by submitting a video and application. The deadline for video applications is Oct. 12, but the casting site recommends turning it in even earlier. It says in all caps and bold type, "REMEMBER THE SOONER THE BETTER!"
You can also attend a casting call in person if there's one near you. The casting site has six casting call locations available in October and early November. You can attend the one in Los Angeles on Oct. 12, Atlanta or Boston on Oct. 19, New York City or Houston on Oct. 26, and Chicago on Nov. 2. Although be prepared to be judged hard. A former contestant, Elise Mayfield, told AV Club that the audition was one of the most brutal parts. "It was intense," she said. Also, it takes forever. She added:
I didn't hear official word for many, many months. The audition process is many months long. There's communication throughout that whole process but it's also months and months and months of "different steps" and "waiting to hear from people" and "waiting to submit things" and deadlines for me to submit things and deadlines to hear back from them, but, ultimately, I didn't hear back until four months later about going to L.A.
So the season is already in full swing it seems. Now we just need to find out what chefs are returning as judges and if Gordon Ramsey will ever be impressed