Matt Bomer Bought Out A 'Love Simon' Screening So Kids Can See That #LoveIsLoveIsLove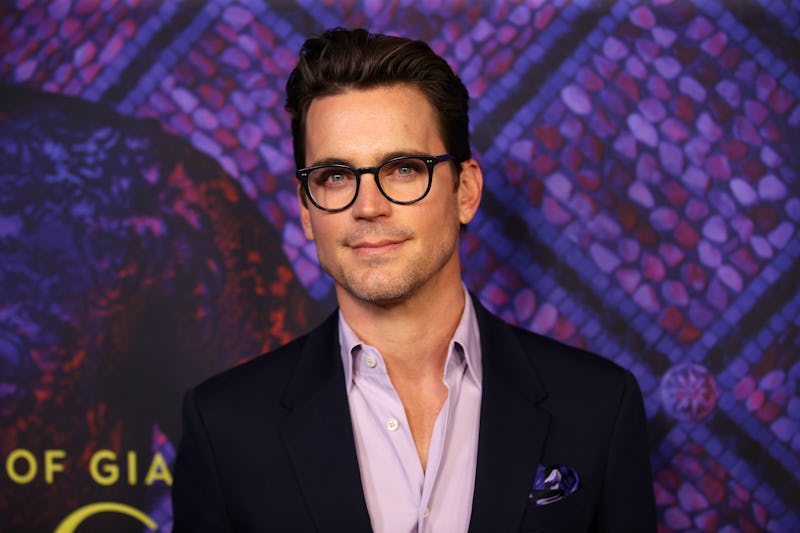 Phillip Faraone/Getty Images Entertainment/Getty Images
Matt Bomer was so moved by the new movie Love, Simon that he decided he wants to share it with as many people as possible. As ! News noted, Bomer bought out a screening for Love, Simon in his hometown of Spring, Texas because he wants young people to see that love is love, as he wrote in an Instagram post on Thursday announcing the news.
Bomer, star of American Horror Story, Magic Mike, and White Collar, posted an Instagram on Thursday night to announce that he and his husband, Simon Halls, had bought out a theater for the public to see the film on Sunday, March 25 in Bomer's hometown, because they loved the movie so much.
"This is an important movie, and a really good one. I know you'll love it, so come see it for free on Sunday!" he wrote in the caption alongside a photoshopped version of the Love, Simon poster with Bomer front and center.
Love, Simon is a coming-of-age teen movie about Simon Spier (played by Nick Robinson) grappling with his family, friends, and high school, as well as his own identity and difficulty with coming out of the closet. It is revolutionary in many ways, including its diverse cast and the fact that it is the first gay teen romantic comedy from a major studio, according to the Los Angeles Times.
So, it's no wonder that Bomer was so excited by the film and wanted to share it with his hometown. The actor saw the movie when it debuted in theaters last week, and posted about it on Instagram then, encouraging everyone to see it and support director Greg Berlanti. On his Instagram he wrote alongside a photo of the four main cast members:
I loved this movie so much (and not just because of the title), and I'm so happy that a generation of young people will have this to watch and realize that #loveisloveisloveislove❤️💛💚💙💜 Please support this important film.
Bomer has his own Simon he loves: his husband Simon Halls, with whom he has three children. Though they married in 2011, Bomer did not publicly come out as gay until 2012 at the Steve Chase Humanitarian Awards, according to The Hollywood Reporter. Bomer was honored with the New Generation Arts and Activism Award for his work in the fight against HIV/AIDS. In his speech, he thanked his husband and children: "I'd really especially like to thank my beautiful family: Simon, Kit, Walker, Henry. Thank you for teaching me what unconditional love is. You will always be my proudest accomplishment."
And Bomer and Halls did not reveal that not only were they partners, they were married, until 2014. In an interview with Out magazine that year, Bomer shared how difficult it was for him to come out his family. Talking about how his parents are very conservative and living in the Bible belt, Bomer said he wrote a letter to them. Though at first there was the blowout he was afraid of, they then "got down to the business of figuring out how to love each other."
And now it has all come full-circle, and the 40-year old actor and his husband have bought out an AMC theater in that very same conservative town where he grew up to share a gay teen love story with kids and adults alike. Bomer said in Out that one of the reasons he came out publicly was for his children: "I felt a responsibility to Simon and to our kids to be able to live with integrity and not have some strange split psychology of This is who my dad is at home, and this is who he is to the public," he said. And hopefully, Love, Simon is a film that will teach kids that living authentically is important and wonderful, and that love is love is love.