Matt Lauer Finally Speaks Up About The Sexual Harassment Allegations Against Him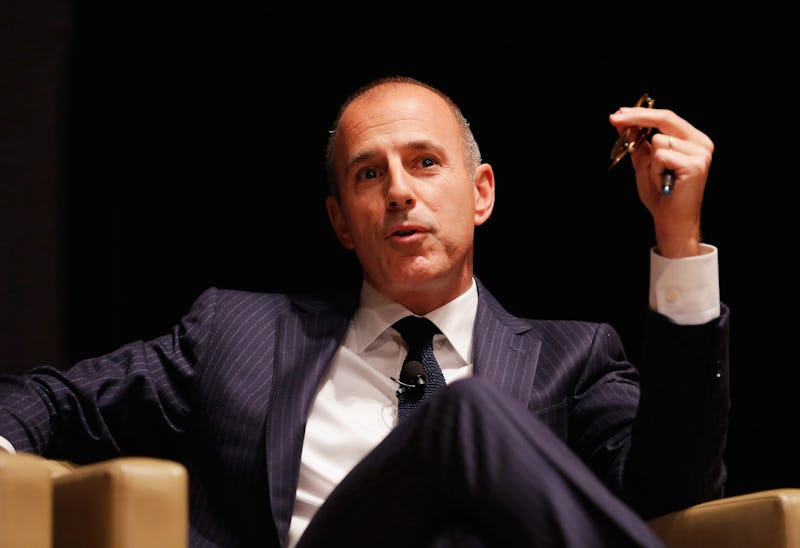 Jemal Countess/Getty Images Entertainment/Getty Images
On Thursday, ousted TODAY show host, Matt Lauer, responded to sexual misconduct allegations made against him by former coworkers, apologizing and acknowledging "there is enough truth" in the claims. "Some of what is being said about me is untrue or mischaracterized, but there is enough truth in these stories to make me feel embarrassed and ashamed," Lauer said in a statement. "I regret that my shame is now shared by the people I cherish dearly."
Lauer apologized to "the people I have hurt," adding that repairing the damage and "soul searching" are now his full-time job. "The past two days have forced me to take a very hard look at my own troubling flaws," he wrote. "It's been humbling." Bustle has reached out to Lauer regarding the allegations.
Lauer was fired after a colleague, who has chosen to remain anonymous, reported Lauer to the network for alleged sexual misconduct. The report was made Monday night; Lauer's termination was announced Wednesday morning.
On-air, TODAY host Savannah Guthrie tearily read a memo from NBC Chairman Andrew Lack, which explained Lauer's dismissal:
On Monday night, we received a detailed complaint from a colleague about inappropriate sexual behavior in the workplace by Matt Lauer. It represented, after serious review, a clear violation of our company's standards. As a result, we've decided to terminate his employment.
In the memo, Lack said that the complaint filed against Lauer was "the first complaint about his behavior in the over twenty years he's been at NBC News," but explained that they also had "reason to believe this may not have been an isolated incident."
Guthrie, seated next to substitute host Hoda Kotb, said that she was "heartbroken" for Lauer, as well as for the colleague who made the allegations. "[T]his reckoning that so many organizations have been going through is important. It's long overdue and it must result in workplaces where all women, all people, feel safe and respected," Guthrie said.
Guthrie also posed the question "how do you reconcile your love for someone with the revelation that they have behaved badly?", but acknowledged that "I don't know the answer to that."
According to Guthrie's statements on-air Wednesday morning, NBC staff found out about Lauer's departure that day, before the show began. Lauer reportedly learned of the news the night prior before he went to bed.
On Wednesday afternoon, details of Lauer's alleged sexual misconduct surfaced in a report by Variety. According to the report, three women accused Lauer of sexual harassment on several occasions. According to the report, Lauer once allegedly asked a female colleague to come into his office and then dropped his pants, showing her his penis. When she did not concede to a sexual interaction with Lauer, he allegedly berated her for it.
In another instance, Lauer reportedly gave a colleague a sex toy as a present. Accompanying the sex toy, according to the woman, was a note detailing how Lauer wanted to use the toy on her. Lauer was also accused of supposedly playing the crude game "F*ck, Marry, Kill." As part of the game, he would reportedly name which coworkers he wanted to sleep with.
One of the most alarming details of the Variety report claimed that Lauer had a button under his desk, which he could press to lock his office door without standing up. In this way, Lauer could prevent being walked in on if he were to engage in inappropriate behavior, two women claimed to Variety.
In tandem, The New York Times reported that on Wednesday, two additional women came forward to the network with sexual misconduct allegations against Lauer. According to the report, one alleged that Lauer sexually assaulted her after asking her into his office. She told the Times she fainted and had to be taken to see a nurse. She claims she was concerned about losing her job and was too embarrassed to report the incident at the time.
Lawyer Ari Wilkenfeld, who represents the unnamed woman who reported Lauer to NBC on Monday, said that NBC responded appropriately.
Our impression at this point is that NBC acted quickly, as all companies should, when confronted with credible allegations of sexual misconduct in the workplace.
He added that he was impressed by his client:
While I am encouraged by NBC's response to date, I am in awe of the courage my client showed to be the first to raise a complaint and to do so without making any demands other than the company do the right thing.
Lauren Holter contributed to this report.